In 2008, when 36 Amazon municipalities were put on the Brazilian government's
blacklist as the country's worst deforesters, they didn't just have a reputational problem. The government also curtailed the ability of farmers and ranchers in those municipalities
to sell their products.
The Nature Conservancy's Amazon team had already started working on a solution. It's PAM– an environmental management portal designed to help municipalities enforce Brazil's Forest Code, help landowners comply with the code, and make it possible for municipalities to issue land-use licenses much more quickly.
The Sankara Eye Institutions provide comprehensive eye care to the rural and urban poor across India. Every week, our outreach teams of physicians and paramedics visit slum areas as far as 400 kilometres (249 miles) from our hospital to identify patients in need of treatment for surgically curable eye diseases. We provide the treatment and post-operative follow up as part of our mission to reach across the cultural, geographical and socio-economic divides that rob nearly six million Indians each year of their eyesight.
Eighty percent of our patients receive their care free of charge as part of our nearly 40-year endeavor that has brought light and color to more than one million people. Over the last year alone, Sankara Eye Institutions screened more than 357,000 patients and helped nearly 141,000 people regain their sight and dignity. Our "Rainbow" pediatric program evaluated more than 270,000 children last year, and helped more than 5,000 of them avoid a sightless future. Overall, our community outreach programs have touched more than 67 million Indians across nine states.
I am a member of IBM's Academic Initiative team, and recently volunteered to run a team-building activity at the Norwalk Early College Academy (NECA) Summer Academy in Connecticut. NECA is a partnership among the Norwalk Public Schools, Norwalk Community College and IBM, and will officially open this fall as Connecticut's first P-TECH model school. As with all P-TECH schools, NECA will capitalize on a public-private partnership between an employer (IBM) and educators to provide an academically rigorous and economically relevant grades 9 through 14 education that will launch graduates into meaningful, middle-class careers. NECA graduates will receive both a high school diploma and a no-cost associate degree in technology, and will be first in line for consideration for jobs with IBM.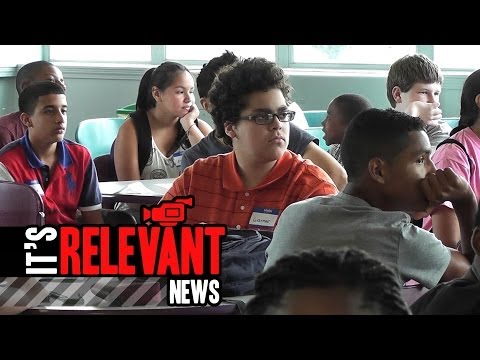 The NECA Summer Academy was attended by local dignitaries and media, school faculty, IBM volunteers and 50 bright young students anxious to get a head start on the school year. My role was to introduce attendees to the type of workplace learning and skills-building exercises that are part of every P-TECH school curriculum. Our project – to build a bridge out of marshmallows and dried spaghetti – was designed to get students to think and act like engineers…as a team. The students in my group ended up doing a great job on two separate bridge concepts.
With its warm, wet climate and vast expanse of 2.7 million square miles of land, the Amazon River basin has the potential to become one of the world's most productive agricultural regions — essential for feeding a global population that's fast approaching eight billion.
Yet, at the same time, the Amazon rainforest is an invaluable — and imperiled — natural resource. According to The Nature Conservancy, no other place is more critical to human survival. The basin, which is about the size of the United States and touches eight countries, harbors one-third of the planet's biodiversity, produces one-fourth of the fresh water and plays a key role in warding off the worst effects of climate change.
How did I spend my summer as a 17-year-old? Teaching young girls how to kayak in a freezing cold lake at an overnight camp in northern Ontario. How is Leslieanne John, a 17-year-old rising fourth-year student at Brooklyn, New York's Pathways in Technology Early College High School (P-TECH), spending her summer? She's completing an eight-week internship with the Center for Applied Insights – a thought leadership team within IBM. I've had the privilege of serving as Leslieanne's manager and mentor this summer, and can attest to what a truly invaluable experience this has been for both her and our team at IBM.
P-TECH is an innovative grades 9 through 14 school from which students will graduate with an Associate in Applied Science degree that will enable them to gain employment in the IT industry or continue their studies at a four-year college or university. Leslieanne is a star student P-TECH – from which she plans to graduate in four years instead of six – and aspires to attend an Ivy League institution. President Obama even commended her in a speech when he visited the school last October.
Starting this week, a team of experts from IBM's Corporate Service Corps (CSC) and Dow's Leadership in Action program – brought together with the assistance of PYXERA Global – will collaborate with International Medical Corps to develop sustainability solutions for the community of Wolayita, Ethiopia. Specifically, the integrated team will work with area leaders to develop recommendations related to delivering health care services, informing and energizing community action on sustainability issues, and designing methodologies to measure and track improvements in public health.
During this process, IBM and Dow employees also will have the opportunity to develop their leadership and collaboration skills while forging new relationships in an emerging market. Together, these developments – community service, leadership training, and developing new markets and global leaders – comprise the "triple benefit" of IBM Corporate Service Corps.
Read today's press release about this latest CSC engagement, and stay tuned for progress updates on our results.
Gina Tesla is Director of the IBM Corporate Service Corps. IBM's Corporate Service Corps team members comprise some of IBM's most talented employees, and provide skills to developing countries in disciplines that include information technology, research, marketing, finance, consulting, human resources and law. Since 2008, IBM Corporate Service Corps has dispatched approximately 3,000 IBM employees originating from 56 countries on engagements to 37 countries – making this pro bono problem solving program among the world's largest.
Related Resources:
IBM and Dow Collaboration Delivers Sustainable Solutions in Ethiopia while Building Employee Leadership Skills
Helping Ethiopia Achieve Its Economic Goals
President Obama's Climate Data Initiative is an ambitious new effort to help give communities across America the information and tools they need to plan for current and future climate impacts. This morning, IBM is participating in a White House roundtable to discuss our efforts to reduce emissions and strengthen local resilience in the face of a changing climate.
_________________________________________
In 2012 alone, extreme weather events in the U.S. caused more than $110 billion in damages and claimed more than 300 lives. How can individuals, communities, organizations and governments prepare to handle future climate impacts? To address this challenge, President Obama has just announced the second phase of the Climate Data Initiative – calling on private and philanthropic organizations to develop data-driven tools to plan for and mitigate the effects of climate change.
In response to the President's call to action, IBM is expanding its philanthropic World Community Grid program to support scientists studying issues affected by climate change. World Community Grid will provide free access to virtual supercomputing resources and a platform for public engagement to humanitarian researchers investigating such issues as the resilience of staple food crops, and watershed management. Each research project will have access to up to 100,000 years of computing time – a value of USD$60 million in today's costs. We invite scientists to submit research proposals at WorldCommunityGrid.org.
The 20th International AIDS Conference in Melbourne, Australia is the premier gathering for those working in the field of HIV, including scientists, medical practitioners, activists, policymakers, people living with HIV and others committed to ending the epidemic. IBM, a conference sponsor, is committed to applying its talent and technology to advance the fight against HIV/AIDS through philanthropic initiatives such as World Community Grid, which enables individuals to donate their unused computing power to advance cutting-edge scientific research on health, poverty and sustainability.
In the article below, Scripps Research Institute researcher Dr. Arthur Olson shares an update on how World Community Grid is helping his team develop therapies – and a potential cure – for AIDS.
______________________________
The Scripps Research Institute's FightAIDS@Home initiative is a large-scale computational research project whose goal is to use our knowledge of the molecular biology of the AIDS virus HIV to help defeat the AIDS epidemic. We rely on IBM's World Community Grid to provide massive computational power donated by people around the world to speed our research. The "virtual supercomputer" of World Community Grid enables us to model the known atomic structures of HIV molecules to help us design new drugs that could disrupt the function of these molecules. World Community Grid is an essential tool in our quest to understand and subvert the HIV virus's ability to infect, spread and develop resistance to drug therapies.
Since the early 1980s – when AIDS was first recognized as a new epidemic and a serious threat to human health – our ability to combat the HIV virus has evolved. Using what we call "structure-based drug discovery," researchers have been able to use information about HIV's molecular component to design drugs to defeat it. Critical to this process has been our ability to develop and deploy advanced computational models to help us predict how certain chemical compounds could affect the HIV virus. The development of our AutoDock modelling application – combined with the computational power of World Community Grid – represents a significant breakthrough in our ability to fight HIV.