As IBM announces Watson Analytics – developed to make sophisticated data analysis more accessible to non-technical users – more than 40 IBM Watson employees are collaborating with students at The City University of New York (CUNY) to focus Watson's cognitive computing powers on improving higher education and the delivery of city services. Today's IBM Watson Employee Day of Service at CUNY will complement IBM Watson Case Competitions held at colleges and universities across the U.S. to increase awareness of the transformative power of cognitive computing.
The Watson Case Competitions also will inspire students to advance their skills related to cognitive computing, and help them differentiate themselves in the marketplace as they prepare for 21st century careers. The case competitions are part of IBM's global commitment to advancing the academic rigor and economic relevance of education, and providing graduates clear pathways to good jobs.
September, 17th 2014
12:51
Joe Keenan, executive vice president of The Nature Conservancy's Latin America region, leads a staff of more than 320 people based in sixteen countries. Under Keenan's direction, the Conservancy designs innovative strategies focusing on water, food, and infrastructure: collaborates with indigenous communities to help protect their rivers and forests; and establishes partnerships with the private sector to foster sustainable business and agricultural practices. IBM's Corporate Service Corps interviewed him in connection with our engagement with TNC in the Amazon.
A visitor to the small town on the outskirts of Midland might wonder what kids here do for fun. In this town comprised of 16 dusty blocks in the middle of the Texas high plains, "it's a big deal if one of these kids gets to go to the gas station to buy a burrito," says a science teacher at the local high school. But with the support of industry partners like IBM, science and math students here and across Texas are anything but bored. They're busy learning about engineering, building robots and dreaming big.
With a focus on engaging girls and students from historically underserved groups, the
Texas Alliance for Minorities in Engineering (TAME) has provided innovative STEM (Science, Technology, Engineering, Mathematics) programs for K through 12 kids since 1976. TAME designs programs that spark kids' interest in STEM early on, and later connects them with education and employment opportunities. Industry partnerships ensure that TAME program participants have access to leading-edge resources such as IBM TryScience – an online platform for science exploration. And it's not just the students who benefit. IBM's platform for teachers – Teachers TryScience – enables ongoing professional development in STEM education.
September, 11th 2014
13:25
American students generally lose about two months' worth of grade-level learning equivalency over the summer months. This summer learning loss is especially problematical among low-income children, who often lack access to learning opportunities outside of school. That's why Camp Fire actively engages children in central Texas through our Camp Fire Summer Camp. Our goal is to expose children to STEM disciplines such as environmental science, biology, physics and engineering in an environment that's instructive and fun. We want to help ensure that a child's summer break from school isn't a break
from learning.
This summer, IBM invited our young campers to participate in the refinement of leading IBM Watson technology that will enable computers to respond to children's verbal cues – essentially allowing children to converse with and learn from computers using natural language. IBM Watson technology was developed to analyze unstructured data, so getting unadulterated input from our summer campers was a great way to teach Watson about how children think, and how to communicate with them.
Five IBM volunteers and I recently traveled from Shanghai to the Jiangxi Province city of Jinggangshan (population 156,000) to deliver and install 10 KidSmart early learning computer systems at two local Kindergartens. KidSmart is designed to help young children explore math and science concepts through interactive games. The systems also give many young learners their first exposure to computer equipment – technology that will play an essential role in their educational, personal and professional lives in the 21st Century.
We used to outsource KidSmart delivery and installation, and then conduct teacher training in Beijing. But this time IBM volunteers did the set up, making use of the IBM On Demand Community Introduce KidSmart Early Learning Activity Kit. It took five of us six hours to assemble the 10 KidSmart units, but it was worth it to spend that time on-site with our clients – the young learners and their teachers.
It can be challenging for a small country like the Czech Republic to compete in the global economy. As a country of just 10 million inhabitants, it's important for our educational system to prepare graduates for 21st century jobs. In the same way that many trends and measures of liberal capitalism have developed here since the fall of the communist regime 25 years ago, it is now time to evolve our educational system to keep pace with the times.
To help make this happen, IBM joined parent groups and nonprofit organizations to launch Czech Talks About Education in 2012. The program was part of a national campaign to redesign the country's educational system, and IBM has been instrumental in attracting broader stakeholder engagement and driving the discussion of how to modernize our approaches to teaching and learning.
In 2008, when 36 Amazon municipalities were put on the Brazilian government's
blacklist as the country's worst deforesters, they didn't just have a reputational problem. The government also curtailed the ability of farmers and ranchers in those municipalities
to sell their products.
The Nature Conservancy's Amazon team had already started working on a solution. It's PAM– an environmental management portal designed to help municipalities enforce Brazil's Forest Code, help landowners comply with the code, and make it possible for municipalities to issue land-use licenses much more quickly.
The Sankara Eye Institutions provide comprehensive eye care to the rural and urban poor across India. Every week, our outreach teams of physicians and paramedics visit slum areas as far as 400 kilometres (249 miles) from our hospital to identify patients in need of treatment for surgically curable eye diseases. We provide the treatment and post-operative follow up as part of our mission to reach across the cultural, geographical and socio-economic divides that rob nearly six million Indians each year of their eyesight.
Eighty percent of our patients receive their care free of charge as part of our nearly 40-year endeavor that has brought light and color to more than one million people. Over the last year alone, Sankara Eye Institutions screened more than 357,000 patients and helped nearly 141,000 people regain their sight and dignity. Our "Rainbow" pediatric program evaluated more than 270,000 children last year, and helped more than 5,000 of them avoid a sightless future. Overall, our community outreach programs have touched more than 67 million Indians across nine states.
I am a member of IBM's Academic Initiative team, and recently volunteered to run a team-building activity at the Norwalk Early College Academy (NECA) Summer Academy in Connecticut. NECA is a partnership among the Norwalk Public Schools, Norwalk Community College and IBM, and will officially open this fall as Connecticut's first P-TECH model school. As with all P-TECH schools, NECA will capitalize on a public-private partnership between an employer (IBM) and educators to provide an academically rigorous and economically relevant grades 9 through 14 education that will launch graduates into meaningful, middle-class careers. NECA graduates will receive both a high school diploma and a no-cost associate degree in technology, and will be first in line for consideration for jobs with IBM.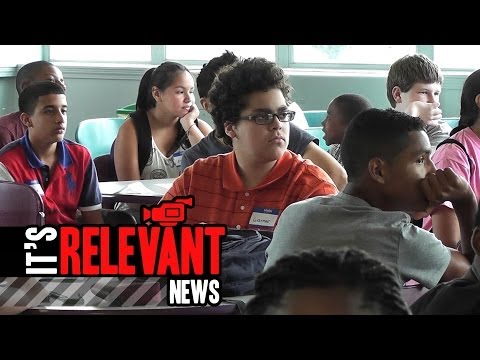 The NECA Summer Academy was attended by local dignitaries and media, school faculty, IBM volunteers and 50 bright young students anxious to get a head start on the school year. My role was to introduce attendees to the type of workplace learning and skills-building exercises that are part of every P-TECH school curriculum. Our project – to build a bridge out of marshmallows and dried spaghetti – was designed to get students to think and act like engineers…as a team. The students in my group ended up doing a great job on two separate bridge concepts.
With its warm, wet climate and vast expanse of 2.7 million square miles of land, the Amazon River basin has the potential to become one of the world's most productive agricultural regions — essential for feeding a global population that's fast approaching eight billion.
Yet, at the same time, the Amazon rainforest is an invaluable — and imperiled — natural resource. According to The Nature Conservancy, no other place is more critical to human survival. The basin, which is about the size of the United States and touches eight countries, harbors one-third of the planet's biodiversity, produces one-fourth of the fresh water and plays a key role in warding off the worst effects of climate change.