P-TECH, the IBM-led grades 9-14 schools model, is expanding rapidly because of its seamless integration of high school, college and career, and the concrete path to opportunity the model provides for students. There are 27 schools currently operating under the P-TECH model in the United States, and this week, Australia announced it will open two P-TECH schools with IBM's help in Ballarat and Geelong in 2016. The Australian Financial Review has just published an in-depth article about how this truly innovative high school model has been implemented in the U.S., specifically focusing on one of IBM's four partner schools in Newburgh, New York.
Located in a school district burdened by high crime and low incomes, Newburgh's Excelsior Academy is providing its inaugural class with a promising path to a college diploma and fulfilling career. Highlighting how Excelsior Academy blends academic and workplace skills development into a well-rounded education, the Australian Financial Review article illuminates the P-TECH model's potential to increase the skill level and career preparedness of graduates throughout the country and, eventually, around the globe.
Cliff Archey is IBM's Education Program Manager at Excelsior Academy in Newburgh,
New York.
Related Resources:
Australian Financial Review: US School Model Teaches a Lesson
Times Herald-Record: P-TECH Demonstrates How We Can Change Education
Australian PM Visit Signals Global Validation for P-TECH Model
One third of the world's population lives in poverty. Around the globe, Oxfam works to find practical, innovative ways for people to lift themselves out of poverty and thrive. We save lives and help rebuild livelihoods when crisis strikes. And we campaign so that the voices of the poor influence the local and global decisions that affect them. We are determined to change the world by mobilising the power of people against poverty.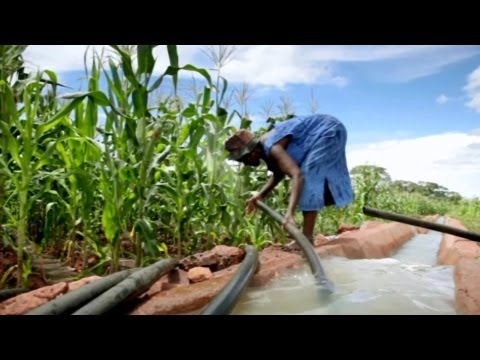 But as we move towards an increasingly digital future, a smart digital strategy is critical for an organisation like Oxfam. We must be equipped both strategically and tactically to inspire support among members of the public through innovative use of online channels. That's why Oxfam Ireland recently collaborated with IBM on a new Digital Marketing Strategy under IBM's Impact Grant Program.
While today is Earth Day, environmental sustainability is IBM's guiding principle every day of the year. Last month, I participated in a White House roundtable on greenhouse gas reductions, which highlighted leadership by IBM and other large Federal suppliers committed to reduce their greenhouse gas emissions.
IBM has long taken environmental sustainability seriously, and we have been making aggressive moves for 25 years to reduce our greenhouse gas emissions. At the White House event, we  announced new goals for the use of renewable energy and for the reduction of greenhouse gas emissions. In the case of greenhouse gas emissions, this marks the company's third generation goal.
At nearly 19 percent, Turkey's youth unemployment rate hovers nine points above the average for the general unemployment rate of the nation. Among the reasons for the high rate among youth is the disconnect between young people's skills and Turkey's labor market. Thus it is an urgent need to increase youth employment rates and improve our country's competitiveness in an increasingly knowledge-based economy. TÜSİAD – the Turkish Industry and Business Association – worked with IBM's Corporate Service Corps (CSC)  to develop a strategic plan to strengthen STEM education and bolster Turkey's overall innovation agenda.
TÜSİAD was established in 1971 as a voluntary civil society organization. Its goal is to offer economic, social and political solutions from the perspective of the business world. TÜSİAD conducts research, forms views and develops projects and activities as well as proposes policy recommendations to the Turkish parliament, government, and collaborates with national- international organizations. In essence, TÜSİAD has become a think tank in addition to an organization representing business. That's why we were excited to work with the Corporate Service Corps on this important issue that spans so many aspects of life in any country.
Youth unemployment in Spain has reached epidemic proportions, with 50 percent of our country's young people out of work. The tragic irony behind this statistic is that while a generation has had its future put on hold, our nation's leading industries are unable to fill positions with skilled workers. This disconnect between good jobs and young people with the skills needed to fill them is a desperate national concern. That's why IBM recently connected with CSR Europe's national partner Forética – the leading CSR association in Spain and Latin America – to host a "Skills for Jobs" workshop, funded by an IBM Impact Grant. Our goal was to drive the essential discussion of Spain's labour market challenges, and identify solutions to address them.
The workshop was part of CSR Europe's European Business Campaign on Skills for Jobs program, which aims to "Make Europe the Best Place to Work" by convening employers to share best practices related to skills and employability issues. Such challenges as the aging workforce, a growing skills gap and stagnating socio-economic development have been addressed. As part of the campaign, CSR Europe also has pledged to the European Commission Grand Coalition for Digital Jobs to double the outreach from employers to educators to forge more effective partnerships in the effort to connect education to jobs. By 2020, CSR Europe plans to connect with at least 20,000 teachers through its network of more than 10,000 businesses.
All organizations need skilled leadership. Nowhere is this truer than in the nonprofit sector – especially in the creative and arts economy. Managing a creative enterprise can be difficult in both the for-profit and nonprofit sectors, and balancing the creative process with business needs is always an issue. But in the nonprofit world, creative organizations have the added challenges of cultivating new donors and audiences; growing (or even surviving) in an era of cutbacks in the arts; and staying ahead of evolving community demands.
Arts organizations need funding to survive, but simply handing over checks is not a sustainable solution – either for donors or beneficiaries. The sustainable solution that
aligns with the way IBM integrates corporate citizenship into overall business strategy
is to engage nonprofit leaders in the dialog of expert leadership. To do that, we recently collaborated with the Arts + Business Council of Greater Philadelphia (ABC) and
The Wharton School on Designing Leadership – a leadership development program for executives in the arts, culture and creative sectors. This partnership was enabled by an IBM Impact Grant.
Security is among the most important information technology issues in the era of cloud and mobile computing, and veterans have the training, expertise and commitment to service that make them ideal candidates for security's essential role in IT. In his comments below, United States Air Force veteran and IBM i2 Fraud Analytics software expert Gary Whitehead details the effort among IBM, Corporate America Supports You (CASY) and the Military Spouse Corporate Career Network (MSCCN) to help the latest generation of vets make successful transitions to civilian careers.
___________________________
Helping others comes naturally to the women and men who have served in the military. With large numbers of veterans returning to civilian life and anxious to contribute value as they transition to civilian careers, it's time for industry to engage and assist them. That's why IBM and Corporate America Supports You – Military Spouse Corporate Career Network (CASY-MSCCN) are working together to provide free IBM i2 Analytics Software training, opportunities for data analyst certification, and career placement assistance in this growing, in-demand field.
As a veteran and IBM i2 trainer, I'm honored to be involved in the Veteran's Employment Initiative to help train fellow vets across the U.S. and UK. Funded by a new IBM grant program, each training opportunity is an intensive, week-long session that prepares graduates to take the certification exam to become an advanced data analyst. We are hosting the training at military bases and training centers near large military and ex-military populations, and expect the initiative to reach as many as 200 trainees this year.
Each year, IBM bestows the Volunteer Excellence Award – the company's highest form of volunteer recognition (our CEO level recognition) – on those individuals or teams who best personify IBM's Culture of Service. This award is highly competitive. Winners are selected from more than 265,000 IBM volunteers in 120 countries. The award underscores our commitment to the communities in which we live and work, and recognizes those whose dedication, innovation and personal commitment to service plays an essential role in enabling the transformation of our nonprofit and education clients. We use the word "clients" as a key term here because IBM's commitment to service is integrated with our overall business strategy. From governments and NGOs to communities in developing markets to children and young people just beginning to build their lives, all of our clients receive the best of our skills, expertise and technology.
Check out the brief synopses of our award winners' stories below, and be on the lookout for more details in the coming months.
When most people think of law enforcement, they likely picture the brave women and men who are sworn to protect and serve their communities. But as with any large and complex organization – with unknown variables, rapidly-changing circumstances and literally hundreds of moving parts – a police department requires enlightened management to function effectively.
The Raleigh Police Department employs more than 130 personnel, both sworn officers
and non-sworn "civilians", in operational support areas. These personnel manage key behind-the-scenes operations, such as training, fleet maintenance, property and evidence management, crime analysis, special-events planning, IT support, records management, youth and family services, community policing, departmental accreditation, and fiscal administration. Support in those areas allows our officers in the field to more efficiently serve the community. The fact that many of these support roles involve the management of projects – either occasionally or on a regular basis – is one of the reasons I welcomed the opportunity for many of our RPD staff members to participate in an IBM Project Management seminar.