High schools "made with IBM"? Yes, it's happening here – with the P-TECH grades 9 through 14 school model, an innovative approach that's sparking change in the way we think about education. Through P-TECH, IBM is working with educators in school districts and higher education to redesign high schools – expanding them from four to six years so that students graduate with both a high school diploma and an associate in applied science degree. Equipped with these degrees, graduates will be prepared to embark upon entry-level careers in the IT industry or continue their educations.
Why is this important? Because in the 21st Century economy, those with postsecondary degrees will have much better chances of making it to the middle class – having fulfilling careers, raising families and giving back to their communities. A high school diploma alone just isn't enough today, and often can limit one to the low-wage life of the working poor.
Today is Earth Day, when the world recognizes ways to make our planet greener and more environmentally sustainable. Unfortunately, the way the world works isn't smart enough to be sustainable.
However, signs of a smarter planet have been popping up everywhere. Organizations around the world are turning too much data into better decisions. The walls between companies and customers are diminishing. So are the walls between technologies, industries and fields of expertise.
IBM's Corporate Service Corps (CSC) celebrated its 5th Anniversary last year, so I was excited to join the more than 2,000 program participants from 29 countries who have contributed their expertise to projects in developing economies. Through CSC, I had an opportunity to work with Sentra Advokasi Perempuan Difabel dan Anak (SAPDA), an Indonesian NGO in the City of Yogyakarta that advocates for the social, educational and employment inclusion of women, children and persons with disabilities. As a deaf person,
I felt a particular affinity for this project and for the people I could help with my disability perspective and background in developing accessibility solutions for business.
My team's specific project was to collaborate with SAPDA on an improved content and communications strategy, and research and development initiatives to support the organization's efforts to obtain additional funding. SAPDA needed information and communications technology skills that they could integrate with their human resources and finance systems. They also needed the ability to communicate their value proposition to outside funding entities and others. Working with an American Sign Language interpreter – who, in turn, worked with an Indonesian translator – I dug in.
Here at P-TECH – the Pathways in Technology Early College High School – we're dedicated to preparing our students for long-term success. For some, that will mean moving directly into middle-skill employment – the booming economic sector that promises 14 million new jobs over the next 10 years. For others, it will mean pursuing four-year degrees (and beyond) after completing their no-cost Associate in Applied Science degrees after six years at P-TECH. And for all of our graduates, we expect long-term success to include service to communities as earners, tax payers, heads of households, mentors and role models. The P-TECH "experiment" is working.
P-TECH's story continues to be told because it's a story worth telling. Begun in 2011, new chapters of our narrative are being written in Chicago and New York City, and across Connecticut and New York State. P-TECH is on the move.
It's been years since we learned that the world is "flat" and that all enterprises – whether commercial, governmental or non-profit – are globally connected. But what we're still learning in this era of global integration is how to prepare the next generation of leaders to realize what we characterize as the triple benefit – developing their skills while solving communities' problems and opening new markets. This isn't just a "business" problem.
It's an issue that impacts – and will shape the future of – almost every human endeavor
on the planet.
Running our cities, educating our children, protecting our health and sustaining our environment are just some of the world's critical challenges that no single company or  economic sector can address or solve alone. Mastering the world's challenges requires the world's collective intelligence and expertise and true collaboration. That's why legacy models of top-down corporate philanthropy have become obsolete. In their place have arisen innovative approaches to transforming the ways we interact, learn and lead. At IBM, these approaches involve maximizing the value of our most important assets – the time and talent of our employees – versus merely donating our excess cash.
The State of Connecticut will open our first P-TECH-model grades 9 to 14 school in Norwalk this September. The six-year Norwalk Early College Academy (NECA) is being developed as a public-private partnership among the Norwalk Public Schools, Norwalk Community College and IBM, and will graduate students with both a high school diploma and a free Associate in Applied Science degree. Students at NECA will be paired with an IBM mentor and will be first in line for jobs at IBM upon graduation.
NECA will be only the first of many planned P-TECH schools across the state – each school partnered with one of Connecticut's growth employers in such industries as advanced manufacturing, biotech, health care and insurance. As I mentioned in this
year's State of the State address, these innovative P-TECH schools will play a critical
role in keeping Connecticut at the forefront in public education as they help to ensure
that our young people are prepared for the successful pursuit of higher education and meaningful careers.
After learning about IBM's On Demand Community (ODC) during my Ph.D. studies, I began to research the effects of corporate citizenship programs on employee morale. ODC is a global program through which IBM employees can contribute their time and expertise to a variety of charitable or nonprofit causes or organizations. To learn more about ODC, my team of four researchers – including Prof. Dr. Katharina Spraul, Prof. Dr. Lucas Meijs and Prof. Dr. Femida Handy – focused on the program's impact on employee attitudes at IBM
in The Netherlands.
Perhaps unsurprisingly, our research indicated that participants in ODC and other corporate social responsibility (CSR) programs held more positive attitudes towards these programs than non-participants. Having their interests in volunteering encouraged and supported by their employer drove employees' positive attitudes toward the business. Furthermore, we found that "bottom-up initiatives" – projects initiated by employees rather than by their employer – were particularly popular. In other words, employees' positive attitudes about their employer's CSR activities were even stronger when the initiatives aligned with the employees' own interests in service.
One of the most promising experiments in American education – Chicago's Sarah E. Goode STEM Academy – is a new type public high school designed to achieve two of our country's most urgent goals: help more young adults gain the skills they need to succeed in today's globally competitive economy, and supply companies with the trained talent they require. Sarah E. Goode, a P-TECH-model school, was featured in the February 24, 2014 TIME Magazine cover story. 
But for too many students, schools like Sarah E. Goode simply are not available. It's time for students across the nation to have access to redesigned career and technical high schools offering this vital 21st century approach.
It can be hard to grasp the true magnitude of world hunger, but the fact is that close to a billion of us do not have enough to eat. Each year the death toll from hunger and malnutrition exceeds that of AIDS, malaria and tuberculosis combined. What's makes this human tragedy even less comprehensible – and more unjust – is that the world produces enough food to nourish everyone. But one-third of all the food we produce is lost or wasted. Our landfills are literally overflowing with food while children are starving.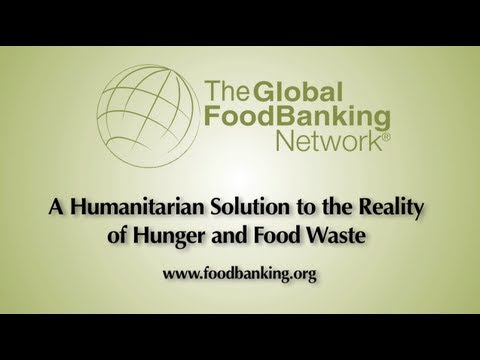 The Global FoodBanking Network (GFN) works to alleviate hunger and reduce food waste by creating, supporting and strengthening food banks around the world in countries outside the U.S. As a network organization supporting food banks in 25 countries, we fight the problem of world hunger at the local level by collaborating with businesses and organizations that share our goal of making the world a better place. A recent and really powerful example of how we do this is a field project we initiated with IBM Corporate Service Corps (CSC) and Banco de Alimentos de Mérida (BAMAC) in Mérida, Mexico.
It's no secret that in today's economy city governments have to make the best of limited resources. The good news is that they have a powerful tool already at their disposal – one they've been gathering for years. That tool is data. As we congratulate the next group of cities and regions around the world to win IBM Smarter Cities Challenge grants, we pause to reflect on our long-term partnerships to help cities become better places to live and work, and revisit earlier winners to share news of their progress toward this goal.
With the help of a Smarter Cities Challenge grant that was delivered in late 2011, the City of Syracuse, New York has figured out how to use data to make smarter decisions around its vacant property problem. The city has been able to target nearly 2,000 vacant properties to reclaim. This effort is revitalizing neighborhoods and is expected to provide the city with millions of dollars in back taxes over the next eight years. I recently had a chance to speak with Syracuse Mayor Stephanie Miner to understand how IBM's data expertise is helping her revitalize communities in her city.
____________________________________
Jen Crozier: How did the Smarter Cities Challenge grant change the way you make decisions for the City of Syracuse?
Stephanie Miner: The Smarter Cities Challenge enabled us to use data and analytics to help make decisions so we could focus the city's resources on areas where they would be most effective. In some cases, some of our data goes back to the founding of our city. What we needed – and what the Smarter Cities Challenge team helped us realize – was a way to transform data into meaningful and actionable information. Working with the Smarter Cities team, we were able harness data from various city departments and use it in models to develop strategies for infrastructure and other types of investments to stabilize and revitalize our neighborhoods.