We were both excited and anxious to greet IBM's Smarter Cities Challenge (SCC) team. The hectic work schedule lasted three weeks and came to an end on April 23. The SCC grant program is designed to make the planet smarter, by providing cities and regions with recommendations to address their challenges based on analyses and diagnoses made by IBM experts. Since 2011, 114 cities have received the IBM SCC grant. Pyeongchang County applied for the grant with the mission of "Developing strategies for Pyeongchang's future in preparation for the arrival of the High Speed Railway, with a vision of becoming a city of relaxation, tourism, leisure and sports." We became the third recipient for the SCC grant, following Cheongju and Jeju.
[Note: The video below is in Korean.]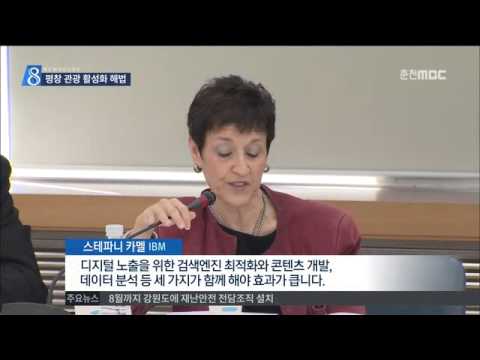 IBM chose Pyeongchang County for an SCC grant based on our passion and commitment for making Pyeongchang a smarter city. Six IBM experts, each with different areas of expertise, worked in Pyeongchang for three weeks. These experts diagnosed the problems of Pyeongchang and gave us 11 recommendations to address our challenges. Even though they were only in Pyeongchang for three weeks, they reviewed several policies and existing reports, and gathered the opinions of many people throughout the region. Their final presentation demonstrated a thorough review of our challenges and delivered expert recommendations, living up to IBM's reputation as a global company.
Today IBM announced the 2015-16 Smarter Cities Challenge winning cities, including unveiling a new partnership with Twitter. We had the honor of participating in SCC Pyeongchang County, South Korea in April, all of us returning home just three weeks ago. The experience is still extremely fresh in our minds as we put the final touches on the report that will be delivered to Mayor JaeKook Sim next month.
Today's announcement of 16 new projects in cities around the world makes us all excited, and a little jealous of the cities, their mayors and the IBMers who are about to embark on this incredible journey.
When most of us talk about "tools for transformation" these days, we're usually referring to software as a service or specific types of business or operational strategies. At the Atlanta Community ToolBank, we certainly use digital and conceptual "tools" to help us serve our clients. But our client touch point is physical tools. We are America's largest tool-lending organization. We maintain an inventory of physical tools that we lend to other nonprofits to enable community-based service projects.
We began our partnership with IBM during their Centennial Celebration of Service in 2011. Since that time, IBM experts have helped us develop strategies for efficiency, growth and collaboration with other nonprofits so that we can continue to provide our essential service. IBM and the Atlanta ToolBank eventually entered into a partnership that involves an annual consulting grant to help us refine operations and expand our impact across Atlanta. This critical strategic "tool" has been made possible by an IBM Impact Grant.
As a professional development educator, one of my responsibilities is to train in-home child care providers. These valued service providers often struggle with the paperwork, record keeping and tax information requirements related to their businesses. Errors and omissions can lead to regulation violations, and eventually can jeopardize a care giver's ability to remain in business. For these and other reasons, the IBM SME Toolkit is a welcome and valued resource for child care educators and practitioners. The SME Toolkit helps me educate in-home child care providers – some of whom struggle with the business aspect of providing child care – to manage and grow their businesses and avoid violations.
The IBM SME Toolkit is a free, online business-building guide for small and medium-sized businesses. Having access to this type of guidance is essential to child care providers who lack the training or financial resources for professional services in business development, marketing or finance. My colleagues and clients have found the Toolkit to be an exciting resource for teaching and learning effective business organization and marketing practices.
Cyber attacks, and cyber-security awareness, have moved to the forefront of discussion in the past decade. There is no question that American infrastructure is vulnerable to both external and internal cyber threats. American leadership in both the private and public sectors has identified a gap in our cyber capabilities, and has begun to implement committees, programs, and initiatives in order to boost interest and awareness in the cyber field. If America is going to remain at the forefront of technological capability, our education system needs to implement further programs and initiatives that connect our future work force to the skills necessary to be second-to-none in the cyber domain. But according to the National Initiative for Cybersecurity Education 2012 Strategic Plan, only 12 high schools in the U.S. offer formalized cyber-security education in their training.
The need for enhanced cybersecurity is shaping the future force structure of the military as well, including the creation of the new United States Army Cyber Command. Through the efforts of the Network Science Center and the Department of Electrical Engineering and Computer Science, the United States Military Academy has responded to the deficit in cyber-security education through several means, including sponsoring the Vulnerable Web Server (VWS) project to provide a virtual environment in which students and instructors can learn to identify and respond to cyber vulnerabilities. As part of the project, the VWS team has written an instruction manual that contains definitions of cyber threats, and additional student and teacher resources.
P-TECH, the IBM-led grades 9-14 schools model, is expanding rapidly because of its seamless integration of high school, college and career, and the concrete path to opportunity the model provides for students. There are 27 schools currently operating under the P-TECH model in the United States, and this week, Australia announced it will open two P-TECH schools with IBM's help in Ballarat and Geelong in 2016. The Australian Financial Review has just published an in-depth article about how this truly innovative high school model has been implemented in the U.S., specifically focusing on one of IBM's four partner schools in Newburgh, New York.
Located in a school district burdened by high crime and low incomes, Newburgh's Excelsior Academy is providing its inaugural class with a promising path to a college diploma and fulfilling career. Highlighting how Excelsior Academy blends academic and workplace skills development into a well-rounded education, the Australian Financial Review article illuminates the P-TECH model's potential to increase the skill level and career preparedness of graduates throughout the country and, eventually, around the globe.
Cliff Archey is IBM's Education Program Manager at Excelsior Academy in Newburgh,
New York.
Related Resources:
Australian Financial Review: US School Model Teaches a Lesson
Times Herald-Record: P-TECH Demonstrates How We Can Change Education
Australian PM Visit Signals Global Validation for P-TECH Model
One third of the world's population lives in poverty. Around the globe, Oxfam works to find practical, innovative ways for people to lift themselves out of poverty and thrive. We save lives and help rebuild livelihoods when crisis strikes. And we campaign so that the voices of the poor influence the local and global decisions that affect them. We are determined to change the world by mobilising the power of people against poverty.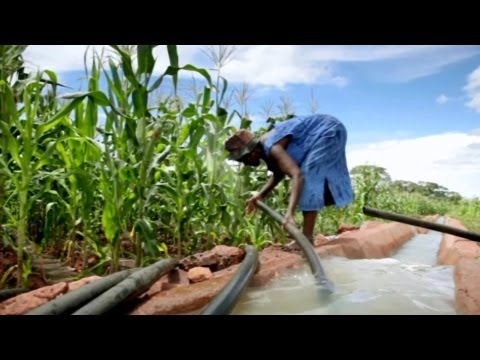 But as we move towards an increasingly digital future, a smart digital strategy is critical for an organisation like Oxfam. We must be equipped both strategically and tactically to inspire support among members of the public through innovative use of online channels. That's why Oxfam Ireland recently collaborated with IBM on a new Digital Marketing Strategy under IBM's Impact Grant Program.
While today is Earth Day, environmental sustainability is IBM's guiding principle every day of the year. Last month, I participated in a White House roundtable on greenhouse gas reductions, which highlighted leadership by IBM and other large Federal suppliers committed to reduce their greenhouse gas emissions.
IBM has long taken environmental sustainability seriously, and we have been making aggressive moves for 25 years to reduce our greenhouse gas emissions. At the White House event, we  announced new goals for the use of renewable energy and for the reduction of greenhouse gas emissions. In the case of greenhouse gas emissions, this marks the company's third generation goal.