Archive for November, 2011
As reported in today's Wall Street Journal, a new study from the Center for an Urban Future confirms what many of us have been saying all along: Even though our young people understand the need to acquire the skills and education to qualify for 21st Century jobs, a stunningly high percentage of them fail to finish their degrees. Inadequate academic preparation, and lack of guidance and support are two of the biggest reasons for low completion rates.
(Click for full-size graphic)
The study notes that "young people have flocked to community colleges in record numbers" since the start of the Great Recession in late 2007. But in New York City – the nation's largest municipal system, with 91,000 students – only 28 percent of those who enroll attain an associate's degree within six years. And completion rates at The City University of New York (CUNY) are higher than nationwide, where the degree attainment rate for community college students has stagnated at 26 percent.
These low graduation rates come with substantial financial implications for students and taxpayers. Each community college dropout costs New York City more than $17,000 in federal and state aid, and in city and state funding, according to the study. And as I've written before, the lifetime earnings of those without college degrees are nearly 85 percent less than the earnings of college graduates. Were we able to increase graduation rates in just the six CUNY community colleges by 10 percent, the 30-year earnings of one graduating class would increase by $3.4 billion — with a one-year income increase of
$631 million. Projected nationally, this could be a vital component of U.S. economic recovery.
As mentioned in the Journal, Brooklyn's Pathways in Technology Early College High School (P-TECH) is an example of the new thinking in public education. P-TECH confers both the high school diploma and an associate's degree in technology, and utilizes a rigorous curriculum matched with skills required for the workplace to give students what principal Rashid Davis terms "a solid foundation in algebra and literacy." P-TECH also provides each of its students with an adult mentor to help guide them through their academic preparation and transition to industry or further education.
Community college enrollment is on the rise, but limited resources to help students develop a career focus and get the remedial learning they often need have left many of our young people without a safety net. Public school programs that offer rigorous academic preparation combined with real-world career guidance have the potential to revitalize our economy as they prepare our next generation for lifelong productivity and success.
Download the full "Mobility Makers" report from the Center for an Urban Future.
The Center for an Urban Future is a New York City-based think tank dedicated to independent, fact-based research about critical issues affecting New York's future. The IBM International Foundation was one of several philanthropic institutions that funded the "Mobility Makers" report.
It's elementary, my dear Watson.  Oh, wait…..I'm not Sherlock Holmes, and a very different Watson is helping me out.
And instead of tracking down a clever thief, this Watson helped me start the search for new ways to stop a monster that kills almost a million people each year — most of them children.
The microscopic monster is the pervasive parasite known as Plasmodium falciparum — which causes the deadliest form of malaria and kills more people than any other parasite.  The Watson who is helping me is not a fictional character, or even a real person — it's IBM's Watson computing system, which defeated human competitors on the Jeopardy! game show tournament earlier this year.
No, Watson isn't giving us advice on killing malaria.  Rather, part of the cash prize that Watson won went to Professor Art Olson's lab at The Scripps Research Institute, where we are using it to create a new project on World Community Grid called the "Global Online Fight Against Malaria," which launches today.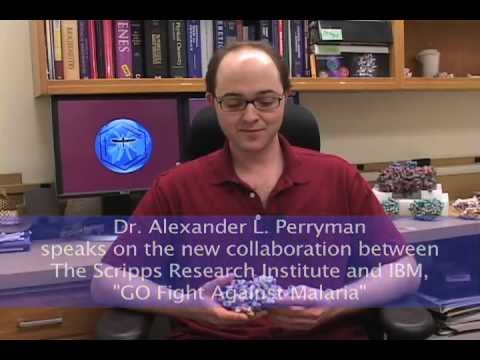 It's the largest computational research project ever performed against drug-resistant malaria.   Unfortunately, many strains of malaria have become resistant to the different drug treatments (they almost always do, eventually).
Working on malaria started as a hobby that I advanced during nights and weekends for a couple years, when I wasn't working on FightAIDS@Home, Professor Olson's project on World Community Grid that seeks a cure for HIV.  With persistence and a lot of help from IBM and from fellow Scripps Research scientists, we're now addressing malaria.
I should emphasize that this initiative seeks new malaria treatments, not a vaccine.  Of course, the two would be complementary; the vaccine will help prevent illness, and drug treatments will address those who never received the vaccine, or for whom the vaccine wasn't permanently effective.
We will use World Community Grid to computationally evaluate millions of candidate compounds that might disrupt the proteins the Plasmodiumparasites need in order to survive, multiply, or infect a person.  If these target molecules can be disabled by the right chemical compounds, then patients infected with superbugs of malaria can potentially be cured.
It's like trying to find the right key to open a particular lock.  However, both the lock and the keys are flexible — they can change shape, or transform their conformation, as they wiggle, jiggle, dance, expand, and contract in the warm watery environment in which they reside.  In addition to needing to find a complementary match between the different flexible shapes of the lock and the potential keys, both parts of the system also have different charged and partially charged atoms that need to match up well, too.
To make it even trickier, the total number of potential keys that could exist in the universe (the size of "chemical space") is estimated to be about 10 to the 60th power (yes, that would be a 1 with 60 zeros after it!).   Therefore, we'll just focus on the types of keys that are somewhat similar to the types of molecules that have already become approved drugs.
Data from the experiments will then be made available to the public.  How cool is that?
What we can accomplish with one year of calculations on World Community Grid could take us over one hundred years to achieve, using the resources we normally have available.  Join the global online family and "GO Fight Against Malaria" with us.
Alex L. Perryman, Ph.D. is a research associate at The Scripps Research Institute.
___________________________________________________________________________
Editor's Notes:
World Community Grid is fed by spare computing power from the nearly 2 million PCs that have been volunteered so far by 575,000 people in more than 80 countries.  It gives each PC small computing assignments to perform when the devices aren't otherwise being used by its owners, then sends the results to scientists seeking a faster way to cure disease, find renewable energy materials, create clean water techniques, or develop healthier food staples.
In 2006, 247 million people became infected with malaria — the leading cause of death in Africa for those under age five.  According to the World Health Organization, malaria is both a disease of poverty and a cause of poverty; survivors are often subject to impaired learning, school absences, lost work, and increased economic distress.  Where prevalent, the disease can account for 40 percent of all public health costs.
Follow World Community Grid on Facebook
Ethan McCarty was one of 95 IBM mentors who met with their student protégés at New York's Pathways in Technology Early College High School (P-TECH) for the first time in October. P-TECH is a new model grades 9 through 14 school located in the Crown Heights section of Brooklyn, and many of its students will be the first in their families to attain the associate degree they'll receive along with their high school diplomas. The school has a visionary principal, a dedicated faculty, and a remarkable 100% attendance rate. Read what Ethan has to say about community volunteering and his inspiring new P-TECH friend.
Ethan's story: "The idea behind the P-TECH program is that IBM partners with a local school system and university to create a six-year science and technology school that gives the kids a chance to earn both a high school diploma and a two-year degree in one shot. Naturally, IBM does a whole lot of stuff, like help out with the curriculum and some of the technology supporting the program, whose graduates will be first in line for entry-level jobs at IBM. Where I come in (along with about a hundred of my colleagues) is a dimension of the program that pairs each P-TECH student with an IBM mentor.
When I lived in East Harlem, I worked with the Tutorial Board there. Since I moved to Brooklyn, I've been looking for a regular way to work with kids and give back to the community – so this seemed like a really good opportunity. Since I don't volunteer that often, the idea of a program that is managed by IBM's citizenship team appealed to me because I knew it would be well organized. One of the problems I've found with volunteering in the past is spending energy that could be dedicated to helping others simply figuring out how to connect with the volunteer opportunity – so the P-TECH program looked like a good fit. It only took about 15 minutes for me to work through the automated background check process, and I was good to go.
All of us were looking forward to meeting our P-TECH protégés for the first time. P-TECH is one of three programs housed in Brooklyn's Paul Robeson School, just a few miles from where I live. That first day was exciting as students, parents, teachers, mentors and administrators all crowded into P-TECH's "gymatorium" – a combination auditorium and gym. After a round of speeches, we finally got the chance to find our protégés in the crowd, and I finally met Radcliffe.
The organizers of the event had set up some structured activities to help get conversations started, so Radcliffe and I went to a classroom where we could talk and start to get to know each other. I was totally impressed by Radcliffe. He is articulate, ambitious, funny and clearly curious about how the world works and how to make his future in it.
As part of the exercise we did, Radcliffe described to me an idea he had for getting help to people who are interested in bicycle repair (he works on bikes as a hobby). Together, we started to map out how an iPad application could be designed to support a business for bike-repair enthusiasts and professionals. I was blown away by Radcliffe's creativity.
At the end of the day Radcliffe and I said goodbye, but not for long. A major component of the mentoring relationship is enabled through an IBM platform called MentorPlace. It's a bit like having a pen-pal, only each week we have a different assignment. This week, for example, Radcliffe and I wrote a poem together and talked about how teamwork is essential to business success.
I think Radcliffe and I are off to a good start. As a friend and fellow program participant said to me, the most important thing here is that these teenagers get and maintain a sense that there are adults out there who care about them. I agree – and I do."
Further Resources:
Of the nearly 1.5 million men and women serving in the U.S. military, more than  250,000 re-enter the civilian work force each year, and an estimated 1 million are expected to leave the military by 2016. Unfortunately, the unemployment rate for returning veterans "has consistently outpaced the rate among civilians," according to The Washington Post – which reported a 12.1 percent October jobless rate for veterans. And no wonder. Many of these transitioning service members are pursuing their first non-military careers, and resources for them – and for those still deployed, but thinking about transition – are few and far between.
That's why I founded American Corporate Partners (ACP) in 2008 with the goal of assisting Iraq and Afghanistan war veterans re-integrate into civilian life with free career counseling and mentoring by corporate and academic professionals from our member organizations. ACP was the first nationwide corporate mentoring program for returning veterans, and today partners with 35 corporations and universities whose employees volunteer as mentors. IBM is one such corporate member, and has provided more mentors than any other corporate partner. IBM also has contributed two technology solutions to support our one-on-one mentoring efforts.
Over the last three years, the response to ACP from military service men and women has been overwhelming, and we anticipate the demand for career support to continue growing as the military draws down troop levels from abroad. To help meet the increasing demand for career counseling for returning veterans, we're launching ACP AdvisorNet this Veterans Day, November 11. ACP AdvisorNet is an online "Quick Question Community" in which veterans and their immediate families can ask business-related questions and gain advice from business and academic leaders nationwide.
ACP AdvisorNet is unique in that it provides guidance to both service members and their spouses and family members – a population that is often overlooked. Using ACP AdvisorNet, veterans and their immediate families can query business and academic professionals on topics related to employment, career development, or starting a small business. Questions ranging from how to prepare for a job interview to how to write a winning business plan will be answered by professionals who want to give back to our nation's veterans by sharing their advice and expertise.
"ACP AdvisorNet is helping me transition into the corporate world both personally and professionally, and I would recommend this program to all my veteran friends. It's really essential to have a program like this. It is a wonderful platform." – Samuel Shim, USAF Iraq, now studying finance at Fordham University
With the launch of ACP AdvisorNet, we hope that many more veterans will benefit from the insights of concerned professionals from a variety of business backgrounds. If you'd like to join the ACP AdvisorNet community, please create an account and start engaging with returning service members and their families today. We look forward to seeing you online, and we thank you for your service.
After a successful career on Wall Street, Sid Goodfriend founded American Corporate Partners (ACP) in 2008 to help returning veterans of the Afghanistan and Iraq wars make the transition to productive civilian life. ACP offers free career counseling and mentoring by professionals from America's finest corporations and select universities.
Read the September 2011 Wall Street Journal article "From Battlefront to Boardroom" about the ACP program, and find out about the newly-announced White House initiatives to assist returning vets.
For the second consecutive time, FORTUNE magazine has named IBM as the #1 Global Company for Leaders. As part of our series on IBM Leadership, Country General Manager for East Africa Tony Mwai comments on IBM's new model for identifying and developing global leaders.
IBM understands the complexities of identifying and supporting employees with global leadership potential. To compete on the global stage, today's leaders need adaptable expertise. Developing this expertise requires more than a simple "tour of duty" in an unfamiliar locale, and it goes beyond merely being mindful of local differences. The development of global leadership skills results from immersion in multiple markets and cultures, and the experience of collaborating with colleagues and partners across an even broader spectrum of opportunity.
At IBM, we always have relied on a distributed leadership model to enable decision-making authority among those best positioned to make knowledgeable, real-time contributions to the business. Monumental shifts in where revenue is generated have inspired us to expand and reinforce that commitment, and to recognize that successful global leaders must be able to appreciate and truly embrace diversity. To make this happen, we now offer greater opportunity for more employees to develop their skills, participate in global leadership experiences, and learn how to work across our enterprise more effectively.
For the second consecutive time, FORTUNE magazine has named IBM as the #1 Global Company for Leaders. As part of our series on IBM Leadership, Vice President for Government Industry Strategy & Solutions Sharon Nunes comments on entrepreneurship and the global enterprise.
It bothers me when I hear people say that entrepreneurship is only valued at small companies. It's simply not true. Just take a look at IBM's CEO Study, where more than 1,500 CEOs said that creativity is helping navigate today's volatile and complex business environment.
Granted, you need creativity to be a successful entrepreneur – from how you run a business with limited resources, to how you think about starting a new line of business or creating a new market. But creative instincts are not enough – entrepreneurship requires more than vision, a business plan, and funding. It also takes leadership and due diligence.
Five years ago, when I looked into starting up a "smart" water management business at IBM, very few around me imagined that our company would go in that direction. There was no ecosystem to plug into, because the market for these smart systems barely existed. So I began learning about the market and competition. Conversations with academics and city managers helped me understand what the technology play for water management systems would look like. IBM's water business went on to be a strategic part of the company's Smarter Cities global initiative.
This "internal start-up" process taught me leadership lessons that I think could help like-minded entrepreneurs at big companies, whether they are heading up a project, starting a product line, or jump-starting a new business unit. For example:
Strive for first-mover advantage
Being an entrepreneur takes energy and a lot of homework. You need to research industry developments and demographic trends because the market, and society, are always changing. It's important to understand what the market is doing and what events are influencing it. That will give you insight into business needs and how the market is responding so you can shape it.
Just think about social media. It took less than a year for it to morph from a way to communicate with friends and colleagues into a critical tool for chief marketing officers in just about every industry. Organizations that anticipated and responded to these trends were the first to capture the benefits and new business opportunities that social media provides.
As Wayne Gretzky famously said, "A good hockey player plays where the puck is. A great hockey player plays where the puck is going to be."
Stay away from sycophants
The last thing you want is to operate in an echo chamber of consensus. It's helpful to vet ideas with two or three people who don't think like you and who will be brutally honest. It's also a good way to build a network of allies. If you can convince skeptics, they will become your most loyal advocates and help sell your idea through their own internal networks. They will also press you to answer difficult questions that may not have occurred to you.
Know what you don't know
It's important to be self-aware. If you are an idea person, surround yourself with financial and operations experts. If you are an "execution" person, seek out visionaries and market analyzers. If you are good at recognizing a big market opportunity, surround yourself with people with a deep understanding of how it will stack up against competitors and be perceived by customers. And reach across sales, marketing, and other lines of business to gain different perspectives on client needs so you have your best shot at market success.
While the safety net at a large company may be bigger than at a small firm, the challenges to entrepreneurs are quite similar. You have to be a risk-taker and believe in your gut that it is the right thing to do – but don't ignore market signs. And remember – it takes homework, not hubris.
BOTTOM LINE: Why vision, a business plan and funding are not always enough for budding entrepreneurs. #ibmleaders
Read more about IBM Leadership:
Why IBM Is the Best Company for Leaders by Randy MacDonald, Senior Vice President, Human Resources
A Global View of Leadership Development by Stanley S. Litow, Vice President, Corporate Citizenship & Corporate Responsibility and President, IBM International Foundation
How Private-Public Partnerships Can Lead Through Innovation by Rod Adkins, Senior Vice President, Systems & Technology Group
A New Model to Cultivate Global Leaders by Tony Mwai, Country General Manager, East Africa
Leadership Must Evolve in an Interconnected World by Bridget van Kralingen, General Manager, North America
For the second consecutive time, FORTUNE magazine has named IBM as the #1 Global Company for Leaders. As part of our series on IBM Leadership, Rod Adkins, Senior Vice President of IBM's Systems & Technology Group, comments on how partnerships between the private and public sectors can help fill the need for tomorrow's science and technology leaders.
Growing the global economy will require leadership and innovation on many fronts.  In the knowledge economy, there is plenty of evidence that those who have strong math and science skills will drive innovation for future generations. We need to recognize the need to invest in education for the long term.
In the United States, we need innovators with backgrounds in math and science to spur growth and generate new jobs. However, the facts in this area of education are alarming.
According to the National Science Foundation, the percentage of U.S.students studying math, science, and engineering has decreased from 21 percent in the 1980s to approximately 16 percent today.
The most recent Organization for Economic Co-operation and Development test scores show that the U.S. was below the average score in math and only at the average in science.
The situation is even more dire for minority students, who are pursuing pure science and engineering degrees to an even lesser degree. Currently fewer than 13 percent of the more than 70,000 U.S. engineering bachelor's degrees are awarded to minorities, according to the National Action Council for Minorities in Engineering.
In order for companies like IBM, and the U.S. as a whole, to stay competitive in a global economy, both business leaders and policy makers must work to fix this trend. Developing a new generation of innovators requires greater private-public partnerships that encourage more students to specialize in STEM (science, technology, engineering and math).
Here in New York, the Pathways in Technology Early College High School (P-TECH) is a new grades 9-14 school that opened in September. The school is a collaboration among the New York City Department of Education, The City University of New York, the New York College of Technology and IBM and is designed to prepare students to fill entry-level careers in technology fields. Such pro-active intervention helps increase the number of minorities who can fill leadership roles in the technology industry. I've had the privilege of mentoring P-TECH's principal, Rashid Davis, and have seen first-hand the excitement and hope that he and the school have inspired in the new students.
And in Chicago, a grant from IBM is helping to raise the city's high school and community college graduation rates and better prepare graduates to enter the 21st century workforce. IBM is also dispatching a team of technology consultants to Chicago for three-months — the result of an IBM Smarter Cities Challenge grant. The grant will help Chicago prepare a business plan to personalize education for students, allowing them to build the necessary skills to put them at the front of the line for quality, high-paying jobs upon graduation. The team will work with educators and city leaders to evaluate ways Chicago can better align its education system with the needs of knowledge workers in the private sector.
These are just some examples of how private-public partnerships can help put students on track to pursue STEM careers. Just as successful companies invest in R&D to produce future innovations, so too must all levels of society invest in STEM education to produce the innovators of tomorrow.
BOTTOM LINE: Just as companies invest in R&D, society must invest in STEM education. #ibmleaders
More from Rod Adkins:
Calling for Innovators: Our Students Must Learn to Create New Technologies, Not Just Enjoy Them
Read more about IBM Leadership:
Why IBM Is the Best Company for Leaders by Randy MacDonald, Senior Vice President, Human Resources
A Global View of Leadership Development by StanleyS. Litow, Vice President of Corporate Citizenship & Corporate Responsibility and President, IBM International Foundation
Entrepreneurship Takes Homework, Not Hubris, by Sharon Nunes, Vice President, Government Industry Strategy & Solutions
A New Model to Cultivate Global Leaders by Tony Mwai, Country General Manager, East Africa
Leadership Must Evolve in an Interconnected World by Bridget van Kralingen, General Manager, North America