Archive for April, 2012
When retired IBMer Jack Wilson stepped up to help create the Center for Service Leadership in Hilton Head Island, South Carolina, it should have come as no surprise. Leadership is in Jack's DNA. The former U.S. Navy Captain – with 26 years at IBM – collaborated with eight other retired IBMers and community leaders to help transform education and training for employees and managers in Hilton Head Island. The Center for Service Leadership and the Technical College of the Lowcountry (TCL) work together as a public-private partnership to strengthen the region's hospitality-based economy.
One could say that sharing his expertise to unite the public and private sectors in service is Jack's niche. As part of IBM's Centennial Celebration of Service last year, Jack spearheaded the Center for Service Leadership project with the goal of making Hilton Head Island a "gold standard in service leadership." Jack's team of volunteers has more than 300 years of leadership experience. And it was their idea to transform Hilton Head into a center of excellence for training service leaders across all industries from aviation to health care to hospitality.
Three-Phase Plan
The Center will launch a lecture series this summer focused on creating a culture of service excellence. Local and national service leaders will be on hand to share their best practices with program participants.
Next, the Center will collaborate with TCL on a series of "service excellence" seminars for the college's continuing education program.
Finally, the Center will take an active role in helping area and relocating businesses become more competitive by training their owners, managers and employees to create a culture of service excellence.
Jack's team has already donated hundreds of hours to the Center for Service Leadership project. Through their leadership, the team has continued IBM's tradition of donating expertise to bring about real and sustainable change.
Lisa Lanspery is Manager with IBM Corporate Citizenship & Corporate Responsibility communications.
A little over three years ago, a group of faculty members at the University of Virginia were meeting weekly to see what they might do to encourage awareness of issues of global sustainability among their students. The faculty members represented seven different schools and brought diverse expertise to the subject. But how to start was the more elusive question.
The new Vice President for Research, Tom Skalak, challenged the group to devise a simulation model that could be played as a game with student participants. The faculty were a bit skeptical of the idea, but thought it through anyway. It was decided that the Chesapeake Bay would make a good subject for this simulation game. The Bay represents a complex socio-environmental system, the University is located in the Chesapeake Bay Watershed, and the Bay is under considerable environmental stress.
Philippe Cousteau — environmental advocate, University of Virginia OpenGrounds Fellow and Azure Worldwide co-founder — writes about how World Community Grid is using donated, unused computing power to help save the Chesapeake Bay Watershed.
As a social entrepreneur and environmental advocate, I know first-hand how easy it is to become overwhelmed by the challenges facing our world. How can I make a difference? Where do I even start? These are questions I ask myself frequently, and questions I know many others ask all around the world. Fortunately, one of the most valuable lessons I've learned over the years is that big challenges don't always require big complex solutions.
In fact, in many cases the answers might be right in front of us.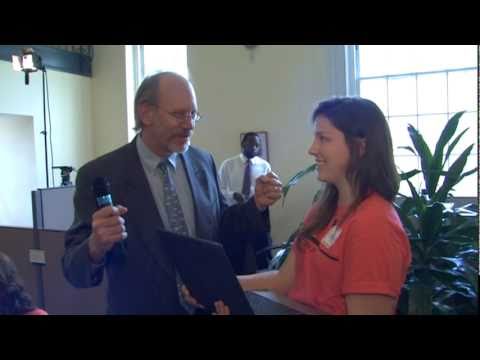 Such is the case with the Computing for Sustainable Water Project from World Community Grid and the University of Virginia. This project tackles a very big, very complex challenge: predicting the environmental and economic impact of human actions on critical water resources over the next 20 years. Before we look at the unique approach IBM and the University of Virginia are taking to address this challenge, let's take a moment to look at
the importance of the undertaking.
Click for larger graphic
For 2012, IBM advanced from No. 3 to No. 2 on Corporate Responsibility Magazine's "100 Best Corporate Citizens" list – a ranking compiled from the Russell 1,000 Index. IBM is the only company that has achieved a Top 5 ranking in each of the last four years. Companies were evaluated based on publicly available information in seven categories: environment, climate change, employee relations, human rights, governance, finance, and philanthropy.
Whether you call it Corporate Social Responsibility, Corporate Citizenship or Socially Responsible Investing, IBM is proud to be recognized for our values-based approach to philanthropy. We back up our use of the phrase "from spare change to real change" with meaningful and effective contributions of our talent and technology to solving critical societal issues around the world.
In my address to the Third Annual International Corporate Volunteerism Conference (ICV) last night, I spoke about the need to link values to business strategy in order to create sustainable value. In other words, corporations must develop and advance a new model of philanthropy that's grounded in an enduring commitment to service. The old model of "checkbook philanthropy" is outdated. What matters today – what makes a difference – is volunteering one's expertise to help solve critical societal issues.
IBM's Corporate Service Corps program delivers a triple benefit for communities, participants, and IBM:
Communities benefit as IBM sends its best talent and global experience to tackle business and societal issues in growth markets;
Participants benefit from unique opportunities to expand their leadership skills and understanding of growth markets, and giving back to society;
IBM benefits from the development of new leaders with a broad range of skills in a global context, a better understanding of developing economies, and the opportunity to introduce the IBM brand.
Since 2008, more than 1,500 IBMers from more than 50 countries have contributed their expertise in nearly 30 countries via the Corporate Service Corps. Through these engagements, IBMers provide high quality business and IT consulting on critical concerns related to job creation, education, the environment, health care, disaster response, and creating smarter cities. This means more effective public agencies and nonprofits to spur local economic development and better services for residents.
Our Corporate Service Corps, Executive Service Corps and Smarter Cities Challenge programs provide outstanding opportunities for IBMers to develop global leadership skills. Collaborating with top-performing colleagues from around the world, developing and refining consulting skills, building relationships with new clients, and gaining exposure to new markets all help prepare leaders in a globally integrated enterprise. It's why IBM continues to be recognized as the top global company for leaders, and why we're continuing to expand these programs to involve more participants, reach new markets, and bring our culture of service to communities around the world.
Robin Willner is Vice President for Global Community Initiatives with IBM Corporate Citizenship & Corporate Affairs.
Related Articles:
Training Tomorrow's Leaders to Link Values to Business Strategy
The Can Tho Connection: Corporate Service Corps / Vietnam
Executive Service Corps, Johannesburg: Anatomy of an Engagement
In 2011, IBM very generously awarded the Ontario Association of Food Banks (OAFB) with a grant valued at $250,000 to develop and implement a new online tool that would improve food distribution to those in need across the province. After thousands of donated hours from IBM staff, the Smarter Needs Allocation Program was developed and launched in December 2011. Nearly 120 food banks across Ontario are now using a new online food distribution system to help put donated food onto hungry families' plates – faster and more efficiently.
In providing this assistance, IBM chose to work on a limited number of high impact projects per year. The company's strategic philanthropy goals focused on projects in education, workforce development, smarter cities, and in particular helping to reinforce a smarter social safety net. The emphasis was on projects where IBM could leverage its skills and technology to help the not-for-profit sector improve its business processes, run more effectively, and deliver better services at lower cost – stretching precious resources as far as possible.
The OAFB grant was borne of relationships IBM and IBMers had in their local communities. In this case, employees in Ottawa had a long relationship with some local food banks, and the conversation and idea evolved from there.
IBM provided the OAFB with the technology and expertise to create a software program that efficiently manages the coordination of donations to each of its member food banks. IBMers worked with OAFB staff to develop and deploy the Food Bank Allocation System – Canada's first. The program features the following advantages:
Food distribution among all Ontario food banks is faster, more efficient, and more equitable.
Ontario now can record and track expiration and "best before" dates to improve food safety and address potential product recalls.
A feedback loop enabling food banks to report on the quality of donations has helped OAFB decline unsuitable donations and address transportation delays.
The OAFB manages a huge flow of food to Ontarians each year – more than eight million pounds of food, including one million liters of fresh milk. Distribution was previously coordinated through phone calls, faxes and emails. But instead of relying on uncoordinated data to make food allocation decisions, the new online system accesses past account inventory information to determine where the greatest needs lie.
For example, the system will take into account the last time a particular food bank received an allocation, the expiration date of that supply, and the expiration date of a new supply that's ready to be distributed. The system also can determine the proximity of donation sources to various food bank destinations to minimize transportation costs and environmental impact.
The program has already generated beneficial results – making food distribution in Ontario transparent, efficient and equitable, and dramatically improving the OAFB's ability to distribute food to its members.
Leslie Plant is an External Communications Manager with IBM. A version of this article originally appeared in Hunger eNews.
Download the OAFB reports "Combating Hunger" and "Running on Empty: A Decade of Hunger in Ontario".
I'm a former English major who happens to love math. I find elegance – and some solace – in an ever-complex world when I discover a cadence or logic in nature, such as the Fibonacci sequence in broccoli or the patterns of a snowflake. And as someone working to improve STEM education (Science, Technology, Engineering and Mathematics), I know that it's critical for young people to master mathematical concepts so they'll be prepared for both college and career.
One way to bring math to life for young people is to teach them about those great thinkers who found mathematical elegance in the complexities of the world around them. One resource is Minds of Modern Mathematics, a free iPad app from IBM that illustrates the impact of math on culture and society. In the same way that science and engineering can help us connect mathematical principles to practical applications, an examination of the history of mathematical ideas can help us contextualize them in our world.
Another way to engender students' love of math is through hands-on learning. Sites like Teachers TryScience, which provide teachers with engaging and informative project-based lessons, integrated with pedagogical and practical resources to teach them effectively, require students to apply math skills as they build a wind turbine or determine the amount of carbon stored in a tree.
Most jobs today require a knowledge of math. And high-demand, high-paying careers need young women and men from all backgrounds who can perform complex mathematics. Even "no math" jobs require people who can think in mathematical ways. For example, a lawyer uses skills that enable her to reason logically and methodically –  the same skills that she began mastering while studying algebra.
Grace Suh is a Senior Program Manager with IBM Corporate Citizenship & Corporate Affairs.
Download the free Minds of Modern Mathematics iPad app
Read the IBM Research announcement about the app
Related Resources:
Presentation: What Is STEM Learning?
Design-Based Learning: A New Paradigm for STEM Education
How can information technology (IT) and data analytics help cities provide better qualities of life for their residents? Can a smarter approach to sustainability serve as a foundation to corporate social responsibility? Carnegie Mellon civil and environmental engineering professor James Garrett comments below on the connections among IT, data analytics, and building a smarter planet.
At a recent conference on computing in civil and building engineering, I made the point that the most pressing challenge for infrastructure over the coming years will be to determine more effective approaches to spending the least amount of money to deliver the highest quality services.
Consistent with IBM's Smarter Planet vision, I see a huge role for information technology (IT) in addressing this challenge. We need to move to a model where the delivery, maintenance and management of roads, buildings, bridges, pipelines and other infrastructure is highly predictive and proactive, and where information is relatively cheap
to collect.
In observation of National Engineers Week, IBM mentors reunited with their protégés from New York's Pathways in Technology Early College High School (P-TECH) for a day of learning and fun. Below, IBM mentor Julie Arthofer writes about her continuing relationship with her P-TECH protégé, and the school's recent E-Week celebration activities.
It is often hard to filter through hundreds of emails a day, and there is always a fear that one will be missed or accidently deleted. Luckily this was not the case when I received an email about becoming a mentor at New York's Pathways in Technology Early College High School (P-TECH). Mentoring is something I have been involved in since high school, and I had been looking for another mentoring opportunity since. I responded instantly and was thrilled when I was selected as a mentor for P-TECH.
P-TECH is unique in that it offers students the opportunity to graduate with an Associate degree in technology after just six years of schooling. Today, P-TECH serves as a model for similar schools to come, and I am proud to be working for the company that helped make this school a reality.
The kick-off event for mentors and protégés not only gave us an opportunity to meet the students and get a feel for their learning environment, but also gave us a chance to meet the teachers who would be helping shape their education. We also were fortunate to meet Principal Rashid Ferrod Davis who demonstrated his commitment to his students and to
P-TECH's mission with a moving speech.
Following the short presentations, the room became a bit chaotic as we split up to find our protégés. Once I paired up with my protégé, Jenyce, we sat down in a classroom and went through a list of "break the ice" questions to get to know each other better. We did not quite make it through the entire list of questions, as we easily got sidetracked by other topics ranging from our most embarrassing moments to debates over which pop star is better.
As the event wrapped up, Jenyce and I had to cut our meeting short, but we were both very excited for the mentoring program to officially start. Jenyce and I now correspond weekly on the IBM MentorPlace website, where activities are posted to stimulate our conversations and usually relate to what the students are learning in school. There is also a discussion board where we can touch base and check in with one another in a more informal way. Recently, P-TECH students were given an assignment to write a biographical sketch about a social innovator, and mentors were asked to provide feedback. It was extremely rewarding to read Jenyce's initial draft and see how she incorporated the suggestions I had given her, and to see the immense improvements in her writing and her growth as a student.
I have also become involved with P-TECH outside of the weekly MentorPlace activities.
As part of a NYC Community Service committee that holds monthly events, I was able to organize an event at P-TECH – "Engineering Week (E-Week) that P-Tech got involved with this year. E-Week is a program devoted to promoting engineering at schools around the nation, and organizes hands-on activities related to engineering to get the students involved. For P-TECH's E-Week activity, the students built a rocket ship using a straw, balloons, and one small cup. The goal was for the students to launch the ship up an eight-foot fishing line carrying the highest number of washers. We also had a speaker with an extensive engineering background attend the event to explain the lessons to be learned from the activity.
I was very excited for this opportunity to see the students at P-TECH once again. In this world of technology and constant communication via the Internet, it is always great to put a face with the name every now and then!
Julie Arthofer is an IBM Global Business Services Strategy and Information Consultant.
Related Articles:
P-TECH Celebrates Engineers Week: One Mentor's Story
Volunteerism and Citizenship: One Mentor's Story