Perhaps the most valuable lesson of this year's Clinton Global Initiative (CGI) America conference was that innovative ideas and the creative cooperation to implement them are essential to bringing about meaningful improvements in the quality of peoples' lives. At the conference, I had the honor of joining SBA Administrator Karen Mills for a CGI "dynamic duo" discussion of how IBM's Supplier Connection – an innovative public-private collaboration – can help small businesses gain access to large-company supply chains. Such access will help small businesses grow by boosting their revenues, and in turn will stimulate job growth. We all know that small businesses are the engines of American competitiveness, but for them to increase revenues and add jobs they need access to large-company spending. Small businesses create fully one-third of America's jobs, and by simplifying their access to the hundreds of billions of dollars of annual spending by large enterprises, we can jumpstart growth in the small business community.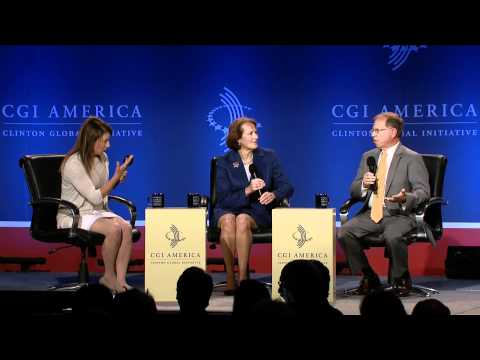 Facilitating a connection between small and large businesses benefits both groups. Studies show that small businesses grow revenue by 250 percent and increase hiring by 100 percent within only two years of landing a contract with a large company. Meanwhile, large enterprises that source their needs through small suppliers benefit from the innovation, creative ideas, and cost-effective goods and services that are the hallmarks of small businesses. In 2011, IBM allocated nearly $1.5 billion in supply chain spending to U.S. small businesses alone – a 14 percent increase from the prior year. We expect that number to increase for 2012, and our first quarter supply chain spending with small businesses is already up.
In addition to connecting more than 2,000 small companies to the growing Supplier Connection consortium that includes Caterpillar, CitiGroup, Facebook, John Deere, Kellogg's, Office Depot, Pfizer, UPS and 11 other companies, IBM also provides free small business resources to more than five million small businesses through the SME Toolkit. The toolkit's software, business forms, tools and training provide much-needed support for growing businesses so that they can become globally competitive in the 21st century marketplace. Both Supplier Connection and the SME Toolkit are free.
Creative cooperation between the public and private sectors is accelerating the pace of meaningful change where no single entity or group can carry the weight alone. It is only through working together that corporations, communities and governments will strengthen and sustain America's global competitiveness.
Clinton Global Initiative Panel Discussion Video:
Watch Stanley S. Litow and SBA Administrator Karen Mills
discuss how to connect small businesses with enterprise supply chains
Related Articles:
Economic Crisis Meets Socially Responsible Innovation
Facebook Connects with Supplier Connection