In celebration of IBM's profound commitment to community, it was United Way Ottawa's privilege to honor IBM's team in Ottawa with the "Give Award" at our recent Community Builder of the Year Awards Gala. This award recognizes the many ways that IBM and its employees give to our community here in Ottawa. It also underscores the incredible power of collaboration among companies, charities and governments in addressing social issues and capitalizing on new opportunities. Last year, local employees donated 19,000 hours of volunteer time to the Ottawa Food Bank, the Alzheimer Society of Ottawa and Renfrew County, and United Way, among others. Together, they also earned just under $300,000 in IBM Celebration of Service grants that support community services and volunteer projects in Ottawa. These projects included the Ottawa Neighbourhood Study, which received an IBM Centennial Grant – one of the only 11 Centennial Grants awarded worldwide, and the only project selected in Canada.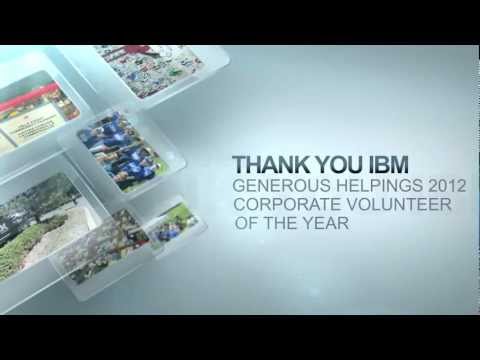 IBM's Ottawa team also encouraged the City of Ottawa to pursue and win a highly coveted Smarter Cities Challenge grant under IBM's competitive grant program that is awarding a total of $50 million in technology and services to 100 municipalities around the world through 2013. Ottawa is using the grant to determine the best uses for properties surrounding our future light-rail transit stations.
IBM has truly demonstrated its commitment to building stronger communities. Its extraordinary Smarter Planet agenda brings a wealth of resources – funding, people and equipment – to projects that enrich communities around the world. In its Centennial Year
in 2011, IBM employees achieved a world record by donating more than 3.2 million hours of volunteer service while the company distributed $12 million in grants to projects around the world.
IBM and its employees live the ideal that direct action and collaboration deliver long-lasting, real change. You give. You collaborate. You build community. Through your commitment and hard work, Ottawa is a better place.
Michael Allen is President and Chief Executive Officer, United Way Ottawa.
Related Article: