We all know that schools can't do all the hard work when it comes to educating our children, but what's the best way for business to contribute? I had the opportunity to help answer that question at a recent STEM Salon hosted by Change the Equation, a nonprofit, nonpartisan, CEO-led initiative that is mobilizing the business community to improve the quality of science, technology, engineering and mathematics (STEM) learning in the United States. Joining me on the panel was Rashid Ferrod Davis, founding principal of New York's Pathways in Technology Early College High School (P-TECH). As part of a team at IBM, I have had the honor of working with Rashid and P-TECH's partners throughout the 2011 – 2012 school year (the school's first) to help refine the set of strategic business contributions that IBM is making to enhance teaching and learning, and to help P-TECH students better understand the connections among school, college and career.
P-TECH is an innovative collaboration among the New York City Department of Education, The City University of New York, the New York City College of Technology, and IBM. The school has made significant strides during its first year, and this fall the City of Chicago will open five new schools based on the P-TECH model.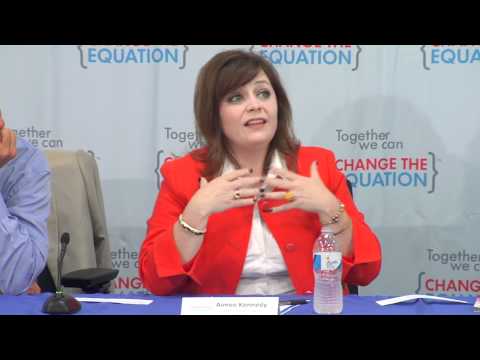 Listen and learn
The first thing that businesses can and should do? Listen. Working with schools is like learning an elaborate dance, and it's important to let educators – the experts – take the lead. Educators like Rashid understand the specific challenges that their students face and can pinpoint needs and opportunities. As businesses listen and learn, they can enrich the portfolio of meaningful solutions for students and teachers.
Give them your very best stuff
Through our corporate citizenship efforts, IBM treats schools just like we treat our business clients. That means we apply our expertise and the time and talents of our employees to affect meaningful change. At P-TECH, we created a strategic set of contributions to strengthen the 9-14 model and help students make the connection between education and careers. These included:
Skills Map: We identified the technical skills and workplace competencies associated with IBM jobs requiring an associates degree in IT growth areas. Once this skills map was created, we worked with school and college faculty to align the skills and workplace competencies with the curriculum. This alignment will help ensure that students will have the skills necessary to join the workforce when they graduate. Because we know that job growth areas will change over time, we will verify and update our skills map annually.
Mentors: Professional role models can help students understand the connection between life in school and their lives as productive adults. Each of the 103 ninth-graders at P-TECH has an IBM mentor who provides academic assistance, career counseling and emotional support.
Workplace visits: We organized a number of visits to IBM worksites to inspire P-TECH students and introduce them to the actual places where they might work upon graduation. Visits to IBM's state-of-the-art research and manufacturing facilities were aligned with P-TECH's workplace learning curriculum and provided opportunities for students to see technical skills in a real-world context.
Internships and Apprenticeships: As students progress at P-TECH, IBM will provide internships and apprenticeships that give students opportunities to work on projects related to their degrees. These engagements will be designed to provide substantive contributions to the company.
Follow through
For businesses to make an ongoing difference, they can't just drop off a contribution and leave. They must be present at the school through regular meetings and checkpoints to understand how to best tailor their giving. At P-TECH, we participate in ongoing planning meetings to make sure that our contributions continue to be effective.
Multiply and magnify
By working directly with schools, businesses learn what works and what doesn't. It's important to share the fruit of that learning. Sharing best practices helps other businesses learn, and raises the quality of public-private partnerships for all. At P-TECH, our goal has never been to create an isolated "jewel" in New York, but to develop a scalable model that any community can replicate.
IBM's work at P-TECH is just one way that we're helping to raise the quality of public education. Our education programs are designed to demonstrate how the skillful application of technology can accelerate learning – from strengthening early literacy through Reading Companion to online professional development through Teachers TryScience. But in everything we do, we are committed to listening, learning, thinking systematically, contributing our best stuff, and staying for the long haul.
When it comes to public-private partnerships, each business brings its own special contributions. What's yours?
Grace Suh is a Senior Program Manager of Corporate Citizenship & Corporate Affairs at IBM.
Related Articles:
Design-Based Learning: A New Paradigm for STEM Education