What's wrong with this picture? The U.S. Department of Commerce Economic and Statistic Administration reports that although women outnumber men among recent college graduates and graduate school attendees, women hold fewer than 25 percent of jobs in STEM (Science, Technology, Engineering, Mathematics) fields. It's been almost 30 years since the late Sally Ride became the first American woman in space, but there seems to be only a trickle of women and girls behind her in the STEM pipeline.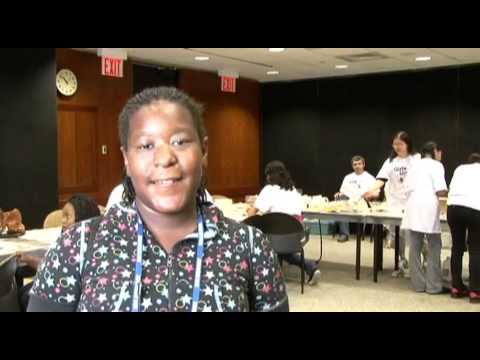 IBM is trying to change that. The company sponsors the annual Girls Go TechKnow Camp to introduce 12 and 13-year old girls to STEM careers in the atmosphere of a globally integrated enterprise. As a middle school counselor, I have attended the camp with my students for the last three years, and have witnessed their enthusiasm for the hands-on activities and workshops led by women in STEM fields – most of them IBM Master Inventors with at least 10 patents. Exposure to these leaders in their fields would be interesting for any audience, but for young girls it can be a life-changing experience.
For starters, TechKnow Camp introduces girls to basic scientific principles in ways that are meaningful and fun. In one workshop, the girls made butter by shaking jars of milk, after which their activity leader explained the chemical reaction responsible for the transition.
I heard one of my students exclaim "Wow! This is sooo cool! I didn't know chemistry could be that easy, and is in everything we do!" It's that kind of discovery and excitement that helps demystify science and encourage learning – especially when girls have been told that they're not as smart as boys, or that only men can pursue careers in the sciences.
The excitement carries over into the classroom long after TechKnow Camp has ended.
I never would have believed the difference that four days at the IBM Watson Research Center could have made in a girl's life if I hadn't witnessed it myself. The subsequent enthusiasm in math and science classes is palpable as girls who've attended the camp
turn to their classmates and say "I did this already at IBM." I even know a rising eleventh grader who has told me of her plans to pursue a career in engineering because of her experience at TechKnow Camp. We need more young women like her, for while girls are closing the gap in the New York State assessments in science and math, there is still a lot of work to be done.
At my school, we devote part of our counseling curriculum to teaching students about the world of work and careers of the future. Despite our best efforts to convey the potential for growth in a STEM career, many students simply aren't receptive to the message. But after spending time with female role models who demonstrate that women can be successful chemists, physicists and engineers – and that learning science can be fascinating and fun – girls get excited about math and science. It shows in their attitudes, and it shows in their grades.
Thanks to IBM's Girls Go TechKnow Camp, many more young women will contemplate going into STEM careers. And thanks to the inspiring volunteer activity leaders at the camp, my students have been able to learn and enrich their lives in a way that they've never been able to before.
Martha C. Rodriguez is a counselor at the Isaac E. Young Middle School in New Rochelle, New York. Isaac E Young is a public school that serves an ethnically and financially diverse student body of 1,150 sixth, seventh, and eighth graders.
Related Articles:
Transition to Teaching Program Fills Critical STEM Vacancies
Exploring Public-Private Partnerships in STEM Education