Corporate Service Corps
IBM's founder coined the phrase "world peace through world trade" more than 100 years ago. Taking that phrase to heart, the company opened offices in Brazil in 1917,
The Philippines in 1925, and China in 1936 as we established that being a good global citizen was good for the world – as well as for business. Today's IBM is a globally integrated enterprise with clients and employees from every part of the world. Our diversity – and the diversity of the markets in which we operate – necessitates the adoption of a truly global perspective on our operations, on leadership development, and on delivering results for our clients.
We launched the IBM Corporate Service Corps (CSC) – inspired by the Peace Corps –
in 2008 to advance the cause of global citizen diplomacy. As we celebrate the CSC's 5th Anniversary this year, we pause briefly to reflect on the expertise that more than 2,400 IBMers and employees from our clients and partners have contributed to addressing some of the world's greatest societal challenges. By deploying our top talent to collaborate with governments, NGOs and communities in emerging markets, we not only have helped bring about meaningful and sustainable changes, but also have developed the capabilities of our emerging leaders and built lasting relationships with our clients around the world.
The practice of corporate citizenship can take varying forms at different organizations. At IBM, corporate citizenship is fully integrated into the company's overall business strategy. This integration enables IBM – and IBMers – to affect meaningful and sustainable change for our citizenship clients. In the first of a series of articles on the practice of corporate citizenship, Corporate Citizenship & Corporate Affairs Director for the Americas Doris González outlines the critical role of the corporate citizenship manager as influencer, partner and IBM brand ambassador to public and private sector entities working to build
a smarter planet.
______________________________
Though it first emerged in the 1960s, the field of corporate citizenship or corporate responsibility began to get mainstream acceptance in the 1990s as the "new big idea in the business world." Over the years, corporate citizenship has continued to evolve and mature into a field with great career opportunities, representing the face – and heart – of
a company.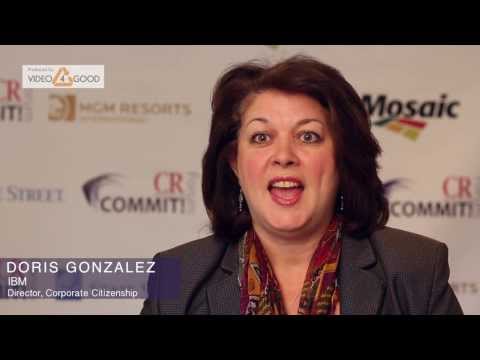 At IBM, social responsibility has been built into the very fabric of the company since it was founded more than a century ago. As the practice of corporate citizenship has evolved, the role of the corporate citizenship manager also has progressed from overseeing the disbursement of cash grants to developing strategies to apply IBM's best talent and technology to solving the world's toughest societal issues in such areas as education, global health, literacy, economic development and environmental sustainability. Business and citizenship strategies must be aligned to be sustainable. As part of that strategic alignment, we focus our resources on specific efforts to help educators and school systems, nonprofit organizations and cities succeed. In the process, we develop leadership and collaboration skills among our employees, and open new markets to our business.
The concepts of philanthropy and corporate giving have evolved over the years from localized donations by individuals of great wealth to "strategic" corporate giving to today's progressive practice of creating sustainable value across the globe. IBM has pioneered numerous corporate social responsibility (CSR) innovations that emphasize the sharing of technologies and expertise to address challenges faced by cities, by developing regions,
by those seeking a way out of poverty through education and training, and by humanitarian researchers searching for everything from solutions to environmental issues to cures
for disease.
In my recent conversation with the Chinese-language edition of the Harvard Business Review, I discussed the IBM Smarter Cities Challenge engagement in New Taipei City as
an example of how my company integrates corporate citizenship with business strategy to build relationships and new leaders while addressing societal problems around the world.
At IBM, we believe that innovation in corporate social responsibility holds the key to benefiting our enterprise and employees as we build a smarter planet.
Louise Davis is the IBM Growth Markets Corporate Citizenship & Corporate Affairs Executive for Asia Pacific.
Related Resources:
Harvard Business Review in Chinese Interview with Louise Davis (in Chinese)
Harvard Business Review in Chinese Interview with Louise Davis (in English)
Applying Technology and Expertise to Global Societal Problems
Just over three months ago, I landed in Addis Ababa for my IBM Corporate Service Corps assignment in Ethiopia. I had been reading an article on the plane about Mahatma Gandhi and as I descended on the Ethiopian capital, one of his quotes kept on going around in my head: "Live as if you were to die tomorrow. Learn as if you were to live forever." With Gandhi's wisdom in mind, I began my CSC assignment!
I was deployed as part of a team of 12 IBMers from eight different countries. We had been working for four months to prepare for our 30-day pro bono engagement in Adama, Ethiopia. Our team was engaged in helping three of Ethiopia's key ministries – Agriculture, Trade, and Communication & Information Technology – develop strategic roadmaps to enable Ethiopia to meet its Growth and Transformation Plan (GTP) objectives by 2015.
I grew up on a farm in Germany where my family raised cattle, horses and sheep, but I had never seen anything like the scene I recently witnessed at a cattle market in Adama, Ethiopia. The market was a sprawling collection of huts and outdoor pens crawling with all manner of livestock. Farmers, traders and buyers sized up the animals and dickered to make deals. It seemed like chaos to the untrained eye.
In fact, it was more like a puzzle to be solved. Two IBM colleagues and I who are members of the Corporate Service Corps team in Ethiopia were visiting Adama to learn how livestock markets in Ethiopia work. Our goal was to be able to make recommendations on how information technology could help them work better.
Some segments of the media have lately focused their coverage on programs that benefit economic development, scientific research, and education. In the last few weeks alone, we've seen articles that have examined issues and initiatives such as the following:
IBM World Community Grid
Two projects hosted on IBM's World Community Grid are making progress in helping to identify clean energy and an AIDS cure. Voice of America discusses how The Harvard Clean Energy Project used World Community Grid to create a public, searchable database of novel, organic compounds that rates their potential as inexpensive and efficient solar cells. And CNN.com takes a look at how Android-based mobile devices can help FightAIDS@Home.
Pathways in Technology Early College High School (P-TECH)
The City of New York is using IBM's blueprint to expand an education model that blazes a pathway from high school to college and career. Check out what The Wall Street Journal, the Associated Press and NY1 have to say.
IBM Corporate Service Corps
Forbes profiled IBM's corporate citizenship programs – including the IBM Corporate Service Corps, a worldwide pro bono consulting and leadership development program – that are shared with other companies.
IBM Smarter Cities Challenge
We love it when cities adopt our recommendations generated from IBM Smarter Cities Challenge pro bono consulting engagements. For instance, in this op-ed from its editors, the Knoxville News Sentinel congratulates its hometown mayor for taking a new approach to educating and providing incentives to citizens and property owners for making their dwellings more energy efficient.
Ari Fishkind is a media relations liaison for IBM's Corporate Citizenship & Corporate Affairs. 
IBM's SmartCloud Brings Relief to Storm-Ravaged Areas
In the aftermath of one of the largest and most destructive storms to strike the heavily populated U.S. East Coast, IBM responded with pro bono consultants, strategies for both an immediate and long term response to disaster relief and recovery, and all of the technology and expertise needed to help establish the Hurricane Sandy New Jersey Relief Fund. Among the solutions donated to the fund and other key agencies in New York and New Jersey coping with the disaster was the SmartCloud for Social Business, which created the infrastructure necessary to launch immediate relief efforts, and will provide the cloud-based social collaboration tools that will sustain the fund during the long term recovery efforts.
"Because of IBM's knowledge and expertise, the Fund is able to provide relief to New Jersey families and communities in an efficient and effective manner."
– Hon. Chris Christie, Governor of New Jersey
This is just one of many initiatives described in IBM's 2012 Corporate Responsibility Report, which outlines corporate social responsibility (CSR) programs aligned with the company's Smarter Planet strategy to protect the environment, strengthen education and economic development, enable humanitarian research, and improve the quality of life in cities around the world.
Continue Reading »
As part of a year-long observation of the fifth anniversary of the IBM Corporate Service Corps, the U.S. State Department convened hundreds of public and private sector
leaders to share perspectives on leadership development through citizen diplomacy.
Below, IBM Vice President of Corporate Citizenship & Corporate Affairs Stanley S. Litow shares his thoughts on the importance of Corporate Service Corps to its constituents,
its participants, and to those who would pursue solutions to global societal challenges through citizen diplomacy.
______________________________
Modeled on the Peace Corps, IBM's Corporate Service Corps (CSC) helps us focus the expertise and passion of our most talented executives and employees on creating real and sustainable value across a smarter planet. Each year for the last five years, CSC has sent 500 of IBM's best people – along with employees from some of our clients – to more than 30 countries to help local stakeholders develop strategies to manage their toughest challenges. As the program marks its fifth year, we celebrate the more than 2,200 IBMers who have deployed on more than 750 team assignments around the world. In places like Ghana, Indonesia, Morocco, Nigeria and Vietnam, these citizen diplomats have worked alongside local governments, NGOs and residents to plan and develop programs to provide health care for poor women and children, create clean water and food safety initiatives, and build skills to help strengthen economies.
Corporate Service Corps delivers a "triple benefit": Communities have their problems solved; Participants receive leadership training and development; and IBM develops new markets and global leaders. Some of IBM's most skilled technologists, researchers, engineers, finance experts and consultants – working in teams of six to 12 experts drawn from more than 50 countries – contribute their unique skills and perspectives to each engagement. Each sets out to change their views of cultural differences as they collaborate to help solve problems in communities around the world.
This innovative idea that owes its inspiration to President John F. Kennedy's Peace Corps has evolved into a powerful force by harnessing the power of the public and private sectors to solve problems no single entity can overcome alone. The results have helped bridge the divides between cultures and geographies – broadening cultural awareness, advancing skills, and capturing the hearts and minds of the next generation of global leaders.
We look forward to the coming era of global citizen diplomacy as more companies answer the call to service. Working together, we know we can bring about meaningful change.
Stanley S. Litow is IBM's Vice President of Corporate Citizenship & Corporate Affairs and President of the IBM International Foundation.
Related Resources:
IBM Featured at U.S. Department of State Forum on International Corporate Volunteerism
Corporate Service Corps Program Overview
Sometimes, what we need to spring into action might just be a glimpse of the future. Perhaps, this was how members of the Ekiti State executive council (the state cabinet) felt on the March morning when IBM's Corporate Service Corps (CSC) team – led by Mr. Taiwo Otiti, the company's country general manager for West Africa – made a thought-provoking presentation to them on how to use computing technology to upgrade and transform the state's scholastic potentials, public sector management processes, social welfare administration, and e-governance capabilities. Since then, the government and the good people of Ekiti State in south western Nigeria have resolved not to be left behind in the digital doldrums.
Historically endowed with talented human resource, arable land and water resources, and despite being one of the least financially buoyant sub-national economies in Nigeria, Ekiti State is taking concrete steps towards injecting technology in all aspects of its ecosystem, thanks largely to my administration's focus on "smart governance" principles and concepts.
Over the last several years, corporate citizenship programs have begun to refocus their efforts from "responsibility" to "opportunity." In other words, companies now realize that they can affect positive societal results by applying time, talent and technology to the common (and uncommon) challenges faced by people around the world. By intertwining corporate citizenship with business strategy, companies can advance their business goals while bringing about real, sustainable change.
WomenCorporateDirectors (WCD) recently bestowed their "Visionary Award for Shared Value" on IBM in recognition of our "outstanding corporate governance and corporate citizenship" efforts. IBM Director and Rensselaer Polytechnic Institute President Shirley Ann Jackson accepted the award on our behalf.