Corporate Service Corps
In the 1960s, the world was a simpler place. The Cold War structured the international system, sovereign states were the main international actors, physical (versus virtual) warfare was the main security threat, and economic barriers limited international trade
and finance. The news cycle was longer than 24 hours, and there was no internet. But today's states and multinational organizations share a very different world with financial institutions and corporations, non-profit organizations, terrorists, drug cartels, even pirates. "Sovereign states" aren't as sovereign as they used to be, and security threats include vulnerable financial markets, failed states, cyber threats, infectious diseases, terrorism
and climate change.
Today, two non-traditional actors – American private foundations and U.S. corporate philanthropies – exercise a degree of global reach and influence that once was the province of states and multinational organizations. Over just the last two decades, we have witnessed a huge increase in the number and size of private foundations and the scale of their international activities as they pursue social, economic and even political change. U.S. corporations also are increasingly global, and are involved in social, environmental, health and other public issues in the countries where they operate.
Although as many as 80 percent of Ghanaian women seek prenatal care, HIV testing is often deferred due to a lack of public awareness, limited access to diagnostic tests and cultural stigma. As a tragic result, Ghana is among the world's 22 countries with the highest burden of HIV infection in pregnant women. But Ghana is fighting back. President John Dramani Mahama recently announced the formation of a global consortium to reduce Ghana's mother-to-child HIV transmission rate to less than one percent by 2020.
A critical component of the success of this vital mission will be Ghana's collaboration with researchers from the Yale School of Medicine and expert strategists from the IBM Corporate Service Corps (CSC). Using advanced IBM Data Analytics and SmartCloud infrastructure, the CSC/Yale School of Medicine team will work with Ghanaian policy makers and health care experts to design the first phase of shutting down mother-to-child HIV infection for good.
IBM's Corporate Service Corps (CSC) celebrated its 5th Anniversary last year, so I was excited to join the more than 2,000 program participants from 29 countries who have contributed their expertise to projects in developing economies. Through CSC, I had an opportunity to work with Sentra Advokasi Perempuan Difabel dan Anak (SAPDA), an Indonesian NGO in the City of Yogyakarta that advocates for the social, educational and employment inclusion of women, children and persons with disabilities. As a deaf person,
I felt a particular affinity for this project and for the people I could help with my disability perspective and background in developing accessibility solutions for business.
My team's specific project was to collaborate with SAPDA on an improved content and communications strategy, and research and development initiatives to support the organization's efforts to obtain additional funding. SAPDA needed information and communications technology skills that they could integrate with their human resources and finance systems. They also needed the ability to communicate their value proposition to outside funding entities and others. Working with an American Sign Language interpreter – who, in turn, worked with an Indonesian translator – I dug in.
It's been years since we learned that the world is "flat" and that all enterprises – whether commercial, governmental or non-profit – are globally connected. But what we're still learning in this era of global integration is how to prepare the next generation of leaders to realize what we characterize as the triple benefit – developing their skills while solving communities' problems and opening new markets. This isn't just a "business" problem.
It's an issue that impacts – and will shape the future of – almost every human endeavor
on the planet.
Running our cities, educating our children, protecting our health and sustaining our environment are just some of the world's critical challenges that no single company or  economic sector can address or solve alone. Mastering the world's challenges requires the world's collective intelligence and expertise and true collaboration. That's why legacy models of top-down corporate philanthropy have become obsolete. In their place have arisen innovative approaches to transforming the ways we interact, learn and lead. At IBM, these approaches involve maximizing the value of our most important assets – the time and talent of our employees – versus merely donating our excess cash.
It can be hard to grasp the true magnitude of world hunger, but the fact is that close to a billion of us do not have enough to eat. Each year the death toll from hunger and malnutrition exceeds that of AIDS, malaria and tuberculosis combined. What's makes this human tragedy even less comprehensible – and more unjust – is that the world produces enough food to nourish everyone. But one-third of all the food we produce is lost or wasted. Our landfills are literally overflowing with food while children are starving.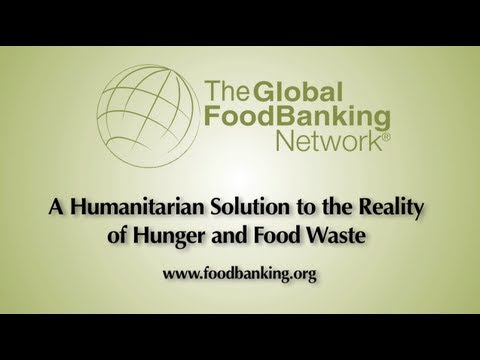 The Global FoodBanking Network (GFN) works to alleviate hunger and reduce food waste by creating, supporting and strengthening food banks around the world in countries outside the U.S. As a network organization supporting food banks in 25 countries, we fight the problem of world hunger at the local level by collaborating with businesses and organizations that share our goal of making the world a better place. A recent and really powerful example of how we do this is a field project we initiated with IBM Corporate Service Corps (CSC) and Banco de Alimentos de Mérida (BAMAC) in Mérida, Mexico.
According to the 2012 United Nations Conference on Trade and Development Information Economy Report, Africa impacts just one percent of the world's information and technology communication development. However, the continent has more than 170 million internet users and more cell phones than the U.S.
Africa basically skipped the era of wired infrastructure. Instead, we went directly to cell phones and smart phones. This means that a whole world of opportunity is open to African developers to address local needs as well as those of the rest of the world. Africa's tremendous pool of talent simply needs to be developed and given opportunities to grow. And IBM's Corporate Service Corps (CSC) has provided a major boost to our efforts.
IBM's founder coined the phrase "world peace through world trade" more than 100 years ago. Taking that phrase to heart, the company opened offices in Brazil in 1917,
The Philippines in 1925, and China in 1936 as we established that being a good global citizen was good for the world – as well as for business. Today's IBM is a globally integrated enterprise with clients and employees from every part of the world. Our diversity – and the diversity of the markets in which we operate – necessitates the adoption of a truly global perspective on our operations, on leadership development, and on delivering results for our clients.
We launched the IBM Corporate Service Corps (CSC) – inspired by the Peace Corps –
in 2008 to advance the cause of global citizen diplomacy. As we celebrate the CSC's 5th Anniversary this year, we pause briefly to reflect on the expertise that more than 2,400 IBMers and employees from our clients and partners have contributed to addressing some of the world's greatest societal challenges. By deploying our top talent to collaborate with governments, NGOs and communities in emerging markets, we not only have helped bring about meaningful and sustainable changes, but also have developed the capabilities of our emerging leaders and built lasting relationships with our clients around the world.
The practice of corporate citizenship can take varying forms at different organizations. At IBM, corporate citizenship is fully integrated into the company's overall business strategy. This integration enables IBM – and IBMers – to affect meaningful and sustainable change for our citizenship clients. In the first of a series of articles on the practice of corporate citizenship, Corporate Citizenship & Corporate Affairs Director for the Americas Doris González outlines the critical role of the corporate citizenship manager as influencer, partner and IBM brand ambassador to public and private sector entities working to build
a smarter planet.
______________________________
Though it first emerged in the 1960s, the field of corporate citizenship or corporate responsibility began to get mainstream acceptance in the 1990s as the "new big idea in the business world." Over the years, corporate citizenship has continued to evolve and mature into a field with great career opportunities, representing the face – and heart – of
a company.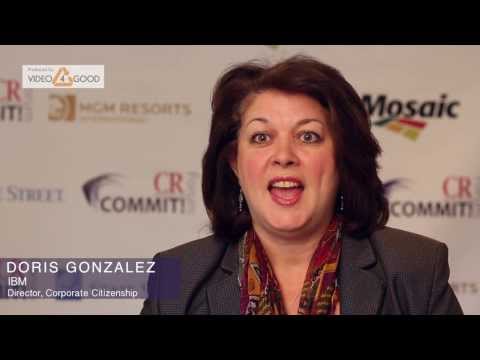 At IBM, social responsibility has been built into the very fabric of the company since it was founded more than a century ago. As the practice of corporate citizenship has evolved, the role of the corporate citizenship manager also has progressed from overseeing the disbursement of cash grants to developing strategies to apply IBM's best talent and technology to solving the world's toughest societal issues in such areas as education, global health, literacy, economic development and environmental sustainability. Business and citizenship strategies must be aligned to be sustainable. As part of that strategic alignment, we focus our resources on specific efforts to help educators and school systems, nonprofit organizations and cities succeed. In the process, we develop leadership and collaboration skills among our employees, and open new markets to our business.
The concepts of philanthropy and corporate giving have evolved over the years from localized donations by individuals of great wealth to "strategic" corporate giving to today's progressive practice of creating sustainable value across the globe. IBM has pioneered numerous corporate social responsibility (CSR) innovations that emphasize the sharing of technologies and expertise to address challenges faced by cities, by developing regions,
by those seeking a way out of poverty through education and training, and by humanitarian researchers searching for everything from solutions to environmental issues to cures
for disease.
In my recent conversation with the Chinese-language edition of the Harvard Business Review, I discussed the IBM Smarter Cities Challenge engagement in New Taipei City as
an example of how my company integrates corporate citizenship with business strategy to build relationships and new leaders while addressing societal problems around the world.
At IBM, we believe that innovation in corporate social responsibility holds the key to benefiting our enterprise and employees as we build a smarter planet.
Louise Davis is the IBM Growth Markets Corporate Citizenship & Corporate Affairs Executive for Asia Pacific.
Related Resources:
Harvard Business Review in Chinese Interview with Louise Davis (in Chinese)
Harvard Business Review in Chinese Interview with Louise Davis (in English)
Applying Technology and Expertise to Global Societal Problems
Just over three months ago, I landed in Addis Ababa for my IBM Corporate Service Corps assignment in Ethiopia. I had been reading an article on the plane about Mahatma Gandhi and as I descended on the Ethiopian capital, one of his quotes kept on going around in my head: "Live as if you were to die tomorrow. Learn as if you were to live forever." With Gandhi's wisdom in mind, I began my CSC assignment!
I was deployed as part of a team of 12 IBMers from eight different countries. We had been working for four months to prepare for our 30-day pro bono engagement in Adama, Ethiopia. Our team was engaged in helping three of Ethiopia's key ministries – Agriculture, Trade, and Communication & Information Technology – develop strategic roadmaps to enable Ethiopia to meet its Growth and Transformation Plan (GTP) objectives by 2015.