Data Analytics
Sponsored by IBM, the City Forward website can be used to compare a selected city's characteristics and challenges to others around the world. In the process, users can identify trends, pinpoint similarities and get ideas for how a city may be improved. These city stories then can be shared and discussed within the City Forward Community.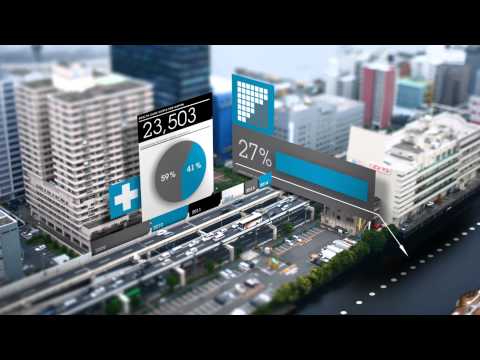 Completely free of charge, City Forward connects to the work done by Smarter Cities Challenge teams around the world. The website provides data for more than 100 cities, and offers both city leaders and the public the unique ability to consolidate multiple data sources. The International Academy of Digital Arts and Sciences (IADAS) recently recognized City Forward with its 2013 Corporate Social Responsibility Webby Award.
As you can tell in the photo below, I was extremely proud to accept the Smart Infrastructure Award we took home with IBM from Infrastructure Partnerships Australia 2013 National Infrastructure Awards in late March. For the Townsville City Council in North Queensland, Australia, this award is recognition of a great project that's only been possible through our partnership with IBM and the application of smart thinking and technology.
The pilot is breaking new ground in the way data is collected and analysed in near real-time. At its core, the program will help identify and enable ways for the people of Townsville to drive water conservation by empowering residents with smart technology to assist with positive behavioural change.
For thousands of years, people living in the Sonoran Desert Valley have valued water. In the last century, as the Tucson region population has grown to nearly one million, the City of Tucson and our Tucson Water Department have continually championed innovation, public education and conservation to ensure that we use our water wisely.
Now we face a new century full of numerous uncertainties. At what rate will Tucson continue to grow? How will political forces, climate change, the economics of energy and other dynamics affect Tucson's water supply? And how can we make more cost-effective investments in public education and infrastructure to increase conservation, reduce water loss and ensure that future generations of Tucsonans enjoy a more secure water future?
The ever-growing pace of urbanization brings many challenges to government organizations, including increased demands for services with reduced sources of revenue, and calls for more accountability, openness and transparency. Forward thinking public sector leaders know that they can – and must – convene the right people, technologies and strategies to support growth and prosperity. Simultaneously, they also must ensure a safe and healthy environment in which their citizens may enjoy a high quality of life.
Enabling growth and prosperity requires collaboration – across boundaries and among organizations and departments – in ways that might have been previously unthinkable. Technological improvements are enabling governments to share not only big machines
like backhoes and emergency vehicles, but also services, big data analytics and
computing capabilities.
The year 2007 was a watershed year for the engineering and computer science academic community – marking the end of a long decline in computer science enrollments that had plagued the industry since 1999. While the United States and many industries slipped into a major recession, it was as if American students finally opened their eyes to see that engineering and computer science disciplines held the keys to building stable, sustainable and successful careers. As unemployment rates climbed, state budgets faltered, public funding for higher education declined and college tuition rose, engineering and computer science college enrollments skyrocketed.
While it's true that a student's pragmatic side may direct his or her attention to explore engineering and computer science, starting salaries alone usually do not "close the deal." Students must envision a rewarding and challenging career ahead, and in the past were inspired by – and wanted to be part of – grand challenges such as the Apollo program to land a person on the moon.
Perhaps the most exciting aspect of innovation is its potential to enable positive societal change. Citizens around the world will reap the benefits of this change as the cost of computing power decreases while the performance we get from these systems increases. Couple this with the fact that we create 2.5 quintillion bytes of data everyday, and governments have an optimal opportunity to develop "data for the public good."
The path forward for using data to improve citizens' lives and the public good requires new ways of managing and accessing that data. Governments need to start thinking about their data as a natural resource that can have a profound impact on how they address societal challenges such as energy conservation, health care, and transportation. The most open and cost-effective way of doing this is by managing data with cloud computing systems.
The IBM Smarter Cities Challenge (SCC) is helping 100 cities around the world address some of the critical challenges facing all urban areas. The idea is for some of the company's top talent to collaborate with civic and community leaders to identify pressing issues, and then transform data into actionable information to manage them. Among the results are cities that are safer, more efficient, more sustainable and more livable ("smarter" cities), and which by their example inform and inspire other cities to
become smarter.
One of the critical roles on any Smarter Cities Challenge team is that of the software architect. Unlike traditional architects who design buildings, software architects "design" software solutions. Some of these solution focus on data – evaluating its prevalence across a city's agencies, for example, and structuring its use to help advance the city's goals. Below, software architect and SCC team member Don Dejewski details his role in a
recent engagement.
______________________________
I don't build buildings or plan cities. I'm a software architect, which means that I gather requirements and create solutions from the components of IBM's (and sometimes others') software portfolios. In 2010, I was a member of one of the first IBM Smarter Cities Challenge (SCC) teams in North America. This was my first foray into an SCC engagement, so I didn't know what to expect. All I knew was that SCC teams were assembled to address specific challenges. Each SCC team needs someone to facilitate relationships, someone to build presentations, someone to draft executive overviews, subject-matter experts (of course) and…an architect. But why an architect?
(Versão em Português do Brasil abaixo)
Porto Alegre is a world leader in participatory democracy. The capital of Rio Grande do Sul – the southernmost state of Brazil – Porto Alegre was founded by the Portuguese Azores in 1772, and now has 1.4 million inhabitants from all over the world. Multicultural by nature, the city is recognized for developing public policies that focus on communities and prioritize dialogue, solidarity and respect for cultural differences.
The city makes ongoing efforts to advance the process of popular participation in decisions about public investments. Since 1989, improving the process of Participatory Budgeting (PB) has been a major concern of city government and the communities involved. For example, in 2011 Porto Alegre implemented new technologies to enable increased citizen involvement in PB, improve community oversight of program execution, and promote discussion of how to advance the goals of participatory democracy itself.
Now, through a partnership with the IBM Smarter Cities Challenge, we have the opportunity to develop a roadmap for how city leaders can assess the future impacts of community-based decisions. Again, our goal is to strengthen participatory democracy and participatory urban planning. We want citizens and civic leaders to be able to share knowledge about the city much more effectively – thereby improving the quality and effectiveness of planning and local development.
On International Corporate Philanthropy Day, CECP is excited to recognize IBM as a recipient of the 13th Annual Excellence Awards. CECP's independent cross-sector Selection Committee chose IBM's Smarter Cities Challenge (SCC) from among a competitive pool as the winner of the coveted Chairman's Award for companies with revenues of $20 billion and more. IBM becomes CECP's first ever two-time prize winner, as they were previously recognized in 2001. The Excellence Awards, which have been presented every year since 2000, provide CECP with case studies of impactful corporate engagement in society. The four criteria on which the CECP Excellence Awards are evaluated are: CEO leadership, innovation, partnership, and measurement. Award-winners such as IBM excel in all four categories and thus make a positive impact in their communities. The payoff is global business leadership.
IBM's SCC hit it out of the park on CECP's four standards of excellence:
At the recent "Educating Tomorrow's Workforce: Preparing Students to Compete in the 21st Century Economy" forum in Albany, New York, State Commissioner of Education John King joined education and industry leaders to discuss what New York and the nation need to do to connect education more directly to jobs. Below, Commissioner King speaks with Citizen IBM about his vision for education reform.
__________________________
Citizen IBM: The November 2011 Center for an Urban Future Mobility Makers study indicated that only 28 percent of New York's community college students complete their two-year associate's degrees within six years. Meanwhile, 80 percent of students in The City University of New York (CUNY) require remedial work – courses that cost college tuition to catch them up on learning they should have received in high school. What guidance can the New York State Education Department offer to districts around the state to help their schools improve their graduates' preparation for college and career?
Commissioner King: It has never been more critical for students to be college and career ready when they graduate high school. To secure the long-term success of New York and the country, we need to better ensure that students are provided a world class education to compete in the 21st Century global economy. Far too many students require remediation once they get to college, and we know that the more remedial courses a student takes, the less likely it is that the student will stay in college and finish his or her degree.