Global Health
Today, World Community Grid celebrates eight years of bringing together volunteers from around the world to support humanitarian research. World Community Grid taps the spare computational power of computers volunteered by the general public and provides it – free of charge – to scientists who might not otherwise have access to the intensive computing power they require for timely, humanitarian research.
In eight years, our volunteers have provided research scientists with the equivalent of more than 600,000 years of computing power to seek cures and new treatments for many diseases, identify clean sources of energy and seek to improve water quality. These projects have yielded more than 30 peer-reviewed scientific papers – industry recognition of scientific research being advanced by World Community Grid.
I came to public service from the private sector. As a business owner, I trusted data to help me understand my companies – to figure out how to be closer to the customer, improve services, and dispense with waste. When I became Mayor of Louisville, Kentucky – the17th largest city in the United States – I was determined that we would use data to improve the lives of all Louisvillians.
We are using "Big Data" to improve public health, specifically for our citizens who have asthma. In Louisville, 15 percent of our citizens have asthma – slightly higher than the state or national average. Asthma is the third most common cause of hospital stays for children. It causes expensive emergency room visits, lost time from work and school, and a diminished quality of life for the people of our city. Louisville's location in the Ohio River Valley – where neither natural allergens nor manmade pollutants dissipate easily from
our air – does not help us.
(TURKISH VERSION BELOW)
Nearly 13 percent of Turkey's children have mental disabilities, an issue that touches close to 36 million family members and caregivers. Supported by funds from an IBM Centennial Grant, ZİÇEV – the Foundation for the Training and Protection of Mentally Handicapped Children – is building a single online platform to connect disabled students, families, caregivers, volunteers, education experts and nonprofit agencies to deliver services more effectively. Specifically, the portal will help enable the planning of volunteer activities to assist children with disabilities – most of whom experience social isolation in addition to their medical challenges.
The project began during the IBM Celebration of Service, when ZICEV met with IBM volunteers to develop strategies for assisting Turkey's children with disabilities. We felt that the IBM volunteers – most of whom were from the company's Services division – were a good fit because they brought skills in project management, analysis and development that would help ensure a successful outcome. The team had expertise in the analysis of user-friendly, best-practice website and portal designs for families with children with mental disabilities, and in the development of appropriate portal and website requirements.
Our initial brainstorming process was not easy. We tried to consider all options for the project, and were overwhelmed by the variety of possible approaches to serving children with mental disabilities. Of course, we wanted to be sure that whatever we did would deliver the maximum benefit to the children.
Eventually, we decided to create an online portal to enable clients and volunteers to create and update their profiles, schedule activities, and share feedback about activities and projects. The portal also would provide a collaboration platform for non-governmental agencies (NGOs) to plan activities, allocate human and material resources, and manage project life cycles.
Among our toughest challenges is ensuring the efficient delivery of our educational efforts. Therefore, one of the most valuable benefits of the new system is its ability to help us manage a full education plan in a more intelligent way. Using the new platform, we're able to improve the quality of the children's educational experience by involving their families and teachers more fully.
We hope that this project will encourage and inspire other NGOs in Turkey to create similar platforms to help improve the lives of people with disabilities.
Ulay Karakoc is President of ZICEV.
TÜRKÇE VERSİYONU 
Türkiye'deki Zihinsel Engelli Çocuklar İçin Daha İyi Bir Yaşam Sunma
Türkiye'deki çocuk nüfusunun yaklaşık yüzde 13'ü zihinsel engellidir, bu da sayısı 36 milyona yaklaşan aile üyelerini ve bu çocukların bakımından sorumlu kişileri ilgilendiren bir durumdur. IBM Yüzüncü Yıl Bağışları kapsamındaki finansman desteğiyle Türkiye Zihinsel Yetersiz Çocukları Yetiştirme ve Koruma Vakfı (ZİÇEV), hizmetlerini daha etkili bir şekilde sağlamak amacıyla engelli öğrencileri, aileleri, bakıcıları, gönüllüleri, eğitim uzmanlarını ve kâr amacı gütmeyen kuruluşları bir araya getirecek tek bir web platformu oluşturmaktadır. Bu portal özellikle tıbbi açıdan yaşadığı zorlukların yanı sıra pek çoğu toplumdan soyutlanan engelli çocuklara yardımcı olmak için gönüllü etkinliklerinin planlanmasını sağlayacaktır.
Bu proje, ZİÇEV ile IBM gönüllülerinin Türkiye'deki engelli çocuklara yardımcı olmak için stratejiler geliştirmek amacıyla bir araya geldiği IBM Gönüllü Hizmet Yılı sırasında hayata geçirilmiştir. Pek çoğu şirketin Danışmanlık bölümünden olan IBM gönüllülerinin başarılı bir sonucu garanti edecek proje yönetimi, analiz ve geliştirme alanlarındaki becerileri açısından bu çalışmanın son derece yararlı olacağını düşündük. Ekip, zihinsel engelli çocukların aileleri için portal tasarımları ve kullanımı kolay web sitesi uygulamalarının analizinde ve uygun portal ve web sitesi gereksinimlerinin geliştirilmesinde uzmandır.
İlk aşamadaki beyin fırtınası süreci kolay değildi. Proje için tüm seçenekleri düşünmeye çalıştık ve zihinsel engelli çocuklara sunulacak hizmetlere ilişkin yaklaşımların çeşitliliği karşısında kimi zaman kararsız kaldık. Ancak ne yaparsak yapalım çocuklar için en büyük avantajı sağlayacak bir çözüm bulunacaktı.
Sonuç olarak üyelerin ve gönüllülerin, profillerini oluşturup güncellemelerini, etkinliklerini zamanlamalarını, etkinlikler ve projelerle ilgili görüşlerini paylaşmalarını sağlayacak bir web portalı oluşturmaya karar verdik. Bu portal aynı zamanda sivil toplum kuruluşlarının (STK) etkinlikleri planlaması, malzeme ve insan kaynaklarını tahsis etmesi ve proje yaşam çevrimini yönetmesi için bir işbirliği platformu sağlayacaktır.
Bizi en çok zorlayan konulardan biri de eğitim hizmetlerinin verimli bir şekilde sağlanması oldu. Bu nedenle tam bir eğitim planının daha akıllı bir şekilde yönetilmesine yardımcı olabilmesi, yeni sistemin en önemli avantajları arasında sayılabilir. Yeni platformu kullanarak ailelerin ve öğretmenlerin de daha etkin katılımıyla öğrencilerin daha kaliteli bir şekilde yetiştirilmelerini sağlayabiliyoruz.
Bu projenin, engellilerin yaşam kalitesini geliştirmeye yardımcı olacak benzer platformlar oluşturulması bakımından diğer STK'lara örnek olmasını umuyoruz.
Ulay Karakoç, ZİÇEV Başkanı.
Related Health Articles:
Standardizing Data Collection to Screen for Cancer in Kenya
Using Technology to Battle AIDS in Thailand
Nearly 600,000 Thais – almost one percent of the total population – are living with HIV, the AIDS virus. Since the beginning of Thailand's HIV epidemic in 1985, 1.2 million Thais have been infected with the virus, and half of them have died. The HIV epidemic began in the "high risk" population – men who have sex with men (MSM), intravenous drug users, and female sex workers – but since 1990 has spread rapidly among the general population. After reaching its peak during the second half of the 1990s, Thailand's HIV epidemic was brought under control thanks to a massive campaign to promote condom use. Incidences of new infection fell from 100,000 – 150,000 per year to about 16,000 per year, but that trend is now reversing.
The prevalence of HIV infection among the MSM population has surged from 18 percent in 2005 to 32 percent in 2009. MSMs now account for 90 percent of newly diagnosed individuals in Bangkok. The latest data also indicate that sexually transmitted diseases and HIV infection among female sex workers, military conscripts, and pregnant women are on the rise. Without radical actions to curtail this trend, Thailand will soon find itself in the midst of a second HIV epidemic.
The Thai Red Cross Society has been involved in HIV prevention and care since the first detection of AIDS cases in 1985. Established in 1989, The Thai Red Cross AIDS Research Centre (TRCARC) conducts research on behalf of the Thai Red Cross Society. TRCARC's Anonymous Clinic was Asia's first anonymous HIV counseling and testing site when it was established in 1991, and serves approximately 15,000 clients per year. Under the patronage of Her Royal Highness Princess Soamsawali, TRCARC runs a well-known program to help prevent mother-to-child HIV transmission, and collaborates with a number of institutions around the world on HIV vaccine research and the study of acute HIV infection and neuroAIDS.
In response to increasing local and global HIV infection rates among the MSM population, TRCARC has launched several MSM-specific initiatives, including:
HIV counseling and testing
Screening and treatment for sexually transmitted diseases and related cancers
Screening and treatment to help prevent HIV infection after unprotected exposure
An internationally popular "edutainment" website
Mobile HIV counseling and testing clinics
These programs and activities have resulted in greater numbers of MSMs coming forward for HIV prevention, testing and care.
IBM Thailand has participated in several philanthropic activities as part of IBM's global commitment to building a sustainable society. Among these efforts has been the application of IBM Business Analytics to the fight against AIDS. IBM worked with TRCARC to develop software applications that would enable online behavior surveys and rapid retrieval of systematically stored data. This 5 million Thai Baht ($USD167,000) software package – including IBM DB2 and IBM Cognos – is enabling TRCARC to execute strategic planning for its HIV prevention programs more accurately and in real time. By turning data into useful information, IBM's data analytics solutions are helping Thailand's AIDS-Free Bangkok campaign – in collaboration with UNAIDS – address its 2015 "Getting to Zero" target. We hope that other public health and research providers will adopt similar approaches and use these same tools to combat the spread of HIV both regionally and globally.
Praphan Phanuphak, M.D., Ph.D., is Professor of Medicine at Chulalongkorn University and Director of The Thai Red Cross AIDS Research Centre in Bangkok.
Related Resources:
IBM teams up with Thai Red Cross AIDS Research Center
to Reduce New HIV Infections to Zero
Global Health: Seeking New Treatments for an Ancient Disease
Global Health: Helping to Find Cures for Childhood Cancers
Data Analytics: Data Analytics Helps School Districts Serve Students Better
Data Analytics: New Technology Helps Ontario Food Banks Deliver
Schistosomiasis – a tropical disease caused by the parasitic worms transmitted by freshwater snails – affects more than 200 million people each year, killing 200,000 of them. Schistosomiasis is second only to malaria in its devastating effects on the world's population.
To find a treatment for this deadly disease, researchers at Inforium University in Belo Horizonte and Fiocruz Minas, Brazil are using World Community Grid to run computer simulations that map the interactions of millions of chemical compounds with selected target proteins. Powered by the unused computing capacity of more than two million World Community Grid member computers, Brazil's "Say No to Schistosoma" project is leading the charge to wipe out this deadly disease.
____________________________________
The story of a disease that infects nearly 200 million people today begins in the ancient remains of mummies from the Upper Nile River Delta. Analyses of mummies from Nubia – the former Nile River kingdom located in present-day southern Egypt and northern Sudan – reveal that ancient populations suffered and died from infections that caused anemia and chronic illnesses which impaired their growth and cognitive development, damaged their organs, and weakened their immune systems.
For many years, doctors and medical volunteers have spent countless hours in Haiti providing health care to those in need. Yet, even with the decades of effort by such committed people, this work has not moved the needle for health care enough.
Haiti is one of the world's most extreme medical environments. The statistics are staggering: the maternal mortality rate is 1 in 16, and the mortality rates for hypertension and stroke are the highest in North America. Throughout the past decade, as the nation has faced natural and political hardship, it has been clear that the familiar health care models of "hit and run relief" and "drive-by medical tours" do not work in Haiti. The presence of an estimated 4,500 non-governmental organizations and 10,000 charities working in Haiti since the 2010 earthquake underscores the fragmentation, redundancy and waste that are inherent to the current disjointed means of support. There is indeed a simpler, more inclusive and effective way to solve systemic, chronic health problems.
We founded Colleagues In Care to help answer this very call to service and change for the destitute poor in Haiti. As Chief Collaboration and Learning Officer for Colleagues In Care, I have witnessed, first hand, the power that comes from creating a single, vital global health network. Through engaging the best medical minds in the world, while focusing on purpose, participation and performance, we are helping transform the working medical blueprint in Haiti – "CollaborHaitian!" We are changing the rules of the game!
Colleagues In Care needed new cloud-based, crowd-sourcing, social and mobile technologies, and enhanced learning tools to truly make a difference. We needed to develop adaptable "best possible practices" for quality protocols of care and for sustained collaboration and learning on a global scale.
In line with the "CollaborHaitian" initiative and using cloud computing technology from IBM, doctors, nurses, medical personnel and other partners – including IBM employees – are connecting with one another. They are sharing best practices, tools and knowledge. And the emerging insights are being used within the community as a whole, and more importantly, by the vast number of volunteers and practitioners on the ground in Haiti.
Using the IBM SmartCloud, Colleagues In Care is creating a grassroots movement to transform the future of health care for the underserved – anywhere in the world. This Haitian model will be easily replicated and tailored to assess and address the medical issues of any area affected by poverty, limitation and extreme need. The cloud computing technology from IBM has given us a means to recruit, introduce and connect the world's most renowned specialists with local health professionals. Colleagues In Care forges agreements with leading organizations to gain access to U.S. protocols, standard order sets, and clinical pathways, as well as medical educational content.
This collaboration and conversation not only bridges the gap between local and global expertise, but also inspires the co-creation of a "Best Possible Practices Model" (BPPM). With BPPM, we and our panel of volunteer specialists are able to offer specifically designed care that honors local circumstances and unites evidence- and reality-based medicine. The result is pinpoint focus of resources and care on highly critical illnesses, diseases and medical conditions – helping to reverse the dire health and health care of the underserved inHaiti.
The "power of community" speaks volumes for our organization. We are bringing a world of medical expertise to Haiti, and through these virtual relationships, we address health care issues with an immediacy that is unprecedented. Our tools enable us to offer on-site practitioners an arsenal of resources and support that has never before been available with such efficacy. Practices may be fine-tuned and implemented in the moment of need while insights and solutions may be presented as training tools for others. This model feeds itself, and growth becomes automatic as knowledge is shared freely and new conversations are sparked.
The common passion for service within the diverse network of people – each offering distinct knowledge, experience, perspective and vision – becomes contagious within the system. Colleagues In Care is helping take medical volunteerism to another level: colleague to colleague. We're helping to transform good intentions and volunteerism into tangible outcomes. We are co-creating social value!
Marie Kenerson is Chief Collaboration and Learning Officer of Colleagues In Care, a global health network of doctors, nurses, medical personnel and other partners working together to provide quality health care services, telemedicine, knowledge and training to aid the poor and help alleviate suffering. Marie has combined organizational learning principles, dialogue skills and collaboration strategies with new IBM cloud and social network technologies to "crowd-source" a network of top medical professionals and volunteers from around the world in order to co-create and deliver localized best-possible medical practices.
Related Article:
As we mark this year's International Childhood Cancer Day, please consider joining the World Community Grid project seeking to find childhood cancer treatments. The International Confederation of Childhood Cancer Parent Organizations established International Childhood Cancer Day in 2002 to raise global public awareness about childhood cancer. The tragic reality is that 175,000 children worldwide are diagnosed with cancer each year, and an estimated 90,000 of these children will die from the disease.
World Community Grid is running Help Fight Childhood Cancer – a project designed to help find a treatment for this dreaded disease. The Principal Investigator for the project is Dr. Akira Nakagawara, president of the Chiba Cancer Center in Chiba, Japan. Dr. Nakagawara is also the President of the International Society of Pediatric Oncology, Asia (SIOP) – one of the driving forces behind childhood cancer awareness.
Please help us in raising awareness of International Childhood Cancer Day and the Help Fight Childhood Cancer project. Then join the global effort to help find treatments for childhood cancers by contributing your unused computing power to World Community Grid.
If you already are a member of World Community Grid, click here to find out whether your computer is set up to help with this vital project. If you haven't yet signed up for World Community Grid, please register now so you can help us provide technology to researchers so they can make the world a healthier place. Joining is safe, secure, and free.
Bill Boverman is Executive Project Manager, Application Services Delivery Excellence, with IBM Global Business Services
Read More About World Community Grid:
World Community Grid and the Greening of Information Technology
I'll Take "Curing Malaria" for $1,000, Alex
Japanese Version:
ワールド・コミュニティ・グリッドは小児がんの治療薬の発見を支援しています
みなさん、国際小児がんデー(International Childhood Cancer Day)をご存知ですか?毎年、世界中で17万5千人もの子ども達ががんと診断され、そのうちおよそ9万人の子ども達が幼い命を奪われています。こうした悲しい現実を知ってもらう目的で、国際小児がん親の会連盟(International Confederation of Childhood Cancer Parent Organizations)は2002年に国際小児がんデー(2月15日)を設定しました。
国際小児がんデーを契機に、小児がんの治療薬の発見を支援しているワールド・コミュニティー・グリッドのプロジェクトへの参加を是非ご検討ください。ワールド・コミュニティー・グリッドでは、この非常に恐ろしい病気の治療薬の発見を支援するため、「ファイト!小児がんプロジェクト」(Help Fight Childhood Cancer Project)を展開しています。このプロジェクトの研究責任者は、千葉県にある千葉県がんセンター センター長の中川原 章氏です。中川原氏は、国際小児がん学会(SIOP)のアジア代表も務めており、小児がんについて知っていただく活動を推進していらっしゃいます。是非、ワールド・コミュニティ・グリッドに登録し、皆さんがパソコンを使用していない時間のコンピューティング能力を「ファイト!小児がんプロジェクト」に提供してください。これによって、小児がんの治療薬を発見することに貢献できる、この世界的な取り組みに参加することができます。
既にワールド・コミュニティー・グリッドのメンバーである皆様は、こちらをクリックいただくと、現在ご使用のパソコンが、このプロジェクトを支援できるようにセットアップされているかどうかを確認できます。ワールド・コミュニティー・グリッドに未登録の皆様は、こちらをクリックして今すぐご登録ください。ワールド・コミュニティー・グリッドは、セキュリティーが確保された環境であるため、安全に参加できます。参加は無料です。
子ども達に対する小児がんの脅威を少しでも少なくし、より健康的に暮らせる世界を実現できるよう、皆様の積極的なご参加とご協力をお願いいたします。
It's elementary, my dear Watson.  Oh, wait…..I'm not Sherlock Holmes, and a very different Watson is helping me out.
And instead of tracking down a clever thief, this Watson helped me start the search for new ways to stop a monster that kills almost a million people each year — most of them children.
The microscopic monster is the pervasive parasite known as Plasmodium falciparum — which causes the deadliest form of malaria and kills more people than any other parasite.  The Watson who is helping me is not a fictional character, or even a real person — it's IBM's Watson computing system, which defeated human competitors on the Jeopardy! game show tournament earlier this year.
No, Watson isn't giving us advice on killing malaria.  Rather, part of the cash prize that Watson won went to Professor Art Olson's lab at The Scripps Research Institute, where we are using it to create a new project on World Community Grid called the "Global Online Fight Against Malaria," which launches today.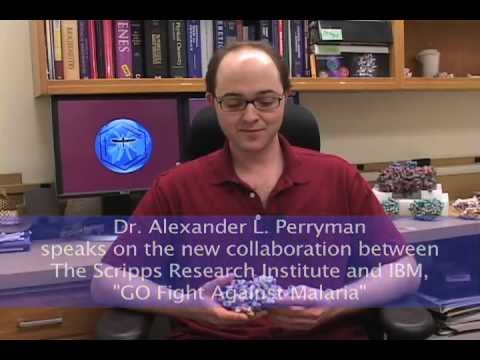 It's the largest computational research project ever performed against drug-resistant malaria.   Unfortunately, many strains of malaria have become resistant to the different drug treatments (they almost always do, eventually).
Working on malaria started as a hobby that I advanced during nights and weekends for a couple years, when I wasn't working on FightAIDS@Home, Professor Olson's project on World Community Grid that seeks a cure for HIV.  With persistence and a lot of help from IBM and from fellow Scripps Research scientists, we're now addressing malaria.
I should emphasize that this initiative seeks new malaria treatments, not a vaccine.  Of course, the two would be complementary; the vaccine will help prevent illness, and drug treatments will address those who never received the vaccine, or for whom the vaccine wasn't permanently effective.
We will use World Community Grid to computationally evaluate millions of candidate compounds that might disrupt the proteins the Plasmodiumparasites need in order to survive, multiply, or infect a person.  If these target molecules can be disabled by the right chemical compounds, then patients infected with superbugs of malaria can potentially be cured.
It's like trying to find the right key to open a particular lock.  However, both the lock and the keys are flexible — they can change shape, or transform their conformation, as they wiggle, jiggle, dance, expand, and contract in the warm watery environment in which they reside.  In addition to needing to find a complementary match between the different flexible shapes of the lock and the potential keys, both parts of the system also have different charged and partially charged atoms that need to match up well, too.
To make it even trickier, the total number of potential keys that could exist in the universe (the size of "chemical space") is estimated to be about 10 to the 60th power (yes, that would be a 1 with 60 zeros after it!).   Therefore, we'll just focus on the types of keys that are somewhat similar to the types of molecules that have already become approved drugs.
Data from the experiments will then be made available to the public.  How cool is that?
What we can accomplish with one year of calculations on World Community Grid could take us over one hundred years to achieve, using the resources we normally have available.  Join the global online family and "GO Fight Against Malaria" with us.
Alex L. Perryman, Ph.D. is a research associate at The Scripps Research Institute.
___________________________________________________________________________
Editor's Notes:
World Community Grid is fed by spare computing power from the nearly 2 million PCs that have been volunteered so far by 575,000 people in more than 80 countries.  It gives each PC small computing assignments to perform when the devices aren't otherwise being used by its owners, then sends the results to scientists seeking a faster way to cure disease, find renewable energy materials, create clean water techniques, or develop healthier food staples.
In 2006, 247 million people became infected with malaria — the leading cause of death in Africa for those under age five.  According to the World Health Organization, malaria is both a disease of poverty and a cause of poverty; survivors are often subject to impaired learning, school absences, lost work, and increased economic distress.  Where prevalent, the disease can account for 40 percent of all public health costs.
Follow World Community Grid on Facebook