Guest Contributors
Perth – Australia's most westerly capital city – is known for its sunshine, its natural beauty and its relaxed pace. With an estimated population of a little over 1.97 million, Perth is Australia's fourth most populous region and is growing rapidly. And that growth requires a strong and considered strategy for city development.
To ensure that we provide the best possible services to our citizens now and well into the future, it was clear to us that Perth needed to be smarter in the way we collated, distributed, accessed and used key infrastructure data. Transport, water, energy and other infrastructure utilities need to be in sync with each other for us to be able to plan and use resources in a valuable and efficient way.
September 11th, 2014
13:25
American students generally lose about two months' worth of grade-level learning equivalency over the summer months. This summer learning loss is especially problematical among low-income children, who often lack access to learning opportunities outside of school. That's why Camp Fire actively engages children in central Texas through our Camp Fire Summer Camp. Our goal is to expose children to STEM disciplines such as environmental science, biology, physics and engineering in an environment that's instructive and fun. We want to help ensure that a child's summer break from school isn't a break
from learning.
This summer, IBM invited our young campers to participate in the refinement of leading IBM Watson technology that will enable computers to respond to children's verbal cues – essentially allowing children to converse with and learn from computers using natural language. IBM Watson technology was developed to analyze unstructured data, so getting unadulterated input from our summer campers was a great way to teach Watson about how children think, and how to communicate with them.
The Sankara Eye Institutions provide comprehensive eye care to the rural and urban poor across India. Every week, our outreach teams of physicians and paramedics visit slum areas as far as 400 kilometres (249 miles) from our hospital to identify patients in need of treatment for surgically curable eye diseases. We provide the treatment and post-operative follow up as part of our mission to reach across the cultural, geographical and socio-economic divides that rob nearly six million Indians each year of their eyesight.
Eighty percent of our patients receive their care free of charge as part of our nearly 40-year endeavor that has brought light and color to more than one million people. Over the last year alone, Sankara Eye Institutions screened more than 357,000 patients and helped nearly 141,000 people regain their sight and dignity. Our "Rainbow" pediatric program evaluated more than 270,000 children last year, and helped more than 5,000 of them avoid a sightless future. Overall, our community outreach programs have touched more than 67 million Indians across nine states.
The 20th International AIDS Conference in Melbourne, Australia is the premier gathering for those working in the field of HIV, including scientists, medical practitioners, activists, policymakers, people living with HIV and others committed to ending the epidemic. IBM, a conference sponsor, is committed to applying its talent and technology to advance the fight against HIV/AIDS through philanthropic initiatives such as World Community Grid, which enables individuals to donate their unused computing power to advance cutting-edge scientific research on health, poverty and sustainability.
In the article below, Scripps Research Institute researcher Dr. Arthur Olson shares an update on how World Community Grid is helping his team develop therapies – and a potential cure – for AIDS.
______________________________
The Scripps Research Institute's FightAIDS@Home initiative is a large-scale computational research project whose goal is to use our knowledge of the molecular biology of the AIDS virus HIV to help defeat the AIDS epidemic. We rely on IBM's World Community Grid to provide massive computational power donated by people around the world to speed our research. The "virtual supercomputer" of World Community Grid enables us to model the known atomic structures of HIV molecules to help us design new drugs that could disrupt the function of these molecules. World Community Grid is an essential tool in our quest to understand and subvert the HIV virus's ability to infect, spread and develop resistance to drug therapies.
Since the early 1980s – when AIDS was first recognized as a new epidemic and a serious threat to human health – our ability to combat the HIV virus has evolved. Using what we call "structure-based drug discovery," researchers have been able to use information about HIV's molecular component to design drugs to defeat it. Critical to this process has been our ability to develop and deploy advanced computational models to help us predict how certain chemical compounds could affect the HIV virus. The development of our AutoDock modelling application – combined with the computational power of World Community Grid – represents a significant breakthrough in our ability to fight HIV.
How can a fast growing NGO increase its employees' project management skills while simultaneously initiating two IT projects? IBM in Switzerland provided the answer via an Impact Grant for Project Management.
Our organization – Tischlein deck dich – is an apolitical and non-denominational NGO that feeds the hungry with reclaimed food. Industry, major distributors, farmers and retail donate their excess food, and we distribute it nationwide to people affected by poverty. In 2013 alone, we collected and distributed more than 2.5 million kilograms of food (worth more than USD$12.5 million) to more than 13,000 people each week.
The great philanthropist Andrew Carnegie provided funds for the founding of the Charlotte Mecklenburg Library in North Carolina 111 years ago. Over that time, the Library has grown to serve more than 1 million patrons through a variety of programs and services, including traditional library branches, community outreach, and telephone and online digital channels. Among the Library's ongoing goals is to improve literacy, educational success and workforce development across our community.
To help achieve these goals, the Library celebrates the joy of reading, fosters learning
and personal growth, connects our users to each other and to the outside world, and inspires people to achieve their full potential – all in an atmosphere that's accessible and welcoming to all. Essential to our ability to provide this level of community support is an effective and actionable strategy to coordinate outreach through our digital information distribution channels.
To survive in an era of diminishing resources, nonprofit organizations have to be managed as professionally as their for-profit counterparts. That's why we at Leadership North Carolina (LNC) felt so fortunate to receive an IBM Impact Grant prior to developing our strategic plan for improved fund raising, recruitment and alumni outreach. Our alumnus Steve Pearson of IBM Corporate Citizenship & Corporate Affairs facilitated the grant.

Two IBM consultants helped guide us through a review process prior to the presentation of our strategic plan to the Leadership North Carolina Board of Directors. Before arriving for the review session, IBM's consultants conducted phone interviews with 16 LNC stakeholders – including our staff, many members of our Board of Directors and key alumni. During our two-day consultation with IBM, we reviewed our SWOT (Strengths, Weaknesses, Opportunities, Threats) analysis, identified key focus areas, refined our vision statement, and charted a course to capture measurable impacts of the LNC program experience and engage our alumni more directly.
Today, the Information Technology Industry Council (ITI) and IBM unveiled a letter signed by more than 200 businesses, associations, and community groups urging the Senate and House of Representatives to modernize the Carl D. Perkins Career and Technical Education Act (Perkins Act). First enacted in 1984, the Perkins Act is a federal program that helps states and localities around the country offset career and technical education expenses. It's not often that such a diverse group speaks with the same voice on an issue. The signatories come from all corners of the country and nearly every walk of life – all rallying around the single goal of ensuring that today's students are career ready.
Since its inception, the Perkins Act has touched an untold number of students around the country, arming them with the tools needed for jobs that require more than a high school degree but less than a traditional four-year college degree. Many companies in the technology sector are especially keen on seeing the Perkins Act modernized. These companies have long relied on the Perkins Act to help provide them with a skilled and work-ready talent pool that drives continued innovation and growth.
Running a small charity is a constant challenge. Since I left a large NGO to lead Compaid five years ago, juggling budgets has never been easy. Our work supporting people with disabilities throughout the southeast of the UK has grown steadily, but our budget has not. This has made prioritising our expenditures a challenge.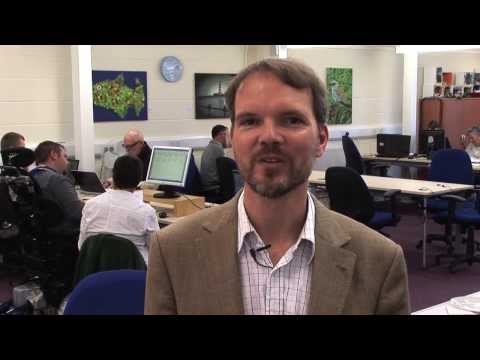 On one hand, we have to meet the immediate needs of our beneficiaries, but to stay relevant for them and continue to meet their changing needs, we must also invest in staff development, information technology and capacity building. Fortunately, the UK's Small Charities Coalition – a networking, mentoring and support organization for small charities – connected us with the Charity Skills Master Class programme.