Guest Contributors
Now more than ever, there are so many ways to share information with students, parents, teachers, school and district leaders and other key public education stakeholders. Our challenge is no longer to simply reach all of these audiences but instead to move beyond information distribution and truly engage and motivate our partners. This is no easy task.
Social media platforms such as Facebook and Twitter offer rich opportunities to start and grow a dialogue about the issues that are important in schools and districts. And thanks to three IBM Impact Grants awarded to the Southeast Education Alliance, the Western North Carolina Regional Education Foundation and the Northwest Regional Educational Service Alliance, leaders from 50 North Carolina school districts now understand more about using these important social media channels to share their stories and start valuable conversations about public schools with parents, business leaders and others in
their communities.
(Versão em Português do Brasil abaixo)
The city of Porto Alegre is currently experiencing a historic moment with the launch
of the POAdigital Portal, an online environment that integrates developers, startups, entrepreneurs, investors, students and IT professionals in order to accelerate and
stimulate innovation and local economic development, transforming Porto Alegre into
a Digital City. We have reached a milestone with the connection of all these actors that make innovation happen.
Several years ago, this growing trend had been identified inside the City Hall. And, taking advantage of a consolidated partnership with IBM, we proposed the development of a solution that would not only allow us to visualize this ecosystem, but actually to connect all the stakeholders in a functional environment, full of useful information.
IBM's Innovation Zone Open Development for Disaster Response (ODDR) Hackathon (ending July 24) is underway! The contest invites coders to use their skills, creativity, and IBM Cloud technologies to help expand the array of tools that IBM can apply in natural disasters and humanitarian crises. In his comments below, Emergency Communication Networks expert Edward Happ offers a primer on the technological underpinnings of effective disaster response, and outlines challenges for the future.
_______________________________
I lead technology for the International Red Cross/Red Crescent as their Global CIO, and was the first CIO for Save the Children in the U.S. and later in the UK. Along the way, I co-founded NetHope – a collaboration of more than 40 international nonprofit technology leaders – and was their Chairman for the organization's first decade.
A year and a half ago, Red Cross/Red Crescent was in the midst of responding to Typhoon Haiyan in The Philippines – a record-breaking storm that left more than 6,200 people dead and affected 16 million people across the country, displacing 4 million of them and damaging more than 1 million homes. Through responding to Haiyan, we learned some important things about technology change. First, mobile networks recovered before emergency systems were set up. Second, many first responders brought – and expected to use – their own technology. And finally, collaboration across relief agencies worked!
According to the World Health Organization, over a million people die every year from diseases caused by unclean water. With population growth and climate change, the problem is expected to get worse. Our team has discovered a phenomenon which could form an important step towards making clean water available to those who need it most. Existing water purification technologies are often expensive, and the people who need
them most are least able to afford them. The Computing for Clean Water project that
ran on World Community Grid can help change that status quo. The project's exciting findings were just published in Nature Nanotechnology, the world's most prestigious nanotechnology journal.
Fundamentally, our discovery is about how we can potentially use carbon nanotubes to make water filters that are more efficient and less expensive. Carbon nanotubes are tiny, hollow structures made of a material related to graphite in pencils with diameters of just a few nanometers — one ten-thousandth the diameter of a human hair. The size of the tubes allows water molecules to pass through, but blocks larger pathogens and contaminants, purifying the water.
Last week, I had the distinct privilege to visit Newburgh, a city situated on the Hudson River and just a short train ride north of The Big Apple. It was a chance to witness
firsthand what everyone has been clamoring about: just what is happening inside a
P-TECH classroom?
Otherwise known as Pathways in Technology Early College High School, P-TECH has earned much praise for innovation in education from just about everyone, including President Obama. For me, the question was whether the success of the Brooklyn model could take flight in less populated areas. Could this model work in other communities across the state, particularly in troubled regions? I was determined to find out.
Twenty-three years ago this May, I graduated from Morehouse College as part of the largest class in the college's history through 1992. Features in national media outlets told the stories of several young leaders from the Class of 1992, including why they had chosen Morehouse over such schools as Cornell and Stanford, the commitment to service that Morehouse had instilled in them, and their plans for making the most of themselves and doing their best for their communities. On Commencement Day this year, Morehouse's President acknowledged my work with P-TECH, and what we and our partners are doing to help level the playing field for a new generation of young leaders.
Today, our school celebrates its first graduating class – six extraordinary young people who, through talent and tenacity, are finishing the six-year P-TECH program in just four years, and beating the odds. After accepting the P-TECH challenge of rigorous academics, extended school days, summer sessions, workplace learning, mentoring and internships, each of these graduates has earned either a high-paying job with IBM, or acceptance to a four-year college or university. Four of the six are the first in their families to graduate college. Each of them personifies what it means to redefine oneself based on one's
highest expectations.
P-TECH is redefining possibilities for 17 and 18-year olds so that by their mid-20s their lives have different trajectories than those of their peers from similar socio-economic backgrounds and previous generations. The success of these six students shows that achievement gaps can be closed when young people have access to equitable opportunities and resources. We look forward to more of the types of public-private partnerships that are reinventing high schools as engines for success.
Continue reading to meet the P-TECH Class of 2015.
At the height of last year's Ebola outbreak, the citizen engagement team at IBM Connections in Sierra Leone put their talents in technology to work, creating a way for citizens to report Ebola-related issues and concerns via text or voice calls.
The people behind the project – which provided real-time insight to the government and helped health care companies more effectively deliver trial vaccines – were not only highly skilled IBM employees. They were volunteers.
Across the country and the world, companies like IBM are putting their unique business muscle to work for the greater good. These pro bono volunteers – top-notch professionals in technology, public health, systems engineering, logistics, manufacturing and more –
are using their industry-leading skills and relevant issue expertise to help nonprofits
change lives.
Yesterday at the White House, I participated in an event – convened by the White House, Points of Light and the U.S. Department of Commerce – that brought together corporate and nonprofit leaders for a change-making expo. We showcased some of the newest tools and innovations in pro bono service.
We were both excited and anxious to greet IBM's Smarter Cities Challenge (SCC) team. The hectic work schedule lasted three weeks and came to an end on April 23. The SCC grant program is designed to make the planet smarter, by providing cities and regions with recommendations to address their challenges based on analyses and diagnoses made by IBM experts. Since 2011, 114 cities have received the IBM SCC grant. Pyeongchang County applied for the grant with the mission of "Developing strategies for Pyeongchang's future in preparation for the arrival of the High Speed Railway, with a vision of becoming a city of relaxation, tourism, leisure and sports." We became the third recipient for the SCC grant, following Cheongju and Jeju.
[Note: The video below is in Korean.]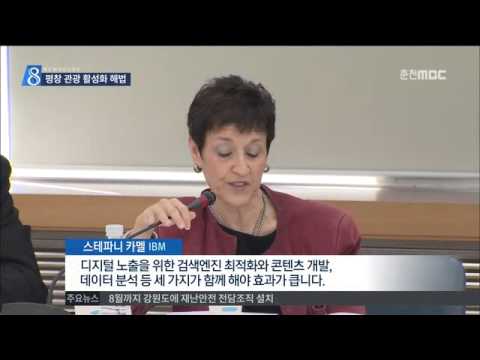 IBM chose Pyeongchang County for an SCC grant based on our passion and commitment for making Pyeongchang a smarter city. Six IBM experts, each with different areas of expertise, worked in Pyeongchang for three weeks. These experts diagnosed the problems of Pyeongchang and gave us 11 recommendations to address our challenges. Even though they were only in Pyeongchang for three weeks, they reviewed several policies and existing reports, and gathered the opinions of many people throughout the region. Their final presentation demonstrated a thorough review of our challenges and delivered expert recommendations, living up to IBM's reputation as a global company.
When most of us talk about "tools for transformation" these days, we're usually referring to software as a service or specific types of business or operational strategies. At the Atlanta Community ToolBank, we certainly use digital and conceptual "tools" to help us serve our clients. But our client touch point is physical tools. We are America's largest tool-lending organization. We maintain an inventory of physical tools that we lend to other nonprofits to enable community-based service projects.
We began our partnership with IBM during their Centennial Celebration of Service in 2011. Since that time, IBM experts have helped us develop strategies for efficiency, growth and collaboration with other nonprofits so that we can continue to provide our essential service. IBM and the Atlanta ToolBank eventually entered into a partnership that involves an annual consulting grant to help us refine operations and expand our impact across Atlanta. This critical strategic "tool" has been made possible by an IBM Impact Grant.