Guest Contributors
What factors make Georgia communities flourish to create a more prosperous and welcoming place to call home? The answer is at the heart of The Georgia Center for Nonprofits' (GCN) mission to support, strengthen and serve the nonprofit community. When nonprofits get smarter, stronger and more sustainable, bigger and more powerful results accrue to the community.
For more than 20 years, GCN has been developing more effective resources to help nonprofits succeed. From developing a robust mix of membership programs, to sponsoring an annual Nonprofit Summit (the largest sector event in the Southeastern U.S.), to creating a day-long giving initiative called Georgia Gives Day, GCN is truly shaping the role nonprofit organizations play across the state.
Earlier this year, actress Angelina Jolie made headlines when she announced that she had chosen to have a pre-emptive double mastectomy because she carries a faulty gene that gives her an 87 percent lifetime risk of developing breast cancer. The identification of that faulty gene – known as a cancer marker – led to her potentially life-saving decision.
Cancer markers are unique combinations of chemical indicators, such as DNA and proteins, that can be detected in tissue samples. They can indicate a person's risk of developing a particular form of cancer, as well as how they might respond to a specific treatment. Though researchers believe that thousands of clinically useful markers exist, only a handful have been identified to date. As more markers are discovered, doctors will be able to detect cancer earlier and personalize treatment based on a patient's genetic profile – both of which usually result in significantly better treatment outcomes.
(Versão em Português do Brasil abaixo)
Corporations and governments aren't the only entities that need to operate with transparency and focus their strategies on delivering results. Nonprofit organizations
also must pursue their missions with professionalism, openness and a commitment to affecting meaningful (and measurable) change. According to the Brazilian Institute of Geography and Statistics (IBGE), the country's 290,000 NGOs account for five percent of GDP – about $USD 14 billion. While that figure may sound significant, NGOs in Brazil and around the world operate in an environment of increasing needs and diminishing resources. To continue to be effective, nonprofits must be every bit as competent and efficient as their for-profit counterparts.
Over the last 16 years, NGO Volunteer Partners has worked with corporations and national and international nonprofits to provide development expertise and management training for organizations focused on social welfare. Among our most recent initiatives is a partnership with Inter-American Development Bank (IDB), to develop the methodology "Educating for Transparency," and with IBM Brazil, to make the training course for Brazil's NGOs possible.
I was raised by a single mother whose basketball dreams were cut short when she got pregnant with me at age 16 and dropped out of high school. As a senior attending Jasper County High School in Ridgeland, South Carolina 27 years ago, I entered and won an essay writing contest responding to the question, "Is the United States Ready for a Black President?" I wrote that essay while living in the area called, Wagon Branch that you will not even find on a South Carolina map. My life is an incredible journey enhanced by the foundations of public Head Start and public schools from pre-K through grade 12, and is proof that the zip code where you reside as a secondary student does not have to ultimately predict your place in the world.
It's impossible to overstate how thrilled we were to have President Obama visit P-TECH. Of course, the students, faculty and I had been delighted when the President called us out in his State of the Union address – saying that our country needed to give every student the types of opportunities found at P-TECH – but to visit us in person…Wow!
What really moved me was the effect Mr. Obama had on my students. These are young people from all over New York City who have come to P-TECH in search of a better education and a better life. Our school is open admissions; we don't "cherry pick" our students. All that's required of them is interest, drive and the willingness to work hard to achieve their goals. For many of them, that means breaking free of generations of poverty, walking away from the patterns of failure that plague their contemporaries, and becoming the first members of their families to obtain a postsecondary degree.
(Versão em Português do Brasil abaixo)
The participation of the City of Porto Alegre, Brazil in the IBM Smarter Cities Challenge was definitely a milestone for us all in the municipal government. The work done by the IBM executives who participated in the program resulted in a real action plan for our teams, and prompted profound reflection among our managers and leaders. With help from the IBM team, we were not only able to map more precisely a number of initiatives that were already underway in the city, but also were able to discover and develop new approaches to our efforts. Our work with the Smarter Cities Challenge team helped us see more clearly the connection between how we manage Porto Alegre and important global trends.
Covering aspects such as citizen participation, urban mobility, social interaction and open data, the Smarter Cities Challenge team encouraged us to pursue a number of initiatives. We are in the process of enhancing opportunities for citizen engagement (for which Porto Alegre already is internationally recognized) through programs that are being developed and that we can hopefully announce soon.
The promise of American education has always been one of economic opportunity and democratic citizenship. We tell all students that if they work hard, achieve academically and complete their education, they will be able to find good jobs, lead productive lives and participate fully in our democracy, where the people are the ultimate rulers.
For most of the twentieth century, unfortunately, American schools fell far short of that promise. Our system of education was tracked, often counter-productively, with one class of students recruited into rigorous academic programs which led to post-secondary education and white-collar, professional employment, and another class of students pushed into vocational programs which led directly to blue-collar and pink-collar employment. The first class of students were taught to use their minds well, so they could be molders of the world; the second class of students were taught to use their hands, as they were believed to be destined to a life of manual labor. The first class of students were prepared to be active citizens, helping to shape our common purposes as a people and a nation; the second class of students were expected to work in factories, where they could potentially command middle class wages, but more importantly never expected to be empowered as policymakers, as the movers and shakers of our democracy.
Three out of four start-ups fail, so why would a charity bet on setting up innovative new ventures when the odds are even worse than heading for your nearest roulette table? It is not in a charity's DNA to take risks. Yet, being reminded constantly of the need to be "innovative" must create cognitive dissonance in the minds of sector leaders, their fundraisers, their boards and anyone who has to wonder how their organisation is going to make payroll by the end of the month. Meanwhile, nonprofits must play by rules that prohibit risk-taking while demanding that they deliver innovative solutions to meet increased service demands with dwindling financial resources. It is enough to give anyone an ulcer!
In 2011, I became part of a team that acquired funding to start an innovative online service for charities. Deal Effect – which will launch later this year – is a nonprofit fundraising platform that will offer daily deals on goods and services to consumers. Eleven percent of all deals sold will be donated to a chosen charity, with the goal of raising over €2.1 million in the next three years for charities participating in the venture.
September 24th, 2013
13:56
On September 25, 2013, world leaders will convene at the United Nations to discuss accelerating progress in meeting the U.N.'s Millennium Development Goals (MDG) by 2015. The MDGs were created to help billions of people around the world leave poverty and live in safety with dignity and respect. While at the U.N., these leaders also will set a development agenda for beyond 2015 to build on lessons learned and tackle the compelling problems that remain.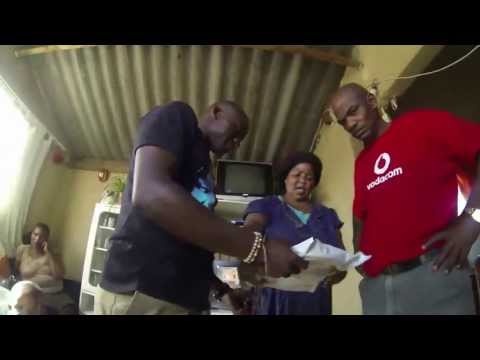 There have been notable advances since the MDGs were first set. The number of people living on less than $USD1.25 per day has been halved since 1990 – down from 47 percent to 22 percent. Over the same period, the number of people suffering from hunger decreased 36 percent. Likewise, deaths among children younger than five decreased 41 percent and deaths among mothers giving birth was down 47 percent.