Guest Contributors
Since retiring from IBM four years ago, I have supported more than 1,000 Kindergarten-to-College STEM (Science, Technology, Engineering, Mathematics) projects in the U.S. and the Dominican Republic. As part of this work, I've often made use of IBM's On Demand Community (ODC) resources to support the company's corporate citizenship initiatives.
I'm writing to let people know that ODC offers many fulfilling opportunities to serve one's community, regardless of where you are in your career.
On Demand Community celebrates its 10th Anniversary this year, but I remember the creation of the program and some of its earliest projects. One of my favorites was a collaboration between the corporate citizenship team and the IBM DiscoverE (formerly Engineers Week) group to develop the "Engineer A Robot" project using LEGO® Robotics. The activity became popular with IBM's EX.I.T.E. and IGNITE summer camps and diversity programs, including Black Family Technology Week, La Familia Technology Week and Native American Family Technology Journey.
The Impact Hub is a vibrant innovation lab and incubation center in the heart of Zürich. Founded in 2011, it is part of a global network of more than 50 locales where social entrepreneurship is fostered through a growing innovation community. Impact Hubs make co-working spaces available, and host networking and coaching events. Our goal is to connect businesses, governments and NGOs to help create a more sustainable economy. But our core business involves offering social and environmental startups the environments they need to thrive.
Recently, 20 young social entrepreneurs from our membership took part in a day-long "Coaching As a Leadership Style" workshop offered by IBM in Switzerland and funded by an IBM Impact Grant. The workshop was a great opportunity for the Impact Hub members to focus on some of the challenges they face every day, such as creating atmospheres of learning and collaboration, and determining which leadership styles are most appropriate in small startups.
All across the nation there has been a surge of interest in career and technical education programs brought on by the pressing need to connect youth with meaningful career readiness opportunities. The recent TIME Magazine cover story on IBM's P-TECH-model schools in Chicago and New York is the latest example of America's growing interest in innovative partnerships that bridge the divide between the classroom and world of work. Many employers, like IBM, are stepping up their engagement with schools to help prepare students for the modern economy. The time is right for Congress to act in kind and to support the reauthorization and modernization of the Carl D. Perkins Career and Technical Education Act.
The Perkins Act is widely recognized as an important resource in helping connect the education system to the needs of the business community. If employers throughout the U.S. are to maintain their economic competitiveness, it will be through programs like the Perkins Act that help build the skills employers need to grow. The Perkins Act dates to 1988 and provides over $1 billion in federal funding to states to support career and technical education programs in high schools, community colleges, and related institutions across the country. While the Perkins Act has made important contributions to supporting career readiness, closing the ever-widening skills gap requires a renewed emphasis on career preparation programs and a rethinking of priorities moving forward.
(下記の日本語版)
Today, thanks to advances in modern medicine, 80 percent of children diagnosed with cancer are cured. But the prognosis is not nearly as good for children with neuroblastoma, the most common form of cancer diagnosed in infants. Neuroblastoma is a tumor of peripheral nerve tissues that often starts in the adrenal glands and sympathetic ganglia of the neck, chest, or abdomen, and affects approximately one in 8,000 children in the United States and Japan. More than half of neuroblastoma cases are classified as high risk, and only 30 percent of these children are cured – a rate that has not improved for two decades. New treatments are urgently needed for this dangerous disease.
Our research team at the Chiba Cancer Center in Japan has been working to develop a new treatment for neuroblastoma. With the help of volunteers participating in IBM's World Community Grid, we have just discovered seven new drug candidates that could potentially be used in new medicines that fight childhood neuroblastoma. These drug candidates work by activating a self-destruct mechanism present in neuroblastoma cancer cells – killing them without affecting healthy cells.
In an era of diminished public resources, reliance on nonprofit social services providers is
at an all-time high. Today's nonprofits must be efficient, professionally managed and technologically savvy – both to serve clients effectively and to provide necessary information to benefactors and government agencies. One operational component that's critical to nonprofit social services continuity is disaster preparedness. That's why the Vermont Digital Economy Project was delighted to take part in two Disaster Preparedness for Nonprofits Workshops made possible through the IBM Impact Grants program.
When Tropical Storm Irene tore through the state in 2011, all Vermonters suffered, and those depending on food banks and other services of the social safety net were among the hardest hit. But through the disaster preparedness workshops that IBM experts recently conducted, service providers from every segment of Vermont's nonprofit spectrum were able to visualize their missions more clearly and develop effective strategies and tactics to help ensure continuity of service during future times of crisis.
During my time back home in Raleigh, North Carolina, I was given the opportunity to tour IBM's Research Triangle Park facility. During my visit, I sat down with a group of women at IBM for an insightful and eye-opening discussion our experiences in the workforce. The women I met are contributing to our country's economic success and competitive edge through their education and raw talent, but they are only a small portion of the many brilliant women nationwide who are creating, innovating, and implementing changes in the technology sector. The women I met with are few and far from the number of women our nation needs in the increasingly important realm of technology.
While the proportion of women in the workplace has gone up – and the educational gap between women and men has decreased – a stark gender gap remains to be closed. This is particularly true in the technology sector. The technology industry continues to expand at a rapid pace, and has increased the demand for STEM (Science Technology Engineering and Mathematics) and IT (Information Technology) jobs. Yet the entry of women into the technology field is happening at a much slower pace than that of their male counterparts.
In his recent State of the State address, New York Governor Andrew Cuomo said that New York State "is in the midst of an education reinvention" that is part of an overall strategy for "Rebuilding New York." A critical part of that reinvention will be New York's expansion of the P-TECH grades 9 – 14 schools model to include 10 additional schools – one in each of the state's Regional Economic Development Council areas. These 10 new P-TECH schools will join the 16 schools that already are in development across the state.
(Click here for full-size map.)
Through rigorous academics and career-relevant curricula, P-TECH-model schools in
New York City and Chicago are showing results even before their first classes graduate. President Obama's October 2013 visit to Brooklyn P-TECH – and the White House's earmarking $100 million for national expansion of the model– underscored the importance of the P-TECH movement and the need to close America's skills gap by connecting education to jobs nationwide.
Part of the University of North Carolina system, The Center for International Understanding (CIU) is a non-profit organization that works with leaders in education, policy, and business to identify significant international policy issues and position North Carolina to make the most out of global opportunities. For more than 30 years, CIU has been promoting global awareness, understanding, and action to help make North Carolina the most globally engaged state in the nation. In support of this mission, CIU sought an IBM Website User Experience Services Grant to help enhance our website's content, navigation, branding
and design.
Increasingly, organizations must rely on robust websites to communicate their mission and drive support. It is growing more important for websites to be visually captivating, purpose driven and intuitive in functionality. Looking ahead to a website and branding redesign, CIU hoped to gain insight from IBM into how to best communicate information about our organization and our goals for North Carolina.
When Reach Volunteering won an Innovation Award of $80,000 from the UK Government's Cabinet Office to develop iReach, our new digital hub, I was frankly delighted and worried – in equal parts. I knew what we wanted to do, but had no idea how to do it. The idea behind iReach was to create a matchmaking service for people willing to volunteer their time and talent to service – connecting them with the non-profits who need them. We at Reach already did this in person at our offices, but taking the initiative online would enable us to scale up considerably – from 600 placements a year to 6,000. Our only challenge was over how to make the best use of the Innovation Award opportunity. As a small charity with limited IT expertise and funding, we had one shot to get it right.
Skills-based volunteering makes all the difference to nonprofits. Volunteering fuels our capacity to deliver crucial services more effectively. I know this because here at Reach we broker donations of expertise on a daily basis, and because our own organisation runs on a four-to-one volunteer-to-paid-staff ratio.
Greenville Technical College was established in 1962 as a workforce development tool, and since that time, we have supplied well-trained workers for a wide variety of companies. Greenville Tech and the state's other two-year colleges are a prime reason that South Carolina attracts employers from around the world such as BMW, Michelin, and other household names, along with less well-known but equally successful companies.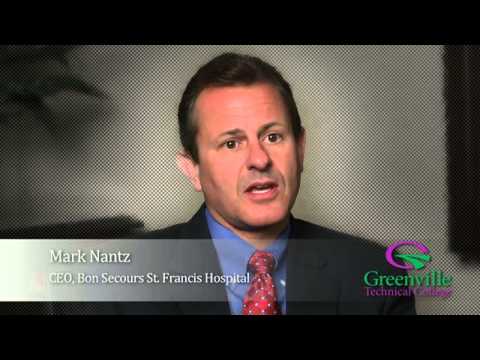 Partnerships with employers, equipment manufacturers, and others are the foundation for Greenville Tech's success. When a company expresses a need for employees with specific credentials, we work together to create a program or to fine tune our curriculum so that students exit with relevant job skills and companies find the pipeline of qualified people they need to succeed.