Guest Contributors
One third of the world's population lives in poverty. Around the globe, Oxfam works to find practical, innovative ways for people to lift themselves out of poverty and thrive. We save lives and help rebuild livelihoods when crisis strikes. And we campaign so that the voices of the poor influence the local and global decisions that affect them. We are determined to change the world by mobilising the power of people against poverty.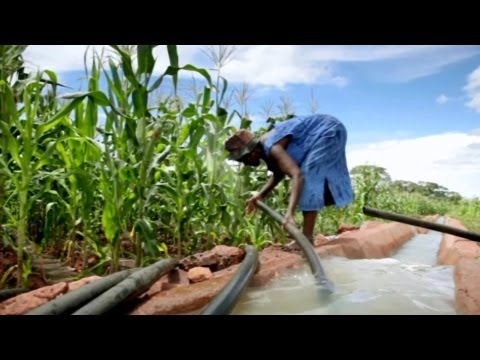 But as we move towards an increasingly digital future, a smart digital strategy is critical for an organisation like Oxfam. We must be equipped both strategically and tactically to inspire support among members of the public through innovative use of online channels. That's why Oxfam Ireland recently collaborated with IBM on a new Digital Marketing Strategy under IBM's Impact Grant Program.
At nearly 19 percent, Turkey's youth unemployment rate hovers nine points above the average for the general unemployment rate of the nation. Among the reasons for the high rate among youth is the disconnect between young people's skills and Turkey's labor market. Thus it is an urgent need to increase youth employment rates and improve our country's competitiveness in an increasingly knowledge-based economy. TÜSİAD – the Turkish Industry and Business Association – worked with IBM's Corporate Service Corps (CSC)  to develop a strategic plan to strengthen STEM education and bolster Turkey's overall innovation agenda.
TÜSİAD was established in 1971 as a voluntary civil society organization. Its goal is to offer economic, social and political solutions from the perspective of the business world. TÜSİAD conducts research, forms views and develops projects and activities as well as proposes policy recommendations to the Turkish parliament, government, and collaborates with national- international organizations. In essence, TÜSİAD has become a think tank in addition to an organization representing business. That's why we were excited to work with the Corporate Service Corps on this important issue that spans so many aspects of life in any country.
Youth unemployment in Spain has reached epidemic proportions, with 50 percent of our country's young people out of work. The tragic irony behind this statistic is that while a generation has had its future put on hold, our nation's leading industries are unable to fill positions with skilled workers. This disconnect between good jobs and young people with the skills needed to fill them is a desperate national concern. That's why IBM recently connected with CSR Europe's national partner Forética – the leading CSR association in Spain and Latin America – to host a "Skills for Jobs" workshop, funded by an IBM Impact Grant. Our goal was to drive the essential discussion of Spain's labour market challenges, and identify solutions to address them.
The workshop was part of CSR Europe's European Business Campaign on Skills for Jobs program, which aims to "Make Europe the Best Place to Work" by convening employers to share best practices related to skills and employability issues. Such challenges as the aging workforce, a growing skills gap and stagnating socio-economic development have been addressed. As part of the campaign, CSR Europe also has pledged to the European Commission Grand Coalition for Digital Jobs to double the outreach from employers to educators to forge more effective partnerships in the effort to connect education to jobs. By 2020, CSR Europe plans to connect with at least 20,000 teachers through its network of more than 10,000 businesses.
When most people think of law enforcement, they likely picture the brave women and men who are sworn to protect and serve their communities. But as with any large and complex organization – with unknown variables, rapidly-changing circumstances and literally hundreds of moving parts – a police department requires enlightened management to function effectively.
The Raleigh Police Department employs more than 130 personnel, both sworn officers
and non-sworn "civilians", in operational support areas. These personnel manage key behind-the-scenes operations, such as training, fleet maintenance, property and evidence management, crime analysis, special-events planning, IT support, records management, youth and family services, community policing, departmental accreditation, and fiscal administration. Support in those areas allows our officers in the field to more efficiently serve the community. The fact that many of these support roles involve the management of projects – either occasionally or on a regular basis – is one of the reasons I welcomed the opportunity for many of our RPD staff members to participate in an IBM Project Management seminar.
As Superintendent of North Carolina's Wake County Public School System, I lead a district where thousands of employees are committed to ensuring every student receives a quality education.  But we do not work alone. It is an endeavor that also includes parents, students and community partners.
It was in that spirit that our community began developing a new strategic plan in spring 2014 when several hundred people gathered on a Friday night to talk about the future of public education in our county. That discussion was followed by an online survey that attracted 11,000 participants, a town hall meeting of more than 750 people and months
of debate among a working group of parents, teachers, students, community leaders
and educators.
How does a high school student proficient in coding and entranced by game playing plot
a career in this booming, fast moving industry? Twenty aspiring Pathways in Technology Early College High School (P-TECH) students with advanced coding skills and all of
the passion for gaming recently joined industry maven Monty Sharma for guidance on
this topic.
_______________________________
Ask any high school student what they're passionate about, and many will tell you gaming. Then ask them about their top career choices and you're bound to get the same response. Game Development is among the most popular desired career paths for young adults, and market trends suggest that a career in this $100 billion industry can hold lots of promise.
The gaming industry's annual revenues are twice those of the U.S. movie and music industries combined. And thanks to the global boom in mobile, games now reach all ages and cultures in every corner of the Earth. The industry's growth potential continues to be huge as applications developed for gaming are rapidly adapted and deployed across many other industries. Business, education and medicine are just three of the global industries using applications first developed for gaming. This means that game coders and developers will have lots of job security – if they can master the requisite skills.
In an era of increasing demands and diminished resources, small nonprofits often
find themselves caught in the squeeze. With resources devoted to serving their beneficiaries, small NGOs can find themselves faced with two critical challenges – adjusting their strategic missions to the evolving dynamics of societal problems, and acquiring and maintaining the technological tools that would enable more effective
service to constituents.
In our 40th year of operation, we at Volunteer Houston found ourselves in a bind. A Points of Light affiliate that serves as the city's sole referral service connecting volunteers to a broad spectrum of diverse nonprofit organizations, we nearly closed in 2012. But in 2013, our new leadership set out to transform Volunteer Houston with an updated operational strategy and new technology. Essential to our reinvention was an IBM Impact Grant to help us develop a strategic plan for growth.
The U.S. needs more experts in STEM (Science, Technology, Engineering, Mathematics) fields. Unfortunately, our pipeline for these skills seems to be running dry at just the moment when we need more STEM professionals than ever. And it's not just industry that benefits from STEM. Studies show that STEM professionals earn more than their counterparts in other fields, even when those counterparts have more years of education. All of which begs the question: how do we get kids interested in STEM, and keep them engaged long enough to prepare themselves for rewarding STEM careers?
At Camp Fire Central Texas, we are committed to delivering evidence-based, hands-on programming that builds healthy, resilient, responsible youth through active learning, outdoor experiences, service to the community and by engaging families. That's why we were delighted to supercharge our afterschool programs by incorporating IBM TryScience – a dynamic program that stimulates young peoples' interest in STEM through a variety of engaging activities.
As a teacher at Brooklyn's Pathways in Technology Early College High School (P-TECH), I've seen first hand how engaging young people unleashes their potential and enables them to transform themselves. Most of our students come from economically disadvantaged backgrounds, and enter P-TECH (an open admissions school) with a variety of academic and social issues. But with constructive engagement through our integrated program of classroom and workplace learning, our students are achieving amazing things!
In addition to rigorous course work and essential mentor/protégé relationships for each
P-TECH student, our program includes workplace and other instructional opportunities that give our students a heads-up view of the world outside of their neighborhoods and beyond the scope of traditional schooling. That's why our students and I were so excited to visit IBM's Thomas Watson Research Center as part of the company's Local Education Outreach Program. It turns out that IBM leads the world in patents, and our students' visit to one of IBM's creative innovation nerve centers proved to be a mind-opening experience for them…and for me!