IBM Leadership
Since the latest outbreak of Ebola in sub-Saharan Africa, thousands of people have died from the disease by official count, and the true death toll may be much higher. While Ebola is difficult to contract unless one is exposed to the bodily fluids of a person in the latter stages of the illness, poverty and lack of proper facilities and equipment throughout Africa have made the disease difficult to contain. Add to that the visceral aspects of the affliction, and you have a formula for panic and the spread of misinformation in addition to the real and serious dangers posed by the disease.
That's why IBM has stepped up to combat the Ebola crisis where it lives – deploying our expertise in disaster relief & recovery, data analysis, mobile technology and cloud computing to help governments, health care workers and others on the ground get the tools and information they need to stop Ebola in its tracks.
The IBM Research Lab in Nairobi, Kenya – the continent's first technology research lab – is collaborating with Sierra Leone's Open Government Initiative, Cambridge University, Airtel and Kenya's Echo Mobile on an SMS/toll-free communications channel to collect and share information, and track the disease.
IBMers around the world are taking a leading role in the creation of an Ebola Open Data Repository which will use IBM's SoftLayer cloud technology to provide governments, aid agencies and researchers with free and open access to globally-contributed data related to Ebola.
After deploying best practices in the fight against Ebola, Nigeria has recently
been declared free of the disease. An IBM donation of Connections technology to Nigeria's Lagos State Government will support the country's preparedness against future outbreaks.
Read more about IBM's full portfolio of responses to the Ebola crisis at the links below.
Stanley S. Litow is IBM's Vice President of Corporate Citizenship & Corporate Affairs and President of the IBM International Foundation.
More Information About IBM's Responses to the Ebola Crisis:
IBM Launches Humanitarian Initiatives to Help Contain Ebola Outbreak in Africa
IBM Research – Africa Uses Technology in Ebola Humanitarian Efforts
How Big Data Can Help Beat Ebola
IBM Supplier Connection helps America's small businesses gain access to large company supply chain spending so they can grow and create new jobs. This free service offering small businesses "one-stop shopping" is powered by the IBM SmartCloud and streamlines the procurement process for both buyers and suppliers. More than 3,500 small companies already are connected to nearly 30 large-company buyers through Supplier Connection. In 2013 alone, participating corporations spent more than $1.5 billion with small businesses registered on Supplier Connection.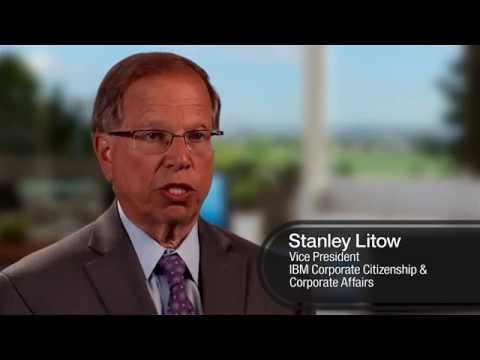 Last week, IBM was pleased to meet with President Obama to discuss his SupplierPay initiative to speed payments to small businesses, and contribute our expertise on building healthier supply chains and strengthening relationships between small and large businesses. The President's SupplierPay initiative recognizes the importance of small business to the nation's economy. The initiative calls upon large enterprises to provide financing help to their small suppliers and to pay them faster so they can grow and create more jobs.
In the 1960s, the world was a simpler place. The Cold War structured the international system, sovereign states were the main international actors, physical (versus virtual) warfare was the main security threat, and economic barriers limited international trade
and finance. The news cycle was longer than 24 hours, and there was no internet. But today's states and multinational organizations share a very different world with financial institutions and corporations, non-profit organizations, terrorists, drug cartels, even pirates. "Sovereign states" aren't as sovereign as they used to be, and security threats include vulnerable financial markets, failed states, cyber threats, infectious diseases, terrorism
and climate change.
Today, two non-traditional actors – American private foundations and U.S. corporate philanthropies – exercise a degree of global reach and influence that once was the province of states and multinational organizations. Over just the last two decades, we have witnessed a huge increase in the number and size of private foundations and the scale of their international activities as they pursue social, economic and even political change. U.S. corporations also are increasingly global, and are involved in social, environmental, health and other public issues in the countries where they operate.
En route to a summit with President Obama, Australian Prime Minister Tony Abbott visited Brooklyn's Pathways in Technology Early College High School (P-TECH) for some fact-finding and possible inspiration for a P-TECH program in Australia. Prime Minister Abbott first heard about P-TECH in President Obama's 2012 State of the Union address. Upon his visit – during which he spoke with students, faculty and IBM mentors, and met with Principal Rashid F. Davis and myself – Mr. Abbott expressed his strong belief that P-TECH was "an innovative and valuable education model for us to consider in Australia."
Though P-TECH started in New York City, it's significance is being recognized across the country and around the world. A collaboration among employers and educators to reinvent American high school, connect education to jobs and close America's skills gap, the
P-TECH movement is rolling across New York State (16 new schools this fall, with 10 more forthcoming) and Connecticut (which opens its first P-TECH school this September), along with five schools in Chicago and other locales in the pipeline. The fact that the Prime Minister of Australia wanted to see P-TECH for himself after hearing about it from the President of the United States and his staff clearly indicates that other leading economies are seeking ways to sharpen their competitive edge by transforming their high schools,
and that the innovative P-TECH model depends less on geography than on the will to embrace change.
The Australian economy faces many of the same challenges we see here in the U.S., including a worsening disconnect between education and industry in a time of upheaval across the higher education sector. It's no wonder that Prime Minister Abbott would be interested in a school-to-career model designed to serve all children through a program that capitalizes on public-private partnerships, prepares its graduates for growth-industry employment, and makes these connections within existing public budgets. That's the reason P-TECH is attracting interest from around the world and is being replicated so rapidly. Visitors from five continents have come to P-TECH to see innovation in action and get America's best thinking on reinventing education.
Stanley S. Litow is IBM's Vice President of Corporate Citizenship & Corporate Affairs and a former Deputy Chancellor of the New York City Public Schools.
Related Resources:
New York Daily News: Australian Prime Minister Tony Abbott Tours P-TECH School
in Brooklyn
Sky News/Australia: Abbott Visits New York High Tech College (High School)
Financial Review: Tony Abbott Backs U.S.-Style Corporate Schools for Australia
Although as many as 80 percent of Ghanaian women seek prenatal care, HIV testing is often deferred due to a lack of public awareness, limited access to diagnostic tests and cultural stigma. As a tragic result, Ghana is among the world's 22 countries with the highest burden of HIV infection in pregnant women. But Ghana is fighting back. President John Dramani Mahama recently announced the formation of a global consortium to reduce Ghana's mother-to-child HIV transmission rate to less than one percent by 2020.
A critical component of the success of this vital mission will be Ghana's collaboration with researchers from the Yale School of Medicine and expert strategists from the IBM Corporate Service Corps (CSC). Using advanced IBM Data Analytics and SmartCloud infrastructure, the CSC/Yale School of Medicine team will work with Ghanaian policy makers and health care experts to design the first phase of shutting down mother-to-child HIV infection for good.
Today is Earth Day, when the world recognizes ways to make our planet greener and more environmentally sustainable. Unfortunately, the way the world works isn't smart enough to be sustainable.
However, signs of a smarter planet have been popping up everywhere. Organizations around the world are turning too much data into better decisions. The walls between companies and customers are diminishing. So are the walls between technologies, industries and fields of expertise.
It's been years since we learned that the world is "flat" and that all enterprises – whether commercial, governmental or non-profit – are globally connected. But what we're still learning in this era of global integration is how to prepare the next generation of leaders to realize what we characterize as the triple benefit – developing their skills while solving communities' problems and opening new markets. This isn't just a "business" problem.
It's an issue that impacts – and will shape the future of – almost every human endeavor
on the planet.
Running our cities, educating our children, protecting our health and sustaining our environment are just some of the world's critical challenges that no single company or  economic sector can address or solve alone. Mastering the world's challenges requires the world's collective intelligence and expertise and true collaboration. That's why legacy models of top-down corporate philanthropy have become obsolete. In their place have arisen innovative approaches to transforming the ways we interact, learn and lead. At IBM, these approaches involve maximizing the value of our most important assets – the time and talent of our employees – versus merely donating our excess cash.