MentorPlace
We all know that schools can't do all the hard work when it comes to educating our children, but what's the best way for business to contribute? I had the opportunity to help answer that question at a recent STEM Salon hosted by Change the Equation, a nonprofit, nonpartisan, CEO-led initiative that is mobilizing the business community to improve the quality of science, technology, engineering and mathematics (STEM) learning in the United States. Joining me on the panel was Rashid Ferrod Davis, founding principal of New York's Pathways in Technology Early College High School (P-TECH). As part of a team at IBM, I have had the honor of working with Rashid and P-TECH's partners throughout the 2011 – 2012 school year (the school's first) to help refine the set of strategic business contributions that IBM is making to enhance teaching and learning, and to help P-TECH students better understand the connections among school, college and career.
P-TECH is an innovative collaboration among the New York City Department of Education, The City University of New York, the New York City College of Technology, and IBM. The school has made significant strides during its first year, and this fall the City of Chicago will open five new schools based on the P-TECH model.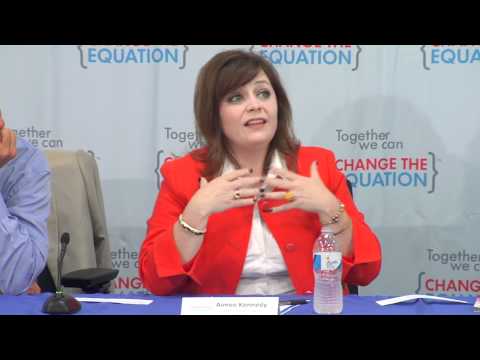 Listen and learn
The first thing that businesses can and should do? Listen. Working with schools is like learning an elaborate dance, and it's important to let educators – the experts – take the lead. Educators like Rashid understand the specific challenges that their students face and can pinpoint needs and opportunities. As businesses listen and learn, they can enrich the portfolio of meaningful solutions for students and teachers.
When I registered to be an IBM mentor almost a year ago, I honestly didn't know what to expect. More than 100 ninth-grade students were about to become the inaugural class of the Pathways in Technology Early College High School, or P-TECH, in Brooklyn, New York. IBM developed P-TECH in collaboration with the New York City Department of Education, The City University of New York, and the New York City College of Technology. The grades nine through 14 school would focus on science, technology, engineering and mathematics (STEM), and the goal was for students to graduate with an associate's degree that would enable them either to secure entry-level positions in the Information Technology industry, or continue their studies at a four-year institution.
I saw mentoring not just as an opportunity for P-TECH's ninth graders, but for me too. It would be a way to put into perspective the many personal and professional changes I had gone through since becoming an IBMer as the result of an acquisition in 2010. As I moved into a new role with my new company, I received a lot of support from my management team, colleagues, friends and family. It was because I had received such valuable support that becoming a mentor was important to me. Those who had mentored and coached me had helped me renew my faith in myself, and had allowed me to explore new opportunities and find success. Becoming an IBM mentor seemed like just the right opportunity for me to give back to a younger generation as they moved through life's unexpected, challenging and very exciting changes. I wanted to help young people see these changes as opportunities for growth and success.
The P-TECH students who are now finishing ninth grade will be the school's first graduates. So on June 1st, my fellow mentors and I joined our protégés to celebrate our first year together. I was especially happy to reunite with my protégé Cierra. Since our first face-to-face meeting last October, Cierra and I have worked on numerous online and in-person projects together. Cierra is a strong and willful young lady with dreams to make it big in life, and I was initially apprehensive about being able to meet her expectations. Throughout the past year, I have tried in my own way to make a difference to Cierra, and along the way I've learned from her too. I'm glad that Cierra will continue to have the backing of this great program for the next five years, after which she'll be ready either to enter the workforce or continue her education.
Someday, I'll have a ninth-grader at home, and the past year has helped me learn to recognize their anxieties and fears, and appreciate their focus, energy and enthusiasm. I will always be thankful to IBM for creating this program and enabling this mutually beneficial relationship. I see a little bit of myself in Cierra, and hope that by answering her questions and sharing my life experiences with her that she will gain a perspective that will help her navigate life more successfully. Young people like Cierra have an immense potential to create their own future. All they need to do is stay focused in this innovative program that's helping them follow a recipe for success.
Cierra is preparing for her upcoming regional and state exams, and I am looking forward to my next term as a P-TECH mentor. For me, this past year has only been the beginning of a lifelong commitment to the development of our community at large. And to know that my company was instrumental in founding this program has made me proud to be an IBMer!
_____________________________________________
A Journey to Knowing Cierra
Things were different when I was your age
loving hearts and minds helped me see and think
opportunities lay low and dreams deep below
until I learned to gather knowledge from others
And from their works and thoughts, I learned my way
Thank you for the opportunity to share with you
the journey I set on with you the past year
to talk about everything from work and life,
what inspires and motivates you and me
to walk through life's experiences
And for that, I need you
Thank you for giving me the joy
of honing your skills in some little way
to help you find your faith and confidence
those will pave your path to success
to live your dreams and conquer tomorrow
And for that, I praise you
Thank you for being ever eager to learn new ways
and feel the excitement in simple tasks we do
those allow you to test your ever evolving thoughts
to change the way the world looks at you and me
together it's a spirit of learning, a way to find your vision
And for that, I admire you
Thank you sharing your favorite books and life's inspirations
knowledge can be found in many ways
it's the effort we make to live through life's new ways,
and with the very relationship that we share
it's a gift to grow and know that you are there
And for that, I will always cherish you, my little friend
Thank you IBM, Thank you P-TECH
we enjoyed the past year and in our hearts we know
we may meet new people next year
we ought to learn and share with others too
for now, it seems magical and true
this is our way to give back to a world we know
the future of today is tomorrow
with this experience, we know we can see a better tomorrow
And for that, we thank you!
– Shilpa
Shilpa Menezes is a Release Manager / Project Manager with the Project Management Operations team of IBM's Business-to-Business & Commerce group. She also has a background as an Advisory Learning Specialist and Senior Learning & Organization Development Manager.
Related Articles:
A Continuing Relationship: One Mentor's Story
P-TECH Celebrates Engineers Week: One Mentor's Story
Volunteerism and Citizenship: One Mentor's Story
To commemorate Mentor's Day at Brooklyn's Pathways in Technology Early College High School (P-TECH), Citizen IBM asked a P-TECH student to share his thoughts about his relationship with his mentor.
My name is Kiambu Gall, and I am a P-TECH student with a mentor. What is a mentor, you ask? Well, a mentor is someone you look up to, someone that trains or advises you; it can be your teacher or even a tutor. My fellow P-TECH students and I are given a mentor to help us out with school and teach us certain things about the business world. My first thought when I heard this was that it would be boring and a waste of time. But later on I realized what an opportunity this was for me and my fellow students.
The day I was going to meet my mentor, I was kind of nervous because I didn't know what type of personality he would have. After I met him, I wasn't nervous anymore because he was a cool person. We talked about his job and what he does exactly, and then we talked about school and my goals for the future. Later on that same day, I developed a comfortable relationship with my mentor. I didn't feel as though I had to have a blank expression on my face every time I talked to him, like I do with most adults. My mentor told me something about him that made it easier for me to get through school. He said that when he was in school he didn't really get high grades in math. When he told me that, it released some of the pressure that I felt. It didn't make me think I didn't have to get high grades, but it made me know not to stress over getting low ones.
Even after our mentors leave we still get to talk to them on a website called MentorPlace. MentorPlace enables students to talk to their mentors through the internet. This program helped me get to know my mentor even more. He told me things that were inspirational, and things that helped me do my school work even better. I also gave him some advice on how to do things, and he listened to me. If I needed help or didn't understand something, I would just ask my mentor. Sometimes I go on MentorPlace just to ask my mentor how his weekend was, or find out where he's traveling.
Having a mentor has helped me understand being a high school student, and is teaching me about business life.
Kiambu Gall is a ninth grade student at the Pathways in Technology Early College High School (P-TECH) in Brooklyn, New York.
Related Articles:
P-TECH student Tahmel Anderson: Goodbye Eighth Grade
P-TECH student Brigette Luboa: Goodbye Safe Private School.
Hello Risky New School with Free Associate's Degree!
In observation of National Engineers Week, IBM mentors reunited with their protégés from New York's Pathways in Technology Early College High School (P-TECH) for a day of learning and fun. Below, IBM mentor Julie Arthofer writes about her continuing relationship with her P-TECH protégé, and the school's recent E-Week celebration activities.
It is often hard to filter through hundreds of emails a day, and there is always a fear that one will be missed or accidently deleted. Luckily this was not the case when I received an email about becoming a mentor at New York's Pathways in Technology Early College High School (P-TECH). Mentoring is something I have been involved in since high school, and I had been looking for another mentoring opportunity since. I responded instantly and was thrilled when I was selected as a mentor for P-TECH.
P-TECH is unique in that it offers students the opportunity to graduate with an Associate degree in technology after just six years of schooling. Today, P-TECH serves as a model for similar schools to come, and I am proud to be working for the company that helped make this school a reality.
The kick-off event for mentors and protégés not only gave us an opportunity to meet the students and get a feel for their learning environment, but also gave us a chance to meet the teachers who would be helping shape their education. We also were fortunate to meet Principal Rashid Ferrod Davis who demonstrated his commitment to his students and to
P-TECH's mission with a moving speech.
Following the short presentations, the room became a bit chaotic as we split up to find our protégés. Once I paired up with my protégé, Jenyce, we sat down in a classroom and went through a list of "break the ice" questions to get to know each other better. We did not quite make it through the entire list of questions, as we easily got sidetracked by other topics ranging from our most embarrassing moments to debates over which pop star is better.
As the event wrapped up, Jenyce and I had to cut our meeting short, but we were both very excited for the mentoring program to officially start. Jenyce and I now correspond weekly on the IBM MentorPlace website, where activities are posted to stimulate our conversations and usually relate to what the students are learning in school. There is also a discussion board where we can touch base and check in with one another in a more informal way. Recently, P-TECH students were given an assignment to write a biographical sketch about a social innovator, and mentors were asked to provide feedback. It was extremely rewarding to read Jenyce's initial draft and see how she incorporated the suggestions I had given her, and to see the immense improvements in her writing and her growth as a student.
I have also become involved with P-TECH outside of the weekly MentorPlace activities.
As part of a NYC Community Service committee that holds monthly events, I was able to organize an event at P-TECH – "Engineering Week (E-Week) that P-Tech got involved with this year. E-Week is a program devoted to promoting engineering at schools around the nation, and organizes hands-on activities related to engineering to get the students involved. For P-TECH's E-Week activity, the students built a rocket ship using a straw, balloons, and one small cup. The goal was for the students to launch the ship up an eight-foot fishing line carrying the highest number of washers. We also had a speaker with an extensive engineering background attend the event to explain the lessons to be learned from the activity.
I was very excited for this opportunity to see the students at P-TECH once again. In this world of technology and constant communication via the Internet, it is always great to put a face with the name every now and then!
Julie Arthofer is an IBM Global Business Services Strategy and Information Consultant.
Related Articles:
P-TECH Celebrates Engineers Week: One Mentor's Story
Volunteerism and Citizenship: One Mentor's Story
In observation of National Engineers Week, IBM mentors reunited with their protégés from New York's Pathways in Technology Early College High School (P-TECH) for a day of learning and fun. Below, IBM Global Business Services consultant (and engineer) Eric Estey reflects on his experience as a P-TECH mentor.
If you read this blog on a regular basis, by now you have probably heard about an IBM partnership with the Pathways in Technology Early College High School (P-TECH) program in Brooklyn, NY. As a mentor to one of the students in P-TECH's inaugural class, I was excited to participate in this revolutionary initiative.
I first met my protégé, Edward, at the school during the kickoff event in October 2011. He and I built upon our initial interactions over the following months via MentorPlace, but the distance imposed by conflicting work and school obligations made it impossible for mentors and students to repeat that first successful in-person meeting.
During that time, I learned of the Engineers Week program. One aspect of the E-Week program involves sending volunteers to local schools to educate students on the engineering profession and its impact on the world around us – while of course having a little fun in the process.
Towards the end of 2011, I heard that initial efforts were underway to organize an E-Week event at the school. I teamed up with Julie Arthofer, another IBM mentor and Consulting by Degrees colleague, and with the help of the P-TECH program managers we were able to spearhead the coordination for this event. Given P-TECH's stated focus on STEM (Science, Technology, Engineering, and Mathematics), it seemed like a perfect opportunity for IBM's mentors to volunteer their time towards a noble cause while also interacting further with their protégés. I had graduated college with a degree in Civil Engineering, which only motivated me more to promote this event. I hope to encourage some of these high school students to choose a field of study that I have found fascinating and extremely relevant to life in our modern society.
Today's event will bring approximately 35 IBM volunteers, 103 students, and P-TECH teachers and staff together to design, build and test "rocket ships" made of balloons. Nineteen student teams will compete to see whose rocket ship design can carry the most weight up to a certain height. I'm looking forward to watching these students use their imagination to turn tape, straws, paper clips and balloons into an unlimited number of creative designs.
Because we made a special effort to pair P-TECH mentors with their protégé's team, I will have the opportunity to work with Edward again. I hope to get updates on his efforts to learn programming, as well as his latest basketball moves. This event will give us the opportunity to catch up on recent events in each other's lives, and with any luck our team will win too!
Eric Estey is a Strategy & Change Internal Practice consultant with IBM Global Business Services.
Related Articles:
A Continuing Relationship: One Mentor's Story
Volunteerism and Citizenship: One Mentor's Story
When I look back at the first 100 days of P-TECH – the Pathways in Technology Early College High School – it becomes clear that rigor, roadmaps, and role models have been essential to our success. The P-TECH grades nine through 14 model is a forward-thinking example of what can happen when public educators and the private sector work together toward our children's success. P-TECH also represents new paradigms in American education – a public-private partnership that blazes a pathway from high school through college to careers, a hybrid of high school and college that enables the creation of that pathway, and a repeatable model that any community can follow to connect education to employment. Following our example, Chicago will open five grades nine through 14 schools this fall, and Mayor Bloomberg recently announced plans for three more schools in New York.
P-TECH students – a self-selected group from across New York's five boroughs – will earn both the high school diploma and an associate degree in technology following a rigorous, six-year program. To accomplish this, our students (and their parents) have had to accept the challenges posed by 90-minute classes and a longer school day. They have had to be ready to tackle Workplace Learning in addition to their core academic curriculum. With help from a dedicated faculty and from the IBM mentors assigned to each pupil, our students have had to rise to the challenge of pushing themselves academically while acquiring the cultural orientation of industry professionals.
IBM's "5 in 5" forecast of innovations that will alter the technology landscape within the next five years includes the prediction that mobile technologies will close the digital divide between rich and poor. In the very near future, mobile devices and over-air networks will enable disconnected and disenfranchised populations to circumvent traditional infrastructures to participate in the global economy. However, substantive innovations in the technology of learning must complement our advances in global connectivity.
Technology's most profound impact on underserved populations can be its ability to improve education, but simply "having" technology is not enough. A computer, for instance, can never replace a good teacher. And internet access and computer labs alone cannot improve instruction. But when technology is well integrated into the classroom and coupled with teacher training, it can enable essential improvements in teaching and learning.
Integral to our corporate citizenship efforts, IBM is forging public-private partnerships to create a smarter education system by strengthening the focus on STEM (science, technology, engineering, mathematics) competencies. In addition, we have longstanding programs that continue to open new possibilities to people around the world.
Our Reading Companion program uses IBM speech recognition technology to help children and adults gain literacy skills in English.
In partnership with TeachEngineering and the New York Hall of Science, Teachers TryScience provides new resources, specifically designed for science teachers struggling to provide high quality, hands-on problem based learning.
These are just a few of the many ways – from helping our retirees transition to teaching, to reinforcing our commitment to mentoring and school volunteerism – in which IBM is helping to improve the technology of learning that must accompany the advances that will close the digital divide.
As reported in today's Wall Street Journal, a new study from the Center for an Urban Future confirms what many of us have been saying all along: Even though our young people understand the need to acquire the skills and education to qualify for 21st Century jobs, a stunningly high percentage of them fail to finish their degrees. Inadequate academic preparation, and lack of guidance and support are two of the biggest reasons for low completion rates.
(Click for full-size graphic)
The study notes that "young people have flocked to community colleges in record numbers" since the start of the Great Recession in late 2007. But in New York City – the nation's largest municipal system, with 91,000 students – only 28 percent of those who enroll attain an associate's degree within six years. And completion rates at The City University of New York (CUNY) are higher than nationwide, where the degree attainment rate for community college students has stagnated at 26 percent.
These low graduation rates come with substantial financial implications for students and taxpayers. Each community college dropout costs New York City more than $17,000 in federal and state aid, and in city and state funding, according to the study. And as I've written before, the lifetime earnings of those without college degrees are nearly 85 percent less than the earnings of college graduates. Were we able to increase graduation rates in just the six CUNY community colleges by 10 percent, the 30-year earnings of one graduating class would increase by $3.4 billion — with a one-year income increase of
$631 million. Projected nationally, this could be a vital component of U.S. economic recovery.
As mentioned in the Journal, Brooklyn's Pathways in Technology Early College High School (P-TECH) is an example of the new thinking in public education. P-TECH confers both the high school diploma and an associate's degree in technology, and utilizes a rigorous curriculum matched with skills required for the workplace to give students what principal Rashid Davis terms "a solid foundation in algebra and literacy." P-TECH also provides each of its students with an adult mentor to help guide them through their academic preparation and transition to industry or further education.
Community college enrollment is on the rise, but limited resources to help students develop a career focus and get the remedial learning they often need have left many of our young people without a safety net. Public school programs that offer rigorous academic preparation combined with real-world career guidance have the potential to revitalize our economy as they prepare our next generation for lifelong productivity and success.
Download the full "Mobility Makers" report from the Center for an Urban Future.
The Center for an Urban Future is a New York City-based think tank dedicated to independent, fact-based research about critical issues affecting New York's future. The IBM International Foundation was one of several philanthropic institutions that funded the "Mobility Makers" report.
Ethan McCarty was one of 95 IBM mentors who met with their student protégés at New York's Pathways in Technology Early College High School (P-TECH) for the first time in October. P-TECH is a new model grades 9 through 14 school located in the Crown Heights section of Brooklyn, and many of its students will be the first in their families to attain the associate degree they'll receive along with their high school diplomas. The school has a visionary principal, a dedicated faculty, and a remarkable 100% attendance rate. Read what Ethan has to say about community volunteering and his inspiring new P-TECH friend.
Ethan's story: "The idea behind the P-TECH program is that IBM partners with a local school system and university to create a six-year science and technology school that gives the kids a chance to earn both a high school diploma and a two-year degree in one shot. Naturally, IBM does a whole lot of stuff, like help out with the curriculum and some of the technology supporting the program, whose graduates will be first in line for entry-level jobs at IBM. Where I come in (along with about a hundred of my colleagues) is a dimension of the program that pairs each P-TECH student with an IBM mentor.
When I lived in East Harlem, I worked with the Tutorial Board there. Since I moved to Brooklyn, I've been looking for a regular way to work with kids and give back to the community – so this seemed like a really good opportunity. Since I don't volunteer that often, the idea of a program that is managed by IBM's citizenship team appealed to me because I knew it would be well organized. One of the problems I've found with volunteering in the past is spending energy that could be dedicated to helping others simply figuring out how to connect with the volunteer opportunity – so the P-TECH program looked like a good fit. It only took about 15 minutes for me to work through the automated background check process, and I was good to go.
All of us were looking forward to meeting our P-TECH protégés for the first time. P-TECH is one of three programs housed in Brooklyn's Paul Robeson School, just a few miles from where I live. That first day was exciting as students, parents, teachers, mentors and administrators all crowded into P-TECH's "gymatorium" – a combination auditorium and gym. After a round of speeches, we finally got the chance to find our protégés in the crowd, and I finally met Radcliffe.
The organizers of the event had set up some structured activities to help get conversations started, so Radcliffe and I went to a classroom where we could talk and start to get to know each other. I was totally impressed by Radcliffe. He is articulate, ambitious, funny and clearly curious about how the world works and how to make his future in it.
As part of the exercise we did, Radcliffe described to me an idea he had for getting help to people who are interested in bicycle repair (he works on bikes as a hobby). Together, we started to map out how an iPad application could be designed to support a business for bike-repair enthusiasts and professionals. I was blown away by Radcliffe's creativity.
At the end of the day Radcliffe and I said goodbye, but not for long. A major component of the mentoring relationship is enabled through an IBM platform called MentorPlace. It's a bit like having a pen-pal, only each week we have a different assignment. This week, for example, Radcliffe and I wrote a poem together and talked about how teamwork is essential to business success.
I think Radcliffe and I are off to a good start. As a friend and fellow program participant said to me, the most important thing here is that these teenagers get and maintain a sense that there are adults out there who care about them. I agree – and I do."
Further Resources: