P-TECH
Cyber attacks, and cyber-security awareness, have moved to the forefront of discussion in the past decade. There is no question that American infrastructure is vulnerable to both external and internal cyber threats. American leadership in both the private and public sectors has identified a gap in our cyber capabilities, and has begun to implement committees, programs, and initiatives in order to boost interest and awareness in the cyber field. If America is going to remain at the forefront of technological capability, our education system needs to implement further programs and initiatives that connect our future work force to the skills necessary to be second-to-none in the cyber domain. But according to the National Initiative for Cybersecurity Education 2012 Strategic Plan, only 12 high schools in the U.S. offer formalized cyber-security education in their training.
The need for enhanced cybersecurity is shaping the future force structure of the military as well, including the creation of the new United States Army Cyber Command. Through the efforts of the Network Science Center and the Department of Electrical Engineering and Computer Science, the United States Military Academy has responded to the deficit in cyber-security education through several means, including sponsoring the Vulnerable Web Server (VWS) project to provide a virtual environment in which students and instructors can learn to identify and respond to cyber vulnerabilities. As part of the project, the VWS team has written an instruction manual that contains definitions of cyber threats, and additional student and teacher resources.
P-TECH, the IBM-led grades 9-14 schools model, is expanding rapidly because of its seamless integration of high school, college and career, and the concrete path to opportunity the model provides for students. There are 27 schools currently operating under the P-TECH model in the United States, and this week, Australia announced it will open two P-TECH schools with IBM's help in Ballarat and Geelong in 2016. The Australian Financial Review has just published an in-depth article about how this truly innovative high school model has been implemented in the U.S., specifically focusing on one of IBM's four partner schools in Newburgh, New York.
Located in a school district burdened by high crime and low incomes, Newburgh's Excelsior Academy is providing its inaugural class with a promising path to a college diploma and fulfilling career. Highlighting how Excelsior Academy blends academic and workplace skills development into a well-rounded education, the Australian Financial Review article illuminates the P-TECH model's potential to increase the skill level and career preparedness of graduates throughout the country and, eventually, around the globe.
Cliff Archey is IBM's Education Program Manager at Excelsior Academy in Newburgh,
New York.
Related Resources:
Australian Financial Review: US School Model Teaches a Lesson
Times Herald-Record: P-TECH Demonstrates How We Can Change Education
Australian PM Visit Signals Global Validation for P-TECH Model
How does a high school student proficient in coding and entranced by game playing plot
a career in this booming, fast moving industry? Twenty aspiring Pathways in Technology Early College High School (P-TECH) students with advanced coding skills and all of
the passion for gaming recently joined industry maven Monty Sharma for guidance on
this topic.
_______________________________
Ask any high school student what they're passionate about, and many will tell you gaming. Then ask them about their top career choices and you're bound to get the same response. Game Development is among the most popular desired career paths for young adults, and market trends suggest that a career in this $100 billion industry can hold lots of promise.
The gaming industry's annual revenues are twice those of the U.S. movie and music industries combined. And thanks to the global boom in mobile, games now reach all ages and cultures in every corner of the Earth. The industry's growth potential continues to be huge as applications developed for gaming are rapidly adapted and deployed across many other industries. Business, education and medicine are just three of the global industries using applications first developed for gaming. This means that game coders and developers will have lots of job security – if they can master the requisite skills.
As a teacher at Brooklyn's Pathways in Technology Early College High School (P-TECH), I've seen first hand how engaging young people unleashes their potential and enables them to transform themselves. Most of our students come from economically disadvantaged backgrounds, and enter P-TECH (an open admissions school) with a variety of academic and social issues. But with constructive engagement through our integrated program of classroom and workplace learning, our students are achieving amazing things!
In addition to rigorous course work and essential mentor/protégé relationships for each
P-TECH student, our program includes workplace and other instructional opportunities that give our students a heads-up view of the world outside of their neighborhoods and beyond the scope of traditional schooling. That's why our students and I were so excited to visit IBM's Thomas Watson Research Center as part of the company's Local Education Outreach Program. It turns out that IBM leads the world in patents, and our students' visit to one of IBM's creative innovation nerve centers proved to be a mind-opening experience for them…and for me!
President Obama's proposal to provide free community college across the U.S. is expected to cost upwards of $1.4 billion in 2016 and $60 billion over the next 10 years. Can America afford it? The real question is: How can we not?
In my latest article for The Huffington Post, you'll read about the latest data showing a disturbing and widening gap in college completion rates between the nation's rich and poor students. But you'll also read about an innovative and collaborative solution that's helping everyday students – many from low-income families – unlock their potential for success.
Find out how this innovation that's connecting education to jobs has grown from one to
27 schools in less than four years, and will scale to reach 100,000 students nationwide
by 2016. And learn why Congress must fund and modernize the legislation that provides critical funding for programs that prepare our young people to enter the real 21st
century workforce.
A former Deputy Chancellor of the New York City Schools, Stanley S. Litow is
IBM's Vice President of Corporate Citizenship & Corporate Affairs and President
of the IBM International Foundation.
Related Resources:
Read More About the P-TECH Grades 9 to 14 Model
IBM Partnerships Enable Nationwide Spread of P-TECH Schools
IBM Unveils New Playbook to Expand Innovative P-TECH Schools Nationwide
After launching its first P-TECH school (the Norwalk Early College Academy) this fall, the State of Connecticut plans to open two additional schools in time for the next academic year. Why the rush? Because Connecticut Governor Dannel P. Malloy understands the urgent need to provide a navigable pathway from high school to college and career for his state's young people. P-TECH already is doing that in New York City, across New York State and in Chicago, and now communities in New London and Windham, Connecticut will benefit from IBM's innovative reinvention of American education.
Click here to view full size graphic
Connecticut's announcement of two new Early College Opportunity programs based on the IBM P-TECH model comes on the heels of IBM's release of an updated P-TECH Playbook designed to guide the development of these and future P-TECH schools. The Playbook offers case studies, "best practices" and other resources to help school districts, higher education institutions and corporate sponsors form the public-private partnerships that are essential to connecting education to jobs. By following the Playbook, such cross-sector partnerships will be able to develop the academically rigorous and economically relevant workplace skills curricula that characterize P-TECH schools. These open-admissions schools work within existing budgets to close the gap between college and employment preparedness and the real-world, global demands of the 21st Century.
IBM created the P-TECH grades 9 through 14 schools model because we recognized a serious societal problem, and had the skill and desire to address it. In short, too many of America's young people were being trapped in unending cycles of poverty (whether or not they could find full-time or part-time work), while American industry – starved for skilled workers – needed to re-sharpen its competitive edge. The solution was not to write checks, but to get involved. Only by fostering a community of stakeholders including educators, employers, governments, parents, teachers and students would we solve a problem together that no single sector could solve alone.
Click here to view full size graphic
Each P-TECH school is a partnership that unites school districts, community colleges
and corporate sponsors in service to a singular goal – to help our young people succeed.
P-TECH schools help students succeed by focusing their education on academic rigor and workplace readiness, by providing each young scholar with a mentor, and by making each graduate first in line for employment consideration with the school's corporate partner. What began in 2011 with one school in Brooklyn, New York is spreading to nearly 40 schools around the nation, and could reach 100 schools by 2016.
What's P-TECH's "secret sauce"? We're sharing the recipe through a new website which houses our updated digital playbook. Together, these resources deliver the tools, case studies, research and guidance that school districts, higher education institutions and businesses can use to establish new P-TECH schools. Whether you are an employer, an educator, a government or community leader, a parent or several of the above, we invite you to examine and share these materials.
Get involved. Speak up. Take action to provide our children with the 21st century education they need and deserve.
Related Resources:
IBM Unveils New Playbook to Expand Innovative P-TECH Schools Across the Nation
New York Governor Cuomo Announces Second Round Winners of P-TECH Awards
Download the New P-TECH Playbook
VIDEO: Why Six Years of High School Is Catching On (PBS NewsHour)
VIDEO: The School That Is Changing American Education (TIME Magazine)
VIDEO: High Schools "made with IBM"
"The School That Will Get You a Job" (TIME Magazine; subscription required)
In business and in education, much of one's success can be traced to fruitful relationships and partnerships. At a recent event in Newburgh, New York, the 50 students of Excelsior Academy – the new P-TECH model school housed at the North campus of Newburgh Free Academy – were introduced to the IBM mentors who will help guide them through their innovative program. Excelsior Academy is one of 16 new P-TECH schools that has opened across New York State this year. Each new school leverages public-private partnerships among school districts, community colleges and corporate sponsors.
The mentor-protégé relationship is essentially important to Excelsior students, who over time will turn to their mentors for guidance, advice, support and encouragement. Similarly, the partnership between the Newburgh Enlarged City School District, IBM and SUNY Orange will create seamless pathways for students to move from the halls of Newburgh Free Academy to the classrooms at SUNY Orange and ultimately, into a productive job with IBM or another of the many employers within the Hudson Valley.
I am a member of IBM's Academic Initiative team, and recently volunteered to run a team-building activity at the Norwalk Early College Academy (NECA) Summer Academy in Connecticut. NECA is a partnership among the Norwalk Public Schools, Norwalk Community College and IBM, and will officially open this fall as Connecticut's first P-TECH model school. As with all P-TECH schools, NECA will capitalize on a public-private partnership between an employer (IBM) and educators to provide an academically rigorous and economically relevant grades 9 through 14 education that will launch graduates into meaningful, middle-class careers. NECA graduates will receive both a high school diploma and a no-cost associate degree in technology, and will be first in line for consideration for jobs with IBM.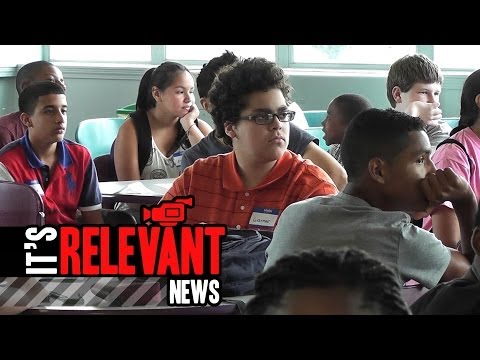 The NECA Summer Academy was attended by local dignitaries and media, school faculty, IBM volunteers and 50 bright young students anxious to get a head start on the school year. My role was to introduce attendees to the type of workplace learning and skills-building exercises that are part of every P-TECH school curriculum. Our project – to build a bridge out of marshmallows and dried spaghetti – was designed to get students to think and act like engineers…as a team. The students in my group ended up doing a great job on two separate bridge concepts.