P-TECH
President Obama's proposal to provide free community college across the U.S. is expected to cost upwards of $1.4 billion in 2016 and $60 billion over the next 10 years. Can America afford it? The real question is: How can we not?
In my latest article for The Huffington Post, you'll read about the latest data showing a disturbing and widening gap in college completion rates between the nation's rich and poor students. But you'll also read about an innovative and collaborative solution that's helping everyday students – many from low-income families – unlock their potential for success.
Find out how this innovation that's connecting education to jobs has grown from one to
27 schools in less than four years, and will scale to reach 100,000 students nationwide
by 2016. And learn why Congress must fund and modernize the legislation that provides critical funding for programs that prepare our young people to enter the real 21st
century workforce.
A former Deputy Chancellor of the New York City Schools, Stanley S. Litow is
IBM's Vice President of Corporate Citizenship & Corporate Affairs and President
of the IBM International Foundation.
Related Resources:
Read More About the P-TECH Grades 9 to 14 Model
IBM Partnerships Enable Nationwide Spread of P-TECH Schools
IBM Unveils New Playbook to Expand Innovative P-TECH Schools Nationwide
After launching its first P-TECH school (the Norwalk Early College Academy) this fall, the State of Connecticut plans to open two additional schools in time for the next academic year. Why the rush? Because Connecticut Governor Dannel P. Malloy understands the urgent need to provide a navigable pathway from high school to college and career for his state's young people. P-TECH already is doing that in New York City, across New York State and in Chicago, and now communities in New London and Windham, Connecticut will benefit from IBM's innovative reinvention of American education.
Click here to view full size graphic
Connecticut's announcement of two new Early College Opportunity programs based on the IBM P-TECH model comes on the heels of IBM's release of an updated P-TECH Playbook designed to guide the development of these and future P-TECH schools. The Playbook offers case studies, "best practices" and other resources to help school districts, higher education institutions and corporate sponsors form the public-private partnerships that are essential to connecting education to jobs. By following the Playbook, such cross-sector partnerships will be able to develop the academically rigorous and economically relevant workplace skills curricula that characterize P-TECH schools. These open-admissions schools work within existing budgets to close the gap between college and employment preparedness and the real-world, global demands of the 21st Century.
IBM created the P-TECH grades 9 through 14 schools model because we recognized a serious societal problem, and had the skill and desire to address it. In short, too many of America's young people were being trapped in unending cycles of poverty (whether or not they could find full-time or part-time work), while American industry – starved for skilled workers – needed to re-sharpen its competitive edge. The solution was not to write checks, but to get involved. Only by fostering a community of stakeholders including educators, employers, governments, parents, teachers and students would we solve a problem together that no single sector could solve alone.
Click here to view full size graphic
Each P-TECH school is a partnership that unites school districts, community colleges
and corporate sponsors in service to a singular goal – to help our young people succeed.
P-TECH schools help students succeed by focusing their education on academic rigor and workplace readiness, by providing each young scholar with a mentor, and by making each graduate first in line for employment consideration with the school's corporate partner. What began in 2011 with one school in Brooklyn, New York is spreading to nearly 40 schools around the nation, and could reach 100 schools by 2016.
What's P-TECH's "secret sauce"? We're sharing the recipe through a new website which houses our updated digital playbook. Together, these resources deliver the tools, case studies, research and guidance that school districts, higher education institutions and businesses can use to establish new P-TECH schools. Whether you are an employer, an educator, a government or community leader, a parent or several of the above, we invite you to examine and share these materials.
Get involved. Speak up. Take action to provide our children with the 21st century education they need and deserve.
Related Resources:
IBM Unveils New Playbook to Expand Innovative P-TECH Schools Across the Nation
New York Governor Cuomo Announces Second Round Winners of P-TECH Awards
Download the New P-TECH Playbook
VIDEO: Why Six Years of High School Is Catching On (PBS NewsHour)
VIDEO: The School That Is Changing American Education (TIME Magazine)
VIDEO: High Schools "made with IBM"
"The School That Will Get You a Job" (TIME Magazine; subscription required)
In business and in education, much of one's success can be traced to fruitful relationships and partnerships. At a recent event in Newburgh, New York, the 50 students of Excelsior Academy – the new P-TECH model school housed at the North campus of Newburgh Free Academy – were introduced to the IBM mentors who will help guide them through their innovative program. Excelsior Academy is one of 16 new P-TECH schools that has opened across New York State this year. Each new school leverages public-private partnerships among school districts, community colleges and corporate sponsors.
The mentor-protégé relationship is essentially important to Excelsior students, who over time will turn to their mentors for guidance, advice, support and encouragement. Similarly, the partnership between the Newburgh Enlarged City School District, IBM and SUNY Orange will create seamless pathways for students to move from the halls of Newburgh Free Academy to the classrooms at SUNY Orange and ultimately, into a productive job with IBM or another of the many employers within the Hudson Valley.
I am a member of IBM's Academic Initiative team, and recently volunteered to run a team-building activity at the Norwalk Early College Academy (NECA) Summer Academy in Connecticut. NECA is a partnership among the Norwalk Public Schools, Norwalk Community College and IBM, and will officially open this fall as Connecticut's first P-TECH model school. As with all P-TECH schools, NECA will capitalize on a public-private partnership between an employer (IBM) and educators to provide an academically rigorous and economically relevant grades 9 through 14 education that will launch graduates into meaningful, middle-class careers. NECA graduates will receive both a high school diploma and a no-cost associate degree in technology, and will be first in line for consideration for jobs with IBM.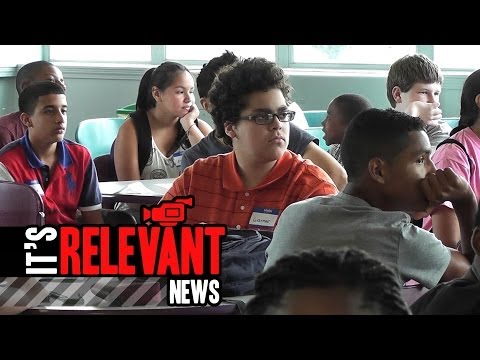 The NECA Summer Academy was attended by local dignitaries and media, school faculty, IBM volunteers and 50 bright young students anxious to get a head start on the school year. My role was to introduce attendees to the type of workplace learning and skills-building exercises that are part of every P-TECH school curriculum. Our project – to build a bridge out of marshmallows and dried spaghetti – was designed to get students to think and act like engineers…as a team. The students in my group ended up doing a great job on two separate bridge concepts.
How did I spend my summer as a 17-year-old? Teaching young girls how to kayak in a freezing cold lake at an overnight camp in northern Ontario. How is Leslieanne John, a 17-year-old rising fourth-year student at Brooklyn, New York's Pathways in Technology Early College High School (P-TECH), spending her summer? She's completing an eight-week internship with the Center for Applied Insights – a thought leadership team within IBM. I've had the privilege of serving as Leslieanne's manager and mentor this summer, and can attest to what a truly invaluable experience this has been for both her and our team at IBM.
P-TECH is an innovative grades 9 through 14 school from which students will graduate with an Associate in Applied Science degree that will enable them to gain employment in the IT industry or continue their studies at a four-year college or university. Leslieanne is a star student P-TECH – from which she plans to graduate in four years instead of six – and aspires to attend an Ivy League institution. President Obama even commended her in a speech when he visited the school last October.
En route to a summit with President Obama, Australian Prime Minister Tony Abbott visited Brooklyn's Pathways in Technology Early College High School (P-TECH) for some fact-finding and possible inspiration for a P-TECH program in Australia. Prime Minister Abbott first heard about P-TECH in President Obama's 2012 State of the Union address. Upon his visit – during which he spoke with students, faculty and IBM mentors, and met with Principal Rashid F. Davis and myself – Mr. Abbott expressed his strong belief that P-TECH was "an innovative and valuable education model for us to consider in Australia."
Though P-TECH started in New York City, it's significance is being recognized across the country and around the world. A collaboration among employers and educators to reinvent American high school, connect education to jobs and close America's skills gap, the
P-TECH movement is rolling across New York State (16 new schools this fall, with 10 more forthcoming) and Connecticut (which opens its first P-TECH school this September), along with five schools in Chicago and other locales in the pipeline. The fact that the Prime Minister of Australia wanted to see P-TECH for himself after hearing about it from the President of the United States and his staff clearly indicates that other leading economies are seeking ways to sharpen their competitive edge by transforming their high schools,
and that the innovative P-TECH model depends less on geography than on the will to embrace change.
The Australian economy faces many of the same challenges we see here in the U.S., including a worsening disconnect between education and industry in a time of upheaval across the higher education sector. It's no wonder that Prime Minister Abbott would be interested in a school-to-career model designed to serve all children through a program that capitalizes on public-private partnerships, prepares its graduates for growth-industry employment, and makes these connections within existing public budgets. That's the reason P-TECH is attracting interest from around the world and is being replicated so rapidly. Visitors from five continents have come to P-TECH to see innovation in action and get America's best thinking on reinventing education.
Stanley S. Litow is IBM's Vice President of Corporate Citizenship & Corporate Affairs and a former Deputy Chancellor of the New York City Public Schools.
Related Resources:
New York Daily News: Australian Prime Minister Tony Abbott Tours P-TECH School
in Brooklyn
Sky News/Australia: Abbott Visits New York High Tech College (High School)
Financial Review: Tony Abbott Backs U.S.-Style Corporate Schools for Australia
High schools "made with IBM"? Yes, it's happening here – with the P-TECH grades 9 through 14 school model, an innovative approach that's sparking change in the way we think about education. Through P-TECH, IBM is working with educators in school districts and higher education to redesign high schools – expanding them from four to six years so that students graduate with both a high school diploma and an associate in applied science degree. Equipped with these degrees, graduates will be prepared to embark upon entry-level careers in the IT industry or continue their educations.
Why is this important? Because in the 21st Century economy, those with postsecondary degrees will have much better chances of making it to the middle class – having fulfilling careers, raising families and giving back to their communities. A high school diploma alone just isn't enough today, and often can limit one to the low-wage life of the working poor.