Public-Private Partnership
Each wave of human innovation has required new skills. From the Industrial Revolution to the post-industrial digital age, economic growth and positive societal transformation have been driven by education and skills. Innovations have enabled entirely new industries, new ways of doing things and even new ways of conceptualizing our world. And as the pace of innovation continues to increase, access to education has never been more important.
Read the rest of this article on The Huffington Post.
Related Resources:
VIDEO: Creating Pathways to STEM Careers
Randi Weingarten and Stanley Litow: On the Path to the Middle Class
Randi Weingarten: Reclaiming the Promise of Career and Technical Education
Ernest Logan: Reauthorized Perkins Act Will Strengthen Education-to-Employment Connection
On November 23rd, Maryland Governor Larry Hogan, Baltimore Mayor Stephanie Rawlings-Blake, Baltimore City Public Schools CEO Dr. Gregory Thornton, Johns Hopkins University President Ronald Daniels and IBM Corporate Citizenship & Corporate Affairs Vice President Stanley Litow announced Maryland's commitment to open as many as four IBM P-TECH grade 9 – 14 schools in the City of Baltimore and across the state. These new schools will join the network of innovative IBM P-TECH model schools in Colorado, Connecticut, Illinois, New York, Rhode Island and Australia in connecting high school to college and 21st
century careers.
Below, the Founding Principal of the inaugural IBM P-TECH school in Brooklyn, New York reflects on his school's integrated approach to preparing graduates for college, career
and beyond.
______________________________
IBM P-TECH model schools are engaging diverse groups of young adults across five U.S. states and Australia in rigorous and relevant academic programs that are breaking down barriers to college and middle-class careers. All six students who graduated from Brooklyn P-TECH and education partner the New York City College of Technology with the Associate in Applied Science (AAS) degree received job offers from IBM. Half joined the company in positions paying more than $50,000 per year. The rest opted to continue their educations at four-year colleges and universities – on full scholarships. But is P-TECH all work and
no play?
Educators and parents know that's a bit of a trick question, as the arts and athletics offer important approaches to learning en route to developing well-rounded individuals who typically perform better in academics and the workplace. In addition, sports – along with strong academic preparation – can be a ticket out of poverty for many who otherwise would be unable to afford a college education. That's why it's so exciting that P-TECH's focus on personal success is producing graduates who excel academically, in the workplace and on the field.
See how the P-TECH 9-14 school model is transforming high school through the eyes of two students, ShuDon and Xzavyen. This video, created for Ted@IBM, demonstrates how this promising model is changing the life trajectories of some of our nation's most underserved young people – putting them on the path to college and meaningful careers.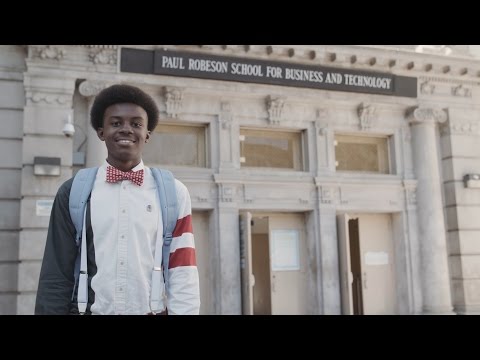 With a network of 40 schools and growing, P-TECH is preparing the diverse and skilled talent needed to fill 21st century jobs.
Grace Suh is Senior Manager for Education with IBM Corporate Citizenship &
Corporate Affairs.
Related Resources:
Learn About the P-TECH 9-14 School Model at P-TECH.org
Metro Focus: Creating Pathways to STEM Careers
NY Education Commissioner MaryEllen Elia Supports NYS P-TECH

IBM P-TECH in Brooklyn and Norwalk
A 2013 study by the Georgetown University Center on Education and the Workforce noted the percentage of jobs by the year 2020 that would require postsecondary education or training. For Utah, the researchers estimated that 66 percent of future jobs would require education or training beyond high school. As Governor of Utah and Chair of the National Governors Association, part of my mission is to ensure that young people in my state and across the country are prepared for the jobs of the future. But to make that happen, we must take action today.
I recently unveiled my NGA Chair's Initiative "States: Finding Solutions, Improving Lives", and addressed this important initiative before the National Press Club in Washington, D.C. States are finding solutions to critical issues, and I highlighted several of them during my remarks. One of the innovative solutions I detailed was IBM's P-TECH school in Brooklyn, New York. Leading programs like P-TECH will help us build a better future for generations to come.
The U.S. Chamber of Commerce Foundation has just bestowed its "Best Corporate Steward" award for large business – the Citizens Award – on IBM. The Chamber Foundation's Best Corporate Steward award recognizes businesses that serve as powerful forces for good around the world. Companies and chambers of commerce from around the globe compete for Citizens awards in several categories, making them among the most coveted opportunities for recognition in corporate citizenship.
Among this year's nominees, IBM is not alone in doing excellent work. But what distinguishes IBM in the increasingly crowded and competitive field of corporate citizenship is the breadth and depth of its programs, and the company's longstanding culture of service that begins with its CEO and radiates through nearly 400,000 employees around the world. It is the high level of engagement and support of IBM's CEO and top leadership that inspires and encourages contributions of service by employees, partners and clients as an integral part of IBM's global business model.
Chigozie Okorie, P-TECH student and intern at the IBM Center for Applied Insights, is conducting a series of executive interviews exploring topics such as the skills necessary for business today and how to prepare students for a very dynamic future. Here are some of the key takeaways from his interview with Nancy Pearson, who leads all aspects of marketing for IBM Cloud.
Read the full interview here.
Related Resources:
P-TECH Intern Amanda Crawford: My Experience as an Intern at IBM
P-TECH Intern Anthony Lewis: My Exciting Summer Internships at N-YHS and IBM!
IBM's 100+ year commitment to corporate citizenship runs broad and deep – encompassing dozens of programs and initiatives. While some of our programs, such as P-TECH, Corporate Service Corps and Smarter Cities Challenge involve our direct engagement to address significant societal challenges in education, public health and economic development, we have designed other programs to bring IBM's global expertise and capabilities to smaller organizations. Sharing capacity through the IBM Impact Grant program benefits us, our partners and their constituents in at least two ways. First, grassroots nonprofits – challenged with increasing demands in an era of diminishing resources – are able to operate more effectively while gathering the performance data often required by funders, government agencies and socially responsible investors. Second, by working with a diverse group of small and fast-moving organizations, IBM becomes more agile in its ability to engage and transform client organizations – both nonprofit and for-profit.
IBM and AMB Sports & Entertainment (AMBSE) have entered a strategic partnership for IBM to develop a game-changing fan experience at the state-of-the-art new Atlanta stadium set to open in 2017. This will enable AMBSE to provide highly advanced, interactive technologies for Atlanta Falcons and Major League Soccer Atlanta games, as well as concerts and other marquee events.
Among the essential differentiators of the IBM P-TECH program is the opportunity for young people to gain skills-based workplace experience in addition to their rigorous academic work in high school and college courses. This holistic approach to preparing our students for successful futures has already shown significant results. In June, P-TECH's first graduates either joined IBM in well-paying positions or headed to four-year universities to continue their studies this fall. The next promising class from P-TECH is following in their footsteps and looking to build its own legacy –including Amanda Crawford, who turned 16 just weeks prior to starting her IBM internship. Amanda, her classmate Anthony Lewis and more than 50 of their classmates who have earned college credits brought their talent, skills and enthusiasm for learning to such projects as conducting competitive research, creating websites, drafting social media strategy, and even contract negotiations at IBM and other employers this summer. In my role coordinating the Brooklyn P-TECH program, I feel very lucky to interact with young people who can think on their feet, collaborate with anyone and learn on the job.
– Will Ehrenfeld, IBM Corporate Citizenship & Corporate Affairs Education
Program Manager
__________________________
My name is Amanda Crawford, and I am a rising senior at P-TECH in Brooklyn, New York.
I am a summer intern for the North America Market Development team at IBM in New
York City. During my first week, I was introduced to cloud computing. I learned that
cloud platforms are infrastructures that benefit customers and make the consumer experience better.
My assignment was to research and study energy companies within the Fortune 500 that have industry cloud platforms or participate in industry cloud platforms. We also aimed to understand the energy industry ecosystem players.
IBM's technology and talent have the power to help transform governments, institutions, communities and the quality of life for people around the world. We work to improve education, revitalize cities, address the challenges of economic growth, respond to disasters, and develop sustainable strategies for energy use and environmental protection. As part of a tradition that dates to the company's founding more than
100 years ago, IBM and IBMers contribute innovative solutions to the world's toughest societal challenges.

Read the 2014 Corporate Responsibility Report
In our 2014 Corporate Responsibility Report, we detail our efforts to transform communities, support our employees, and engage in responsible corporate governance and practices. Through it all, you'll see how IBM and IBMers contribute our time, technology and expertise toward making the world a better place.