Public-Private Partnership
One of the most promising experiments in American education – Chicago's Sarah E. Goode STEM Academy – is a new type public high school designed to achieve two of our country's most urgent goals: help more young adults gain the skills they need to succeed in today's globally competitive economy, and supply companies with the trained talent they require. Sarah E. Goode, a P-TECH-model school, was featured in the February 24, 2014 TIME Magazine cover story. 
But for too many students, schools like Sarah E. Goode simply are not available. It's time for students across the nation to have access to redesigned career and technical high schools offering this vital 21st century approach.
The education achievement gap – the disparity in academic performance between groups of students – is perhaps the most critical public education challenge America faces today. Measures such as grades, test scores, course selection, dropout rates, and college-completion rates have long shown that socioeconomic status and race describe the dividing lines among our students. How do we begin to change this equation? While we can't change the past, we must be mindful of it to successfully shape the future.
In the Charleston County, South Carolina School District (CCSD), we have focused intently on ways to narrow the achievement gap, but doing so remains a serious challenge. There is no "one size fits all" solution in a school district that serves a population with our diversity of backgrounds and needs. CCSD serves students both from the city's highest-earning 10 percent of households and from the lowest-earning 10 percent. Our district includes both densely populated urban neighborhoods and sparsely inhabited rural areas. And the issues of racial strife that have played a significant role in South Carolina's history still reverberate in the hearts and minds of many residents.
It's a great time to be a Girl Scout! As Chief Executive Officer at Girl Scouts-North Carolina Coastal Pines (GS-NCCP), I get to experience Girl Scouting and witness its impact on girls each and every day. From the foundation of our mission, defined over 100 years ago, "to build girls of courage, confidence, and character who make the world a better place" to the delivery of technology-based program opportunities for today's girls, Girl Scouting encourages girls to push their boundaries, test their limits and develop their leadership potential. At GS-NCCP we are proud of the opportunities that we have provided for the girls across our territory, but we could not have done it without partnerships like those we share with IBM, its employees and its Women in Technology group.
According to the U.S. Bureau of Labor Statistics, by 2018, the U.S. STEM workforce will require more than 8.6 million people, and yet only 25 percent of all students nationally are interested in pursuing STEM careers. For girls, that number is even lower. While the gender gap in STEM interest had remained relatively steady over the past 20 years, it is now increasing at a significant rate. Female students express STEM interest at 14.5 percent compared to 39.6 percent for their male counterparts.
All across the nation there has been a surge of interest in career and technical education programs brought on by the pressing need to connect youth with meaningful career readiness opportunities. The recent TIME Magazine cover story on IBM's P-TECH-model schools in Chicago and New York is the latest example of America's growing interest in innovative partnerships that bridge the divide between the classroom and world of work. Many employers, like IBM, are stepping up their engagement with schools to help prepare students for the modern economy. The time is right for Congress to act in kind and to support the reauthorization and modernization of the Carl D. Perkins Career and Technical Education Act.
The Perkins Act is widely recognized as an important resource in helping connect the education system to the needs of the business community. If employers throughout the U.S. are to maintain their economic competitiveness, it will be through programs like the Perkins Act that help build the skills employers need to grow. The Perkins Act dates to 1988 and provides over $1 billion in federal funding to states to support career and technical education programs in high schools, community colleges, and related institutions across the country. While the Perkins Act has made important contributions to supporting career readiness, closing the ever-widening skills gap requires a renewed emphasis on career preparation programs and a rethinking of priorities moving forward.
Today's TIME Magazine cover story on IBM's P-TECH-model school in Chicago is an across-the-board validation of everything that we and our partners in education and government are working to achieve:
Transforming America's approach to education and employment through innovation
and leadership
Contributing time, technology and expertise (not just cash) to affect meaningful and sustainable change
Placing the needs of our clients – young people anxious to learn and succeed – first
The story of Sarah E. Goode STEM Academy on Chicago's South Side, and the Pathways in Technology Early College High School in Brooklyn, New York is the story of a groundswell movement to break the cycle of poverty, rescue a generation (and a nation) from an uncertain future, and blaze a pathway to success that others can follow.
At IBM, the practice of corporate citizenship is fully integrated into our overall business strategy. This integration enables IBM – and IBMers – to affect meaningful and sustainable change for our citizenship clients. In this second installment of our series on the practice of corporate citizenship, Corporate Citizenship & Corporate Affairs Manager Pamela Haas details the importance of putting the client first in non-profit engagements.
_________________________________________
IBM's first corporate value – "Dedication to every client's success" – applies equally to our non-profit and for-profit customers. Given our integration of corporate citizenship initiatives with overall business strategy, this makes perfect sense. Treating non-profit and for-profit clients with equal care and concern also makes sense in a world where corporate executives and decision makers serve on the boards of non-profit organizations. Whether for-profit or non-profit, clients can count on IBM to put their concerns first.
Our for-profit clients often connect with us when they're being honored for their contributions to non-profit causes. While the special events to recognize these contributions can be important networking opportunities, they also get us thinking about how we might serve our non-profit clients better. For example, what if a nonprofit's strategic mission complements an IBM program or initiative? In those instances, we have discovered that our contributions of time, technology and expertise can be far more effective than so-called "checkbook philanthropy" when it comes to bringing about real and sustainable change. This is particularly true in an age when nonprofits are called upon to accomplish more with
fewer resources, and to do so with operational efficiencies traditionally associated with
for-profit enterprises.
Those unused to the devastating power of natural disasters may have difficulty visualizing what it means to lose everything in one fell swoop. We've seen the images on television, and been numbed by the sheer scale of the statistics – especially when there's massive loss of life – but until you've been there, you can't really know what it's like.
Last October, in one of the world's largest emergency actions, more than 360,000 people were evacuated from the path of Cyclone Phailin as it tore through Odisha State, which faces the Bay of Bengal on India's eastern coast. Three months after the storm, life for many residents is beginning to stabilize. But in the small fishing villages around Chilka Lake, "normal" remains painfully out of reach.
In his recent State of the State address, New York Governor Andrew Cuomo said that New York State "is in the midst of an education reinvention" that is part of an overall strategy for "Rebuilding New York." A critical part of that reinvention will be New York's expansion of the P-TECH grades 9 – 14 schools model to include 10 additional schools – one in each of the state's Regional Economic Development Council areas. These 10 new P-TECH schools will join the 16 schools that already are in development across the state.
(Click here for full-size map.)
Through rigorous academics and career-relevant curricula, P-TECH-model schools in
New York City and Chicago are showing results even before their first classes graduate. President Obama's October 2013 visit to Brooklyn P-TECH – and the White House's earmarking $100 million for national expansion of the model– underscored the importance of the P-TECH movement and the need to close America's skills gap by connecting education to jobs nationwide.
I recently had the privilege of visiting the Sarah E. Goode STEM Academy on the south side of Chicago. Sarah Goode is a grades 9 through 14 P-TECH-model school that prepares students with the academic background and workplace skills they'll need to enter industry or continue their educations. One of the most popular sayings at the school is "We Are Innovators!" I couldn't agree more. But while innovation is pervasive at Goode, there also are invigorating doses of optimism and excitement among the students, staff and community. Educators and employers working together to connect training more directly to jobs is an idea whose time has come, and we should all be proud of what IBM, the Chicago Public Schools and Richard J. Daley College of the City Colleges of Chicago have accomplished – as well as the opportunities that lie ahead for Goode's students.
I'd like to thank the dedicated IBMers who helped with my visit and who are critical to the success of Sarah Goode. These subject matter experts – along with the Chicago area IBMers who volunteer their time to mentor every student at the school – work tirelessly to serve the community through this program. They are wonderful representatives of the IBM company, and personify our company's longstanding culture of service. IBM's P-TECH-model schools in Chicago and New York are deservedly getting lots of good press, but it's those who volunteer their time and expertise who help translate visions and ideas into positive outcomes that make our world a better place.
Greenville Technical College was established in 1962 as a workforce development tool, and since that time, we have supplied well-trained workers for a wide variety of companies. Greenville Tech and the state's other two-year colleges are a prime reason that South Carolina attracts employers from around the world such as BMW, Michelin, and other household names, along with less well-known but equally successful companies.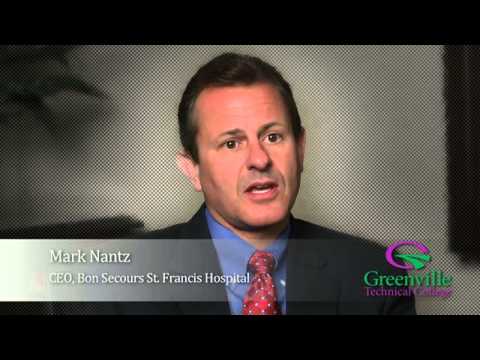 Partnerships with employers, equipment manufacturers, and others are the foundation for Greenville Tech's success. When a company expresses a need for employees with specific credentials, we work together to create a program or to fine tune our curriculum so that students exit with relevant job skills and companies find the pipeline of qualified people they need to succeed.