Public-Private Partnership
En route to a summit with President Obama, Australian Prime Minister Tony Abbott visited Brooklyn's Pathways in Technology Early College High School (P-TECH) for some fact-finding and possible inspiration for a P-TECH program in Australia. Prime Minister Abbott first heard about P-TECH in President Obama's 2012 State of the Union address. Upon his visit – during which he spoke with students, faculty and IBM mentors, and met with Principal Rashid F. Davis and myself – Mr. Abbott expressed his strong belief that P-TECH was "an innovative and valuable education model for us to consider in Australia."
Though P-TECH started in New York City, it's significance is being recognized across the country and around the world. A collaboration among employers and educators to reinvent American high school, connect education to jobs and close America's skills gap, the
P-TECH movement is rolling across New York State (16 new schools this fall, with 10 more forthcoming) and Connecticut (which opens its first P-TECH school this September), along with five schools in Chicago and other locales in the pipeline. The fact that the Prime Minister of Australia wanted to see P-TECH for himself after hearing about it from the President of the United States and his staff clearly indicates that other leading economies are seeking ways to sharpen their competitive edge by transforming their high schools,
and that the innovative P-TECH model depends less on geography than on the will to embrace change.
The Australian economy faces many of the same challenges we see here in the U.S., including a worsening disconnect between education and industry in a time of upheaval across the higher education sector. It's no wonder that Prime Minister Abbott would be interested in a school-to-career model designed to serve all children through a program that capitalizes on public-private partnerships, prepares its graduates for growth-industry employment, and makes these connections within existing public budgets. That's the reason P-TECH is attracting interest from around the world and is being replicated so rapidly. Visitors from five continents have come to P-TECH to see innovation in action and get America's best thinking on reinventing education.
Stanley S. Litow is IBM's Vice President of Corporate Citizenship & Corporate Affairs and a former Deputy Chancellor of the New York City Public Schools.
Related Resources:
New York Daily News: Australian Prime Minister Tony Abbott Tours P-TECH School
in Brooklyn
Sky News/Australia: Abbott Visits New York High Tech College (High School)
Financial Review: Tony Abbott Backs U.S.-Style Corporate Schools for Australia
Cities around the world face issues that are unique to urban environments, but just as often, it takes a broader approach to solve them. Less than one year after Reno, Nevada (United States) received an IBM Smarter Cities Challenge grant, the city assembled 11 local and regional agencies to agree on an action plan to implement the recommendations of their IBM team – the first Smarter Region Summit of its kind in the area. By bringing together local governments, regional planners, K-12 and higher education, businesses, tourism and the airport authority, these leaders are poised to make great progress on the city's vision for economic development and industry growth across the region.
I recently had a chance to speak with Reno Mayor Robert Cashell to understand how IBM's expertise is helping the region to engage as a collaborative team, and what he sees on the horizon after his mayoral term ends in a few short months.
__________________________________
Jen Crozier: How did the Smarter Cities Challenge grant change the way you approach economic development in Reno?
Robert Cashell: The Smarter Cities Challenge grant fundamentally changed the way that Reno understands and undertakes economic development. The IBM team gave us a long overdue and much needed "outside-in" perspective. They told us that for Reno to improve our economic development outcomes, we needed to change our mindset and start acting cooperatively with other agencies and other units of local government in our area – primarily, the City of Sparks and Washoe County. Rather than competing against each other to attract new industrial growth, which is what we had been doing, we would achieve more by working together. The team also told us that we would be better off by allowing the private sector – which is our regional development authority – to lead the charge.
Today, the Information Technology Industry Council (ITI) and IBM unveiled a letter signed by more than 200 businesses, associations, and community groups urging the Senate and House of Representatives to modernize the Carl D. Perkins Career and Technical Education Act (Perkins Act). First enacted in 1984, the Perkins Act is a federal program that helps states and localities around the country offset career and technical education expenses. It's not often that such a diverse group speaks with the same voice on an issue. The signatories come from all corners of the country and nearly every walk of life – all rallying around the single goal of ensuring that today's students are career ready.
Since its inception, the Perkins Act has touched an untold number of students around the country, arming them with the tools needed for jobs that require more than a high school degree but less than a traditional four-year college degree. Many companies in the technology sector are especially keen on seeing the Perkins Act modernized. These companies have long relied on the Perkins Act to help provide them with a skilled and work-ready talent pool that drives continued innovation and growth.
High schools "made with IBM"? Yes, it's happening here – with the P-TECH grades 9 through 14 school model, an innovative approach that's sparking change in the way we think about education. Through P-TECH, IBM is working with educators in school districts and higher education to redesign high schools – expanding them from four to six years so that students graduate with both a high school diploma and an associate in applied science degree. Equipped with these degrees, graduates will be prepared to embark upon entry-level careers in the IT industry or continue their educations.
Why is this important? Because in the 21st Century economy, those with postsecondary degrees will have much better chances of making it to the middle class – having fulfilling careers, raising families and giving back to their communities. A high school diploma alone just isn't enough today, and often can limit one to the low-wage life of the working poor.
Here at P-TECH – the Pathways in Technology Early College High School – we're dedicated to preparing our students for long-term success. For some, that will mean moving directly into middle-skill employment – the booming economic sector that promises 14 million new jobs over the next 10 years. For others, it will mean pursuing four-year degrees (and beyond) after completing their no-cost Associate in Applied Science degrees after six years at P-TECH. And for all of our graduates, we expect long-term success to include service to communities as earners, tax payers, heads of households, mentors and role models. The P-TECH "experiment" is working.
P-TECH's story continues to be told because it's a story worth telling. Begun in 2011, new chapters of our narrative are being written in Chicago and New York City, and across Connecticut and New York State. P-TECH is on the move.
It's been years since we learned that the world is "flat" and that all enterprises – whether commercial, governmental or non-profit – are globally connected. But what we're still learning in this era of global integration is how to prepare the next generation of leaders to realize what we characterize as the triple benefit – developing their skills while solving communities' problems and opening new markets. This isn't just a "business" problem.
It's an issue that impacts – and will shape the future of – almost every human endeavor
on the planet.
Running our cities, educating our children, protecting our health and sustaining our environment are just some of the world's critical challenges that no single company or  economic sector can address or solve alone. Mastering the world's challenges requires the world's collective intelligence and expertise and true collaboration. That's why legacy models of top-down corporate philanthropy have become obsolete. In their place have arisen innovative approaches to transforming the ways we interact, learn and lead. At IBM, these approaches involve maximizing the value of our most important assets – the time and talent of our employees – versus merely donating our excess cash.
The State of Connecticut will open our first P-TECH-model grades 9 to 14 school in Norwalk this September. The six-year Norwalk Early College Academy (NECA) is being developed as a public-private partnership among the Norwalk Public Schools, Norwalk Community College and IBM, and will graduate students with both a high school diploma and a free Associate in Applied Science degree. Students at NECA will be paired with an IBM mentor and will be first in line for jobs at IBM upon graduation.
NECA will be only the first of many planned P-TECH schools across the state – each school partnered with one of Connecticut's growth employers in such industries as advanced manufacturing, biotech, health care and insurance. As I mentioned in this
year's State of the State address, these innovative P-TECH schools will play a critical
role in keeping Connecticut at the forefront in public education as they help to ensure
that our young people are prepared for the successful pursuit of higher education and meaningful careers.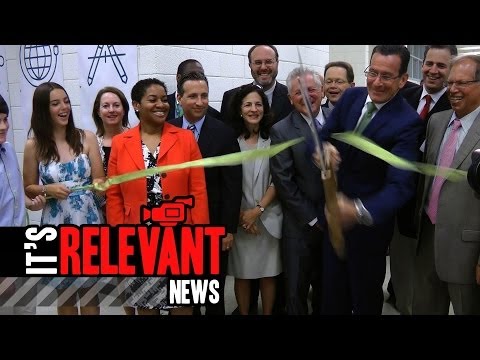 One of the most promising experiments in American education – Chicago's Sarah E. Goode STEM Academy – is a new type public high school designed to achieve two of our country's most urgent goals: help more young adults gain the skills they need to succeed in today's globally competitive economy, and supply companies with the trained talent they require. Sarah E. Goode, a P-TECH-model school, was featured in the February 24, 2014 TIME Magazine cover story. 
But for too many students, schools like Sarah E. Goode simply are not available. It's time for students across the nation to have access to redesigned career and technical high schools offering this vital 21st century approach.
The education achievement gap – the disparity in academic performance between groups of students – is perhaps the most critical public education challenge America faces today. Measures such as grades, test scores, course selection, dropout rates, and college-completion rates have long shown that socioeconomic status and race describe the dividing lines among our students. How do we begin to change this equation? While we can't change the past, we must be mindful of it to successfully shape the future.
In the Charleston County, South Carolina School District (CCSD), we have focused intently on ways to narrow the achievement gap, but doing so remains a serious challenge. There is no "one size fits all" solution in a school district that serves a population with our diversity of backgrounds and needs. CCSD serves students both from the city's highest-earning 10 percent of households and from the lowest-earning 10 percent. Our district includes both densely populated urban neighborhoods and sparsely inhabited rural areas. And the issues of racial strife that have played a significant role in South Carolina's history still reverberate in the hearts and minds of many residents.
It's a great time to be a Girl Scout! As Chief Executive Officer at Girl Scouts-North Carolina Coastal Pines (GS-NCCP), I get to experience Girl Scouting and witness its impact on girls each and every day. From the foundation of our mission, defined over 100 years ago, "to build girls of courage, confidence, and character who make the world a better place" to the delivery of technology-based program opportunities for today's girls, Girl Scouting encourages girls to push their boundaries, test their limits and develop their leadership potential. At GS-NCCP we are proud of the opportunities that we have provided for the girls across our territory, but we could not have done it without partnerships like those we share with IBM, its employees and its Women in Technology group.
According to the U.S. Bureau of Labor Statistics, by 2018, the U.S. STEM workforce will require more than 8.6 million people, and yet only 25 percent of all students nationally are interested in pursuing STEM careers. For girls, that number is even lower. While the gender gap in STEM interest had remained relatively steady over the past 20 years, it is now increasing at a significant rate. Female students express STEM interest at 14.5 percent compared to 39.6 percent for their male counterparts.