Public-Private Partnership
As IBM announces Watson Analytics – developed to make sophisticated data analysis more accessible to non-technical users – more than 40 IBM Watson employees are collaborating with students at The City University of New York (CUNY) to focus Watson's cognitive computing powers on improving higher education and the delivery of city services. Today's IBM Watson Employee Day of Service at CUNY will complement IBM Watson Case Competitions held at colleges and universities across the U.S. to increase awareness of the transformative power of cognitive computing.
The Watson Case Competitions also will inspire students to advance their skills related to cognitive computing, and help them differentiate themselves in the marketplace as they prepare for 21st century careers. The case competitions are part of IBM's global commitment to advancing the academic rigor and economic relevance of education, and providing graduates clear pathways to good jobs.
It can be challenging for a small country like the Czech Republic to compete in the global economy. As a country of just 10 million inhabitants, it's important for our educational system to prepare graduates for 21st century jobs. In the same way that many trends and measures of liberal capitalism have developed here since the fall of the communist regime 25 years ago, it is now time to evolve our educational system to keep pace with the times.
To help make this happen, IBM joined parent groups and nonprofit organizations to launch Czech Talks About Education in 2012. The program was part of a national campaign to redesign the country's educational system, and IBM has been instrumental in attracting broader stakeholder engagement and driving the discussion of how to modernize our approaches to teaching and learning.
I am a member of IBM's Academic Initiative team, and recently volunteered to run a team-building activity at the Norwalk Early College Academy (NECA) Summer Academy in Connecticut. NECA is a partnership among the Norwalk Public Schools, Norwalk Community College and IBM, and will officially open this fall as Connecticut's first P-TECH model school. As with all P-TECH schools, NECA will capitalize on a public-private partnership between an employer (IBM) and educators to provide an academically rigorous and economically relevant grades 9 through 14 education that will launch graduates into meaningful, middle-class careers. NECA graduates will receive both a high school diploma and a no-cost associate degree in technology, and will be first in line for consideration for jobs with IBM.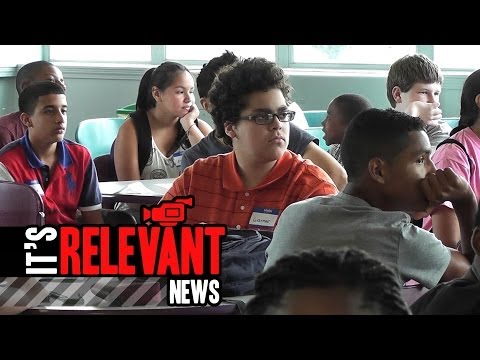 The NECA Summer Academy was attended by local dignitaries and media, school faculty, IBM volunteers and 50 bright young students anxious to get a head start on the school year. My role was to introduce attendees to the type of workplace learning and skills-building exercises that are part of every P-TECH school curriculum. Our project – to build a bridge out of marshmallows and dried spaghetti – was designed to get students to think and act like engineers…as a team. The students in my group ended up doing a great job on two separate bridge concepts.
IBM Supplier Connection helps America's small businesses gain access to large company supply chain spending so they can grow and create new jobs. This free service offering small businesses "one-stop shopping" is powered by the IBM SmartCloud and streamlines the procurement process for both buyers and suppliers. More than 3,500 small companies already are connected to nearly 30 large-company buyers through Supplier Connection. In 2013 alone, participating corporations spent more than $1.5 billion with small businesses registered on Supplier Connection.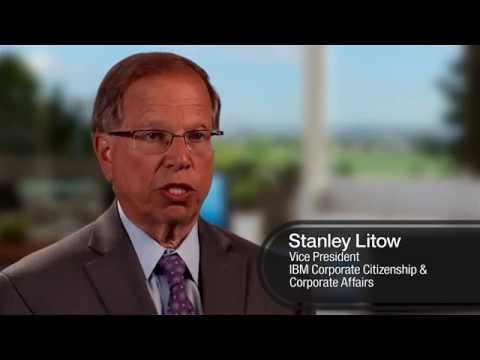 Last week, IBM was pleased to meet with President Obama to discuss his SupplierPay initiative to speed payments to small businesses, and contribute our expertise on building healthier supply chains and strengthening relationships between small and large businesses. The President's SupplierPay initiative recognizes the importance of small business to the nation's economy. The initiative calls upon large enterprises to provide financing help to their small suppliers and to pay them faster so they can grow and create more jobs.
At roughly 15 percent, Ghana's high mother-to-child HIV transmission rate makes this sub-Saharan African nation among the world's 22 countries with the highest incidence of HIV infection in pregnant women. The Ghanaian Ministry of Health is working with IBM, the Yale School of Medicine and other global partners to reduce Ghana's mother-to-child HIV transmission rate to less than 1 percent by 2020 – just six years from now. Helping Ghana achieve this ambitious and essential goal is what attracted me to the recent IBM Corporate Service Corps/Yale School of Medicine collaboration with their Ministry of Health.
Africa is on the rise. It has the world's youngest population, and soon will have the largest population of any continent. In addition to the tragic human cost of HIV, Ghana's developing economy cannot afford to lose any more people to preventable disease. As part of the broader effort to reduce the country's HIV transmission rate, my Corporate Service Corp (CSC) sub-team worked with the Ghana Health Service to develop ways to capture and analyze public health data, and refine it into actionable information in the fight against HIV.
In the 1960s, the world was a simpler place. The Cold War structured the international system, sovereign states were the main international actors, physical (versus virtual) warfare was the main security threat, and economic barriers limited international trade
and finance. The news cycle was longer than 24 hours, and there was no internet. But today's states and multinational organizations share a very different world with financial institutions and corporations, non-profit organizations, terrorists, drug cartels, even pirates. "Sovereign states" aren't as sovereign as they used to be, and security threats include vulnerable financial markets, failed states, cyber threats, infectious diseases, terrorism
and climate change.
Today, two non-traditional actors – American private foundations and U.S. corporate philanthropies – exercise a degree of global reach and influence that once was the province of states and multinational organizations. Over just the last two decades, we have witnessed a huge increase in the number and size of private foundations and the scale of their international activities as they pursue social, economic and even political change. U.S. corporations also are increasingly global, and are involved in social, environmental, health and other public issues in the countries where they operate.
En route to a summit with President Obama, Australian Prime Minister Tony Abbott visited Brooklyn's Pathways in Technology Early College High School (P-TECH) for some fact-finding and possible inspiration for a P-TECH program in Australia. Prime Minister Abbott first heard about P-TECH in President Obama's 2012 State of the Union address. Upon his visit – during which he spoke with students, faculty and IBM mentors, and met with Principal Rashid F. Davis and myself – Mr. Abbott expressed his strong belief that P-TECH was "an innovative and valuable education model for us to consider in Australia."
Though P-TECH started in New York City, it's significance is being recognized across the country and around the world. A collaboration among employers and educators to reinvent American high school, connect education to jobs and close America's skills gap, the
P-TECH movement is rolling across New York State (16 new schools this fall, with 10 more forthcoming) and Connecticut (which opens its first P-TECH school this September), along with five schools in Chicago and other locales in the pipeline. The fact that the Prime Minister of Australia wanted to see P-TECH for himself after hearing about it from the President of the United States and his staff clearly indicates that other leading economies are seeking ways to sharpen their competitive edge by transforming their high schools,
and that the innovative P-TECH model depends less on geography than on the will to embrace change.
The Australian economy faces many of the same challenges we see here in the U.S., including a worsening disconnect between education and industry in a time of upheaval across the higher education sector. It's no wonder that Prime Minister Abbott would be interested in a school-to-career model designed to serve all children through a program that capitalizes on public-private partnerships, prepares its graduates for growth-industry employment, and makes these connections within existing public budgets. That's the reason P-TECH is attracting interest from around the world and is being replicated so rapidly. Visitors from five continents have come to P-TECH to see innovation in action and get America's best thinking on reinventing education.
Stanley S. Litow is IBM's Vice President of Corporate Citizenship & Corporate Affairs and a former Deputy Chancellor of the New York City Public Schools.
Related Resources:
New York Daily News: Australian Prime Minister Tony Abbott Tours P-TECH School
in Brooklyn
Sky News/Australia: Abbott Visits New York High Tech College (High School)
Financial Review: Tony Abbott Backs U.S.-Style Corporate Schools for Australia
Cities around the world face issues that are unique to urban environments, but just as often, it takes a broader approach to solve them. Less than one year after Reno, Nevada (United States) received an IBM Smarter Cities Challenge grant, the city assembled 11 local and regional agencies to agree on an action plan to implement the recommendations of their IBM team – the first Smarter Region Summit of its kind in the area. By bringing together local governments, regional planners, K-12 and higher education, businesses, tourism and the airport authority, these leaders are poised to make great progress on the city's vision for economic development and industry growth across the region.
I recently had a chance to speak with Reno Mayor Robert Cashell to understand how IBM's expertise is helping the region to engage as a collaborative team, and what he sees on the horizon after his mayoral term ends in a few short months.
__________________________________
Jen Crozier: How did the Smarter Cities Challenge grant change the way you approach economic development in Reno?
Robert Cashell: The Smarter Cities Challenge grant fundamentally changed the way that Reno understands and undertakes economic development. The IBM team gave us a long overdue and much needed "outside-in" perspective. They told us that for Reno to improve our economic development outcomes, we needed to change our mindset and start acting cooperatively with other agencies and other units of local government in our area – primarily, the City of Sparks and Washoe County. Rather than competing against each other to attract new industrial growth, which is what we had been doing, we would achieve more by working together. The team also told us that we would be better off by allowing the private sector – which is our regional development authority – to lead the charge.
Today, the Information Technology Industry Council (ITI) and IBM unveiled a letter signed by more than 200 businesses, associations, and community groups urging the Senate and House of Representatives to modernize the Carl D. Perkins Career and Technical Education Act (Perkins Act). First enacted in 1984, the Perkins Act is a federal program that helps states and localities around the country offset career and technical education expenses. It's not often that such a diverse group speaks with the same voice on an issue. The signatories come from all corners of the country and nearly every walk of life – all rallying around the single goal of ensuring that today's students are career ready.
Since its inception, the Perkins Act has touched an untold number of students around the country, arming them with the tools needed for jobs that require more than a high school degree but less than a traditional four-year college degree. Many companies in the technology sector are especially keen on seeing the Perkins Act modernized. These companies have long relied on the Perkins Act to help provide them with a skilled and work-ready talent pool that drives continued innovation and growth.