Reading Companion
IBM is helping North Carolina reach its Race To The Top Grant goals in collaboration with Communities In Schools of North Carolina (CIS) in school districts across the northeastern part of the state. Although the state dropout rate continues to decline, this collaborative public-private partnership among CIS, IBM and the State Department of Public Instruction will help some of our state's most challenged school districts provide resources and training to enhance their ability to provide a better education for their students.
The IBM/CIS partnership brings new resources to support both leadership and early learning in counties in northeastern North Carolina. Earlier in the fall, the collaboration resulted in IBM's contributing 50 Young Explorer™ computer learning centers to five counties. As part of the Race to The Top Early Learning Challenge, thousands of young children are having fun and learning STEM (Science, Technology, Engineering and Mathematics) concepts thanks to the bilingual (English and Spanish) software that's part of IBM's Young Explorer™ donation. Each Young Explorer™ is a computer housed in brightly-colored, child-friendly Little Tikes™ furniture, and is equipped with award-winning educational software. Teachers also have access to IBM's KidSmart Early Learning website. In addition, IBM is providing Reading Companion training to teachers in several school districts, to promote literacy using IBM's innovative voice-recognition technology that helps children and adults learn how to read in English.
In South Africa, teaching children to read and write has become a significant challenge. In day-to-day English language learning, there is very little excitement for literacy education. Many young South Africans are learning English as their second, third or even fourth language. Often, they are being taught by teachers who lack the skills and resources to create inspiring or creative opportunities for children to interact with written texts.
But every Saturday morning, a group of excited young children gathers outside the
EduNova Learning Centre in Somerset West, Cape Town. Some arrive by bus, while others wave goodbye to parents who have dropped them off. The energy is tangible as these learners greet each other with laughter and smiles, eager to get inside. Although the buzz makes it feel like a birthday party, the reality is that these 25-odd children are itching to read, write and illustrate.
IBM has just announced that it is awarding early childhood education improvement grants of technology, services and cash valued at $1.3 million to five U.S. states (Maryland, Massachusetts, Minnesota, North Carolina, Rhode Island) whose progressive and successful early education programs have been recognized as exemplary by the federal government.
Maura Banta, Director of Global Citizenship Initiatives in Education, comments below
about IBM's history of supporting innovation in education.
___________________________________
IBM has a strong track record of partnering with government agencies and non-profits on pressing issues in education. The task is simply to understand how we might best apply our thought leadership – in addition to software and services – to improve access to quality education for all students. The U.S. Department of Education's Race to the Top – Early Learning Challenge grant program provided an opportunity for us to align our efforts with the highest priorities of the qualifying states.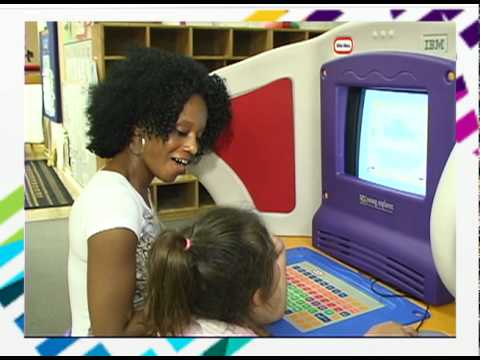 Understanding the many needs in early childhood education and focusing on the action plans identified by the states has been key to our 2012 partnerships, as well as our plans for 2013. So whether it has been the quality rating systems, infrastructure support, increased access to evidence-based information, the focus on transformation zones or
age-appropriate technology access for young learners, we have aligned our resources to advance the states' agendas. IBM is proud to remain engaged as we enable improvement efforts with our reading recognition software called Reading Companion as well as our Young Explorer™ literacy and numeracy computer learning centers – donated as part of our KidSmart early-learning initiative. Services grants in leadership, Social Media and Project Management also are part of the plan.
The bottom line is that we can articulate both the challenges and the opportunities in improving early childhood education. We will encourage other companies and foundations to likewise engage, and will continue to be focused on improved outcomes for young learners.
Maura Banta is Director of Global Citizenship Initiatives in Education with IBM Corporate Citizenship & Corporate Affairs.
Related Resources:
IBM Pledges $1.3 Million in Education Grants to States with Innovative School Systems
Giving Kids the Right Start with Science and Math
Exploring Public-Private Partnerships in STEM Education
Transition to Teaching Program Fills Critical STEM Vacancies
In my testimony before the House Subcommittee on Early Childhood, Elementary, and Secondary Education this morning, I'll be focusing on one of the biggest challenges to the future of America's global economic competiveness – the severe shortage of high school graduates who are prepared for the STEM (Science, Technology, Engineering, Mathematics) careers of the 21st Century, and the inadequate pipeline of qualified teachers in STEM subjects.
WATCH LIVE STREAMING OF MY CONGRESSIONAL TESTIMONY
We're all familiar with the growing body of research that shows the disconnect between twenty-first century labor market needs & employment opportunities and the shortage of high school graduates prepared for STEM careers. We know that the U.S. is falling well behind other countries in the number and proportion of high school graduates who intend to pursue STEM careers. And we know that only a relatively small number of students eventually complete their post-secondary education in STEM fields – a factor that further increases our competitive disadvantage in the global economy.
America's continued economic growth will require a base of scientists, engineers, and the next generation of innovators. To have the pipeline of science and engineering talent that we will need, we must focus on STEM education beginning at the elementary school level. Then, we must ensure that students in middle and high school are exposed to educational experiences that will stoke their enthusiasm for math, science, and problem solving. We also must maintain high academic standards, and provide students with the rigorous training they will need for the successful pursuit of scientific and technical degrees in college.
IBM's Transition to Teaching program – which addresses K-12 STEM pipeline issues by facilitating retiring IBMers' moving into science and math education as a way of helping to encourage young people to enter STEM careers – has been at the forefront of addressing our national challenge since 2006. Transition to Teaching is just part of our portfolio of education initiatives including those aimed at bolstering early childhood education, strengthening middle school math skills, and designing an innovative grades 9-14 school model that confers both the high school diploma and a no-cost Associate's degree in Technology. As always, our approach to citizenship focuses on contributing the skills and expertise of our employees to bring about positive, sustainable change.
Many long-term IBM employees are already thinking about teaching as a second career. Others have the exact background and skills needed to strengthen STEM education in our schools, and we want to introduce them to the idea of teaching. We want to encourage all IBMers who are ready for their next challenge to help address the national teacher shortage in math and science.
We also believe that if an additional 25 large companies established programs similar to Transition Teaching, their combined efforts could provide a substantial number of new math and science teachers. In parallel with addressing the STEM teacher shortage, broader corporate participation in teacher transition programs could help raise the reputation of teaching as a desirable career. However, the private sector alone cannot solve this problem. It will take improvements in teacher training and professional development programs in every school district. In addition, school districts will have to change the way they recruit, place and supervise teachers to retain the best professionals.
To attract new talent to the teaching profession, we must take steps to open it to qualified persons at all stages of their working lives. This will require public-private partnerships that enable the recruitment of new members to the profession throughout their careers. We should give professionals in many industries the opportunity to develop transferrable skills as part of their preparation to become teachers. Only in this way will we facilitate faster movement into the profession for those with the training, dedication and expertise that America desperately needs in its classrooms.
Maura Banta is Director of Citizenship Initiatives in Education at IBM.
Download Maura Banta's Congressional testimony.
Related Articles:
Exploring Public-Private Partnerships in STEM Education
How I Attracted Nearly 300 Kids to AP Computer Science
We all know that schools can't do all the hard work when it comes to educating our children, but what's the best way for business to contribute? I had the opportunity to help answer that question at a recent STEM Salon hosted by Change the Equation, a nonprofit, nonpartisan, CEO-led initiative that is mobilizing the business community to improve the quality of science, technology, engineering and mathematics (STEM) learning in the United States. Joining me on the panel was Rashid Ferrod Davis, founding principal of New York's Pathways in Technology Early College High School (P-TECH). As part of a team at IBM, I have had the honor of working with Rashid and P-TECH's partners throughout the 2011 – 2012 school year (the school's first) to help refine the set of strategic business contributions that IBM is making to enhance teaching and learning, and to help P-TECH students better understand the connections among school, college and career.
P-TECH is an innovative collaboration among the New York City Department of Education, The City University of New York, the New York City College of Technology, and IBM. The school has made significant strides during its first year, and this fall the City of Chicago will open five new schools based on the P-TECH model.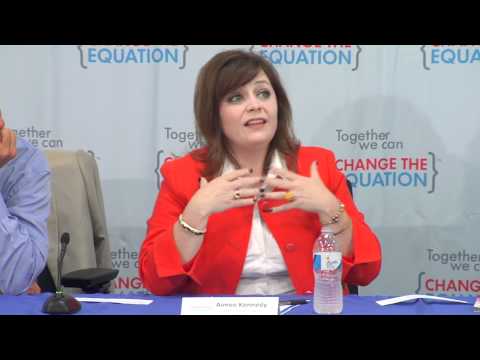 Listen and learn
The first thing that businesses can and should do? Listen. Working with schools is like learning an elaborate dance, and it's important to let educators – the experts – take the lead. Educators like Rashid understand the specific challenges that their students face and can pinpoint needs and opportunities. As businesses listen and learn, they can enrich the portfolio of meaningful solutions for students and teachers.
Studies have shown that early exposure to mathematics and science lead to educational success in later years. When children are engaged in rich learning activities that foster key math, science and language skills in a fun and interactive way – sometimes not even being aware of how much they are learning in the process – the results can be magical. Since 1998, IBM's KidSmart Early Learning Program has helped educators incorporate technology into early learning classrooms with innovative teaching activities that make learning fun. KidSmart helps teachers foster in young children a love of math, science, reading, and working collaboratively that will be essential to their continued success.
At the core of the KidSmart program is Young Explorer™ – a computer housed in brightly colored, child-friendly Little Tikes™ furniture, and equipped with award-winning educational software that helps children learn about and explore concepts in math, science, and language. IBM's grant of 75 Young Explorers™ to Pre-K classrooms in Newark will help launch the city's young children toward a successful educational experience. The $180,000 investment, which is being distributed by United Way, is part of IBM's $4.3 million nationwide initiative to provide more than 1,700 Young Explorers™ and accompanying program materials to schools and nonprofit organizations that serve disadvantaged children.
Giving students a positive learning experience with STEM-related activities as early as possible helps lay a solid foundation for their future success. The U.S. Department of Commerce reports that STEM (Science, Technology, Engineering, Mathematics) jobs have grown three times faster than non-STEM opportunities over the last 10 years. With STEM proficiency, even workers without college degrees or high school diplomas will earn an average of 36 percent more than their non-STEM contemporaries. And throughout the current economic crisis – when unemployment rates have reached as high as 10 percent in the general population, and double that among historically underserved populations – joblessness among STEM workers has held steady at 5.3 percent. So when we look ahead at the labor market projections, it becomes clear that it's never too early to begin our children's instruction in science and math.
Doris González is Senior Program Manager, IBM Corporate Citizenship & Corporate Affairs and leads KidSmart and Reading Companion – two of IBM's global early learning and literacy initiatives.
Coverage:
VIDEO: Watch the abc news story
VIDEO: Watch the press conference video
Computer Learning Centers to Begin Appearing in Newark Preschools
Related Articles:
Improving the Technology of Learning to Help Close the Digital Divide
IBM's "5 in 5" forecast of innovations that will alter the technology landscape within the next five years includes the prediction that mobile technologies will close the digital divide between rich and poor. In the very near future, mobile devices and over-air networks will enable disconnected and disenfranchised populations to circumvent traditional infrastructures to participate in the global economy. However, substantive innovations in the technology of learning must complement our advances in global connectivity.
Technology's most profound impact on underserved populations can be its ability to improve education, but simply "having" technology is not enough. A computer, for instance, can never replace a good teacher. And internet access and computer labs alone cannot improve instruction. But when technology is well integrated into the classroom and coupled with teacher training, it can enable essential improvements in teaching and learning.
Integral to our corporate citizenship efforts, IBM is forging public-private partnerships to create a smarter education system by strengthening the focus on STEM (science, technology, engineering, mathematics) competencies. In addition, we have longstanding programs that continue to open new possibilities to people around the world.
Our Reading Companion program uses IBM speech recognition technology to help children and adults gain literacy skills in English.
In partnership with TeachEngineering and the New York Hall of Science, Teachers TryScience provides new resources, specifically designed for science teachers struggling to provide high quality, hands-on problem based learning.
These are just a few of the many ways – from helping our retirees transition to teaching, to reinforcing our commitment to mentoring and school volunteerism – in which IBM is helping to improve the technology of learning that must accompany the advances that will close the digital divide.
I testified today before the U.S. House of Representatives Subcommittee on Research and Science Education about IBM's commitment to address the issue of national decline in math, science and engineering and its implications for America's labor force. The Subcommittee on Research and Science Education oversees all matters related to science policy and science education. In my remarks, I noted that over the last 20 years IBM has been one of the leading corporate contributors of cash, technology and IT services to non-profit organizations and educational institutions around the world. During that time, IBM's most effective grants and partnerships have been those that focus on our unique offerings – leveraging our software, hardware, technical services and expertise. In addition, IBM has been most successful when designing initiatives to bring our employees' skills and experience into the classroom to interact directly with students, teachers and administrators.
Leading examples of IBM's approach to "smarter education" are our Transition to Teaching program for retiring employees, and our partnership with civic and education leaders to create New York City's Pathways in Technology Early College High School (P-TECH) – an innovative grades nine through 14 institution that confers both the high school diploma and a no-cost associate degree in technology. P-TECH prepares graduates for entry-level positions with IBM and other leading technology companies. More than 100 IBMers are participating in Transition to Teaching, which helps prepare them for a second career teaching math and science. And the P-TECH model has garnered the attention of the White House and of city leaders across the country who seek to replicate the school's success in their districts.
Education and employment in science, technology, engineering, and math (STEM) is a vital component of the American economy, and the private sector can play an important role in closing the gap between where we are and where we need to be. Workers in STEM occupations out earn their peers, enjoy long and stable careers, and represent the next generation of global innovators. But our economic growth is threatened by a severe shortage of math and science teachers, and by shortfalls in STEM academic achievement – particularly in historically underrepresented communities already bearing the brunt of tough economic times. The solution lies in a collaborative and multi-faceted approach to improving STEM education at all levels – from replacing retiring math and science teachers, to strengthening the skills of current educators, to forging private sector partnerships with schools and communities to ensure that our students can make the transition from education to industry.
Watch the archived webcast of my House Subcommittee Testimony to learn more about IBM's commitment to smarter education.
In October 2011, 95 IBM mentors met with their protégés at New York's Pathways in Technology Early College High School (P-TECH) for the first time. P-TECH is a new model grades 9 through 14 school located in the Crown Heights section of Brooklyn, and many of its students will be the first in their families to attain the associate degree they'll receive along with their high school diplomas. It's going to be a long haul for the ninth graders of P-TECH's inaugural class, their teachers and their mentors. But if P-TECH's remarkable 100% attendance rate, the inspired leadership of the school's principal and teachers, and the dedication of IBM's volunteer mentors is any indication, those years will be full of promise and reward. IBMer Christine Vu was one of the mentors who visited P-TECH.
Christine's story: "When I asked my protégé Indica why she enrolled in P-TECH, the most striking thing she said was 'Other classmates and I would be the first graduating class, and to me I find that to be something big.' Indica's words made me think: It is big! Aside from graduating with a high school diploma and an associate degree in technology, Indica will have the opportunity to shape and define what this academic experiment will look like, and help determine whether it can be successful for future students in New York and around the country.
What Indica said also made me wonder what impact I would have as her mentor. I think the act of mentorship is as much about fulfilling the role you wish someone had played in your life when you were younger as it is about giving to others. When I was in high school, I had a challenging and rigorous schedule filled with AP classes and extracurricular activities. But this left little time for me to engage with teachers or other adults on what was happening in the greater society. It seemed like there was no one to challenge my thoughts and ideas, or to help me visualize my future as an adult or as a professional. I ended up forming these impressions through the process of trial and error during college.
While Indica and I are different people from different backgrounds, she has many of the same dreams and goals that I had at her age. Indica wants to learn and to grow, and to be successful in all aspects of her life. After visiting P-TECH, I am confident that Indica will have the lesson plans and resources she'll need to build up her technical knowledge and skills.
Meanwhile, I plan to be available when Indica has the 'other' questions such as 'How important are internships?', 'Why should I vote?', or 'Do I really need to spell check?'"
Further Resources: