Smarter Cities Challenge
The practice of corporate citizenship can take varying forms at different organizations. At IBM, corporate citizenship is fully integrated into the company's overall business strategy. This integration enables IBM – and IBMers – to affect meaningful and sustainable change for our citizenship clients. In the first of a series of articles on the practice of corporate citizenship, Corporate Citizenship & Corporate Affairs Director for the Americas Doris González outlines the critical role of the corporate citizenship manager as influencer, partner and IBM brand ambassador to public and private sector entities working to build
a smarter planet.
______________________________
Though it first emerged in the 1960s, the field of corporate citizenship or corporate responsibility began to get mainstream acceptance in the 1990s as the "new big idea in the business world." Over the years, corporate citizenship has continued to evolve and mature into a field with great career opportunities, representing the face – and heart – of
a company.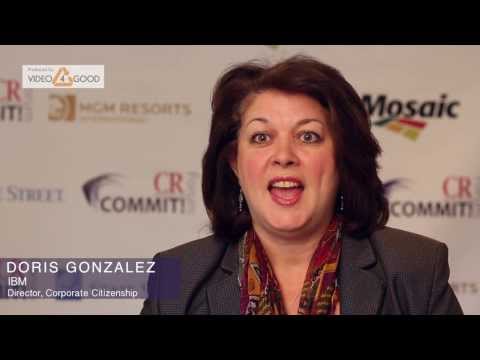 At IBM, social responsibility has been built into the very fabric of the company since it was founded more than a century ago. As the practice of corporate citizenship has evolved, the role of the corporate citizenship manager also has progressed from overseeing the disbursement of cash grants to developing strategies to apply IBM's best talent and technology to solving the world's toughest societal issues in such areas as education, global health, literacy, economic development and environmental sustainability. Business and citizenship strategies must be aligned to be sustainable. As part of that strategic alignment, we focus our resources on specific efforts to help educators and school systems, nonprofit organizations and cities succeed. In the process, we develop leadership and collaboration skills among our employees, and open new markets to our business.
The concepts of philanthropy and corporate giving have evolved over the years from localized donations by individuals of great wealth to "strategic" corporate giving to today's progressive practice of creating sustainable value across the globe. IBM has pioneered numerous corporate social responsibility (CSR) innovations that emphasize the sharing of technologies and expertise to address challenges faced by cities, by developing regions,
by those seeking a way out of poverty through education and training, and by humanitarian researchers searching for everything from solutions to environmental issues to cures
for disease.
In my recent conversation with the Chinese-language edition of the Harvard Business Review, I discussed the IBM Smarter Cities Challenge engagement in New Taipei City as
an example of how my company integrates corporate citizenship with business strategy to build relationships and new leaders while addressing societal problems around the world.
At IBM, we believe that innovation in corporate social responsibility holds the key to benefiting our enterprise and employees as we build a smarter planet.
Louise Davis is the IBM Growth Markets Corporate Citizenship & Corporate Affairs Executive for Asia Pacific.
Related Resources:
Harvard Business Review in Chinese Interview with Louise Davis (in Chinese)
Harvard Business Review in Chinese Interview with Louise Davis (in English)
Applying Technology and Expertise to Global Societal Problems
(Versão em Português do Brasil abaixo)
The participation of the City of Porto Alegre, Brazil in the IBM Smarter Cities Challenge was definitely a milestone for us all in the municipal government. The work done by the IBM executives who participated in the program resulted in a real action plan for our teams, and prompted profound reflection among our managers and leaders. With help from the IBM team, we were not only able to map more precisely a number of initiatives that were already underway in the city, but also were able to discover and develop new approaches to our efforts. Our work with the Smarter Cities Challenge team helped us see more clearly the connection between how we manage Porto Alegre and important global trends.
Covering aspects such as citizen participation, urban mobility, social interaction and open data, the Smarter Cities Challenge team encouraged us to pursue a number of initiatives. We are in the process of enhancing opportunities for citizen engagement (for which Porto Alegre already is internationally recognized) through programs that are being developed and that we can hopefully announce soon.
Imagine a city in which cognitive systems – tools to gather and analyze massive amounts of data from such sources as embedded street sensors, traffic cameras power grid usage indicators – will augment human capabilities to aid decision making. In this type of Smarter City, municipal authorities will be able to improve traffic flow, entrepreneurs will be better able to understand and mitigate risk, and ordinary citizens will be able to interact with (and benefit from) their cities as never before.
Imagine also that cognitive technologies like those in the IBM Watson system that won on the TV quiz show Jeopardy! will enable new levels of sophistication and effective service from civic organizations, nonprofits and skilled volunteers – not to mention disaster preparation and recovery. These are just some of the promises of cognitive cities.
It may sound like science fiction, but the movement already has begun. Read my recent Forbes article "New Tech Will Change the Way Cities and Businesses Solve Problems" for a deeper explanation of how cognitive systems will transform life in the world's smarter cities. Then check out the references below to see what mayors and other city leaders are saying about how IBM technology and expertise is making their cities smarter…today.
Katharine Frase, Ph.D., is Chief Technology Officer of IBM Smarter Cities.
Related Resources:
Learn more about cognitive systems. Download a free chapter from Smart Machines: IBM's Watson and the Era of Cognitive Computing (forthcoming)
Find out more about the IBM Smarter Cities Challenge
Read what mayors are saying about the Smarter Cities Challenge program
Today marks the beginning of the next phase of IBM's Smarter Cities Challenge competitive grants program, which deploys teams of our top talent to perform pro bono problem solving for cities and municipal regions worldwide. We're building on the success of the program's first three years, during which 600 IBM experts on six-person teams provided strategic and practical advice to 100 cities. In all, IBMers provided more than 100,000 hours of business and technical expertise through this game-changing program that began in the company's 100th year.
Valued at USD $400,000 each, the three-week Smarter Cities Challenge engagements have helped cities address key challenges in the areas of economic development; water, energy and environment; health and social services; transportation; and public safety. During the course of forming partnerships with influencers and constituencies from government, citizen groups, businesses and nonprofits, we have gathered diverse perspectives on the causes and potential solutions to a variety of urban challenges. While each city is unique, our work has enabled us to identify common characteristics and themes that have improved the subsequent effectiveness of our teams.
I'd heard the term "giving back" many times over the course of my career, but never really understood what it meant until after I joined IBM as part of the Cognos acquisition. After learning of IBM's legendary culture of service and the extent to which IBMers contribute to their communities, I had the opportunity to take part in an IBM Smarter Cities Challenge engagement in August 2012. This was an eye-opening experience for me, both as an IBMer and as a human being.
I spent one month in Houston, USA working with city administrators to help identify ways to more effectively deliver services to residents. It was astounding to me that IBM would donate the time and talent of six experts for a month – effectively removing us from our "day jobs" to focus on this philanthropic activity. While in Houston, I got to see the impact an IBM team could have when we joined together and put our minds to a problem. But that was only the beginning.
Some segments of the media have lately focused their coverage on programs that benefit economic development, scientific research, and education. In the last few weeks alone, we've seen articles that have examined issues and initiatives such as the following:
IBM World Community Grid
Two projects hosted on IBM's World Community Grid are making progress in helping to identify clean energy and an AIDS cure. Voice of America discusses how The Harvard Clean Energy Project used World Community Grid to create a public, searchable database of novel, organic compounds that rates their potential as inexpensive and efficient solar cells. And CNN.com takes a look at how Android-based mobile devices can help FightAIDS@Home.
Pathways in Technology Early College High School (P-TECH)
The City of New York is using IBM's blueprint to expand an education model that blazes a pathway from high school to college and career. Check out what The Wall Street Journal, the Associated Press and NY1 have to say.
IBM Corporate Service Corps
Forbes profiled IBM's corporate citizenship programs – including the IBM Corporate Service Corps, a worldwide pro bono consulting and leadership development program – that are shared with other companies.
IBM Smarter Cities Challenge
We love it when cities adopt our recommendations generated from IBM Smarter Cities Challenge pro bono consulting engagements. For instance, in this op-ed from its editors, the Knoxville News Sentinel congratulates its hometown mayor for taking a new approach to educating and providing incentives to citizens and property owners for making their dwellings more energy efficient.
Ari Fishkind is a media relations liaison for IBM's Corporate Citizenship & Corporate Affairs. 
Waterloo has one of the strongest economies in Canada because of low unemployment rates, the best post-secondary institutions in the country, stable housing and real estate markets and low consumer and business bankruptcies. We have been ranked among the top 20 startup hubs in the world because of the thousands of jobs and millions of dollars our startup companies generate for our economy.
And because of these and other achievements, we have been earmarked as a growth community by the Province of Ontario. People are drawn to this city for all it has to offer. Our ability to reinvent ourselves and to diversify our economy has made Waterloo a city of choice to live, work, learn and play. But we can't rest on our laurels; we must always think about the future and how we can overcome challenges. And we do have challenges.
IBM's SmartCloud Brings Relief to Storm-Ravaged Areas
In the aftermath of one of the largest and most destructive storms to strike the heavily populated U.S. East Coast, IBM responded with pro bono consultants, strategies for both an immediate and long term response to disaster relief and recovery, and all of the technology and expertise needed to help establish the Hurricane Sandy New Jersey Relief Fund. Among the solutions donated to the fund and other key agencies in New York and New Jersey coping with the disaster was the SmartCloud for Social Business, which created the infrastructure necessary to launch immediate relief efforts, and will provide the cloud-based social collaboration tools that will sustain the fund during the long term recovery efforts.
"Because of IBM's knowledge and expertise, the Fund is able to provide relief to New Jersey families and communities in an efficient and effective manner."
– Hon. Chris Christie, Governor of New Jersey
This is just one of many initiatives described in IBM's 2012 Corporate Responsibility Report, which outlines corporate social responsibility (CSR) programs aligned with the company's Smarter Planet strategy to protect the environment, strengthen education and economic development, enable humanitarian research, and improve the quality of life in cities around the world.
Continue Reading »
With more than 300 sunny days a year, world-class ski resorts and golf courses, a diverse arts and cultural community, and an endless array of outdoor recreation and entertainment, Reno-Tahoe has it all. We have a chain of high-peaked mountains that surround the region in every direction. We've got high desert hills and low valleys covered with deciduous and evergreen trees. Among an eclectic mix of stately manors, quaint churches, sleek high rises, city parks and casinos, we have a river that casually flows through the heart of the city and is home to our famous Truckee River Whitewater Park. But what really sets us apart is a community spirit that makes anyone feel like a local and part of our family.
In the face of the recent economic downturn, the City of Reno and our regional partners have recognized the need for cohesive, forward-thinking economic development. We are committed to collaborating and ensuring business-friendly practices that will improve our public services along with attracting, retaining, and growing businesses. By doing this we will continue on our journey of revitalization.