Smarter Cities Challenge
(Versão em Português do Brasil abaixo)
The city of Porto Alegre is currently experiencing a historic moment with the launch
of the POAdigital Portal, an online environment that integrates developers, startups, entrepreneurs, investors, students and IT professionals in order to accelerate and
stimulate innovation and local economic development, transforming Porto Alegre into
a Digital City. We have reached a milestone with the connection of all these actors that make innovation happen.
Several years ago, this growing trend had been identified inside the City Hall. And, taking advantage of a consolidated partnership with IBM, we proposed the development of a solution that would not only allow us to visualize this ecosystem, but actually to connect all the stakeholders in a functional environment, full of useful information.
IBM's technology and talent have the power to help transform governments, institutions, communities and the quality of life for people around the world. We work to improve education, revitalize cities, address the challenges of economic growth, respond to disasters, and develop sustainable strategies for energy use and environmental protection. As part of a tradition that dates to the company's founding more than
100 years ago, IBM and IBMers contribute innovative solutions to the world's toughest societal challenges.

Read the 2014 Corporate Responsibility Report
In our 2014 Corporate Responsibility Report, we detail our efforts to transform communities, support our employees, and engage in responsible corporate governance and practices. Through it all, you'll see how IBM and IBMers contribute our time, technology and expertise toward making the world a better place.
We were both excited and anxious to greet IBM's Smarter Cities Challenge (SCC) team. The hectic work schedule lasted three weeks and came to an end on April 23. The SCC grant program is designed to make the planet smarter, by providing cities and regions with recommendations to address their challenges based on analyses and diagnoses made by IBM experts. Since 2011, 114 cities have received the IBM SCC grant. Pyeongchang County applied for the grant with the mission of "Developing strategies for Pyeongchang's future in preparation for the arrival of the High Speed Railway, with a vision of becoming a city of relaxation, tourism, leisure and sports." We became the third recipient for the SCC grant, following Cheongju and Jeju.
[Note: The video below is in Korean.]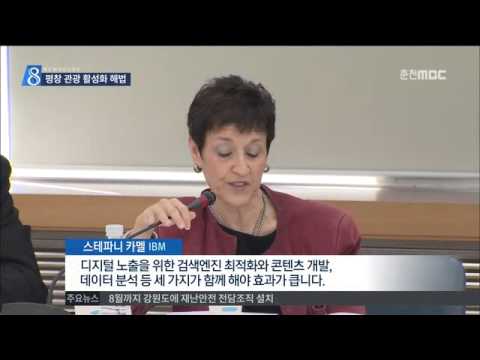 IBM chose Pyeongchang County for an SCC grant based on our passion and commitment for making Pyeongchang a smarter city. Six IBM experts, each with different areas of expertise, worked in Pyeongchang for three weeks. These experts diagnosed the problems of Pyeongchang and gave us 11 recommendations to address our challenges. Even though they were only in Pyeongchang for three weeks, they reviewed several policies and existing reports, and gathered the opinions of many people throughout the region. Their final presentation demonstrated a thorough review of our challenges and delivered expert recommendations, living up to IBM's reputation as a global company.
Today IBM announced the 2015-16 Smarter Cities Challenge winning cities, including unveiling a new partnership with Twitter. We had the honor of participating in SCC Pyeongchang County, South Korea in April, all of us returning home just three weeks ago. The experience is still extremely fresh in our minds as we put the final touches on the report that will be delivered to Mayor JaeKook Sim next month.
Today's announcement of 16 new projects in cities around the world makes us all excited, and a little jealous of the cities, their mayors and the IBMers who are about to embark on this incredible journey.
IBM is extending the Smarter Cities Challenge global competitive grant program, through which more than 700 of IBM's top experts have executed pro bono consulting projects to help municipalities and regions improve the quality of life for their residents. Below, IBM Vice President for Global Citizenship Initiatives Jen Crozier reflects on the program's success and the ongoing challenges facing the world's cities.
_______________________________
The world's cities are vital, exciting, often troubled and always unique. Cities house three quarters of us, attract many of the best and brightest of us, and inspire much of our greatest thinking. But urban areas can amplify societal challenges as much as they reinforce cultural benefits. That's why running a city is never easy.
When IBM launched the Smarter Cities Challenge in 2011, we saw an opportunity to make a difference by using our innovative technologies and cross-industry expertise to help transform the nature of urban life. Smarter cities are the building blocks of a smarter planet, but making a city smarter requires a unique set of collaboration and partnership skills. IBM has those skills, and we believed – and still believe – that their intelligent application has the power to engage and inspire governments, citizens, corporations and others to work together toward a common good.
Anyone looking for inspiration about how the public, private and not-for-profit sectors can collaborate need not look much further than a new book authored by Nicholas D. Kristof and Sheryl WuDunn. Titled A Path Appears: Transforming Lives, Creating Opportunity, this remarkable book describes how individuals and organizations can make a difference in the lives of others. Two of the many examples cited by the authors include IBM's Corporate Service Corps and Smarter Cities Challenge. These programs deploy pro bono teams of problem-solving IBM consultants who work with community stakeholders around the world, while improving their own skills and cultural literacy. Here is how the authors put it:
In their desire to showcase corporate social responsibility, companies are giving more leeway to employees to give back – just as law firms have regularly done pro bono work. IBM developed a Corporate Service Corps, modeled on the Peace Corps, and has sent more than 2,400 people to provide consulting advice in more than thirty countries. In 2010, IBM also began a three-year, 100-city grant initiative in which employees donate their time to help cities launch large projects and resolve tough issues. IBM dispatched teams of five to six people for three weeks to formulate a master plan and strategies for execution. In
St. Louis, IBM helped devise a citywide information technology system that tracked everyone who entered the criminal justice system and allowed different agencies access to that electronic information. That system contributed to a 50 percent decline in crime in some neighborhoods, IBM says. Toyota has taken its sophisticated production expertise and helped hospitals, schools, and other non- profits improve efficiencies. In Harlem, for example, it trimmed the wait at a soup kitchen run by an organization called Food Bank for New York City from one and a half hours to eighteen minutes.

We would like to see more companies step into this arena, allowing employees to use their skills to take on pro bono projects. The nonprofit world is in desperate need of the corporate skill set, and our guess is that companies would be rewarded with increased morale and greater success in recruitment and retention. In the same vein, it would be good to see more corporations take on social joint ventures from time to time, in echoes of what Danone did with Grameen to make yogurt. If we insist on nonprofits and corporations being kept in separate silos, we all lose. If you work in a company, think about how it could help, or what a pro bono policy might look like, and see if there is interest among executives.

The best programs tackle a social problem that the company has the right toolbox for. That's why Danone's new yogurt with micro-nutrients and IBM's information technology systems make sense. In finance, one of the most interesting initiatives to tap private funding has been Social Impact Bonds, launched in the United Kingdom in 2010 with the help of the Rockefeller Foundation, and two years later in the United States. 'There simply wasn't enough money in philanthropy, even with the explosion of philanthropy, and not enough money in government aid to really solve all the social ills,' said Judith Rodin, president of the Rockefeller Foundation. 'Not that money can solve everything, but that for those things that required money and big money at times, that unleashing private capital to do social good was going to be critical.'
Excerpted from A Path Appears: Transforming Lives, Creating Opportunity by Nicholas D. Kristof and Sheryl WuDunn. Copyright © 2014 by Nicholas D. Kristof. Excerpted by permission of Knopf, a division of Random House LLC. All rights reserved. No part of this excerpt may be reproduced or reprinted without permission in writing from the publisher.
Related Resources:
Read More About IBM Corporate Service Corps
Read More About IBM Smarter Cities Challenge
The Urban Affairs Coalition (UAC) of Philadelphia recently hosted its annual fundraising event, and I was reminded of the valuable partnerships that are helping us transform the quality of life for our city's young adults. The UAC's mission is to "unite government, business, neighborhoods, and individual initiatives to improve the quality of life in the region, build wealth in urban communities, and solve emerging issues." Our partner
IBM Corporate Citizenship & Corporate Affairs has played a critical role in helping us meet our goals. The fundraising event attracted more than $500,000 in donations, and brought together over 900 community and business leaders to help us fulfill our mission.
As the fiscal sponsor for more than 55 partner organizations, UAC provides back-end financial and human resources support that frees non-profit organizations to dedicate
their time, talent and treasure to providing crucial services for more 150,000 adults,
youth and children. UAC aspires to become a high-tech, high-touch, high-quality resource for our partner organizations, and IBM is helping us on this journey. With the help of an
IBM Technology Road Map Impact Grant, we developed a scalable technology strategy that will enable us to meet our partners' needs today and into the future.
Perth – Australia's most westerly capital city – is known for its sunshine, its natural beauty and its relaxed pace. With an estimated population of a little over 1.97 million, Perth is Australia's fourth most populous region and is growing rapidly. And that growth requires a strong and considered strategy for city development.
To ensure that we provide the best possible services to our citizens now and well into the future, it was clear to us that Perth needed to be smarter in the way we collated, distributed, accessed and used key infrastructure data. Transport, water, energy and other infrastructure utilities need to be in sync with each other for us to be able to plan and use resources in a valuable and efficient way.