Smarter Cities Challenge
The Urban Affairs Coalition (UAC) of Philadelphia recently hosted its annual fundraising event, and I was reminded of the valuable partnerships that are helping us transform the quality of life for our city's young adults. The UAC's mission is to "unite government, business, neighborhoods, and individual initiatives to improve the quality of life in the region, build wealth in urban communities, and solve emerging issues." Our partner
IBM Corporate Citizenship & Corporate Affairs has played a critical role in helping us meet our goals. The fundraising event attracted more than $500,000 in donations, and brought together over 900 community and business leaders to help us fulfill our mission.
As the fiscal sponsor for more than 55 partner organizations, UAC provides back-end financial and human resources support that frees non-profit organizations to dedicate
their time, talent and treasure to providing crucial services for more 150,000 adults,
youth and children. UAC aspires to become a high-tech, high-touch, high-quality resource for our partner organizations, and IBM is helping us on this journey. With the help of an
IBM Technology Road Map Impact Grant, we developed a scalable technology strategy that will enable us to meet our partners' needs today and into the future.
Perth – Australia's most westerly capital city – is known for its sunshine, its natural beauty and its relaxed pace. With an estimated population of a little over 1.97 million, Perth is Australia's fourth most populous region and is growing rapidly. And that growth requires a strong and considered strategy for city development.
To ensure that we provide the best possible services to our citizens now and well into the future, it was clear to us that Perth needed to be smarter in the way we collated, distributed, accessed and used key infrastructure data. Transport, water, energy and other infrastructure utilities need to be in sync with each other for us to be able to plan and use resources in a valuable and efficient way.
In the 1960s, the world was a simpler place. The Cold War structured the international system, sovereign states were the main international actors, physical (versus virtual) warfare was the main security threat, and economic barriers limited international trade
and finance. The news cycle was longer than 24 hours, and there was no internet. But today's states and multinational organizations share a very different world with financial institutions and corporations, non-profit organizations, terrorists, drug cartels, even pirates. "Sovereign states" aren't as sovereign as they used to be, and security threats include vulnerable financial markets, failed states, cyber threats, infectious diseases, terrorism
and climate change.
Today, two non-traditional actors – American private foundations and U.S. corporate philanthropies – exercise a degree of global reach and influence that once was the province of states and multinational organizations. Over just the last two decades, we have witnessed a huge increase in the number and size of private foundations and the scale of their international activities as they pursue social, economic and even political change. U.S. corporations also are increasingly global, and are involved in social, environmental, health and other public issues in the countries where they operate.
Cities around the world face issues that are unique to urban environments, but just as often, it takes a broader approach to solve them. Less than one year after Reno, Nevada (United States) received an IBM Smarter Cities Challenge grant, the city assembled 11 local and regional agencies to agree on an action plan to implement the recommendations of their IBM team – the first Smarter Region Summit of its kind in the area. By bringing together local governments, regional planners, K-12 and higher education, businesses, tourism and the airport authority, these leaders are poised to make great progress on the city's vision for economic development and industry growth across the region.
I recently had a chance to speak with Reno Mayor Robert Cashell to understand how IBM's expertise is helping the region to engage as a collaborative team, and what he sees on the horizon after his mayoral term ends in a few short months.
__________________________________
Jen Crozier: How did the Smarter Cities Challenge grant change the way you approach economic development in Reno?
Robert Cashell: The Smarter Cities Challenge grant fundamentally changed the way that Reno understands and undertakes economic development. The IBM team gave us a long overdue and much needed "outside-in" perspective. They told us that for Reno to improve our economic development outcomes, we needed to change our mindset and start acting cooperatively with other agencies and other units of local government in our area – primarily, the City of Sparks and Washoe County. Rather than competing against each other to attract new industrial growth, which is what we had been doing, we would achieve more by working together. The team also told us that we would be better off by allowing the private sector – which is our regional development authority – to lead the charge.
Big Data is all the rage these days – from helping doctors diagnose patients by using analytics to sift through decades of historical information, to allowing marketers to learn how to better personalize experiences for customers. But there often isn't the chance for citizens to see how data might affect their everyday lives up close and personal.
Here at the Chicago Architecture Foundation (CAF), we wanted to show citizens how data provides a critical lens for exploring and understanding the design issues that matter, like community health, safety and sustainability. To do this, we devised the upcoming exhibition Chicago: City of Big Data. Opening yesterday, the exhibition explores the digital age of urban design and shows Chicago the effects of Big Data on the city's lifeblood.
It's been years since we learned that the world is "flat" and that all enterprises – whether commercial, governmental or non-profit – are globally connected. But what we're still learning in this era of global integration is how to prepare the next generation of leaders to realize what we characterize as the triple benefit – developing their skills while solving communities' problems and opening new markets. This isn't just a "business" problem.
It's an issue that impacts – and will shape the future of – almost every human endeavor
on the planet.
Running our cities, educating our children, protecting our health and sustaining our environment are just some of the world's critical challenges that no single company or  economic sector can address or solve alone. Mastering the world's challenges requires the world's collective intelligence and expertise and true collaboration. That's why legacy models of top-down corporate philanthropy have become obsolete. In their place have arisen innovative approaches to transforming the ways we interact, learn and lead. At IBM, these approaches involve maximizing the value of our most important assets – the time and talent of our employees – versus merely donating our excess cash.
It's no secret that in today's economy city governments have to make the best of limited resources. The good news is that they have a powerful tool already at their disposal – one they've been gathering for years. That tool is data. As we congratulate the next group of cities and regions around the world to win IBM Smarter Cities Challenge grants, we pause to reflect on our long-term partnerships to help cities become better places to live and work, and revisit earlier winners to share news of their progress toward this goal.
With the help of a Smarter Cities Challenge grant that was delivered in late 2011, the City of Syracuse, New York has figured out how to use data to make smarter decisions around its vacant property problem. The city has been able to target nearly 2,000 vacant properties to reclaim. This effort is revitalizing neighborhoods and is expected to provide the city with millions of dollars in back taxes over the next eight years. I recently had a chance to speak with Syracuse Mayor Stephanie Miner to understand how IBM's data expertise is helping her revitalize communities in her city.
____________________________________
Jen Crozier: How did the Smarter Cities Challenge grant change the way you make decisions for the City of Syracuse?
Stephanie Miner: The Smarter Cities Challenge enabled us to use data and analytics to help make decisions so we could focus the city's resources on areas where they would be most effective. In some cases, some of our data goes back to the founding of our city. What we needed – and what the Smarter Cities Challenge team helped us realize – was a way to transform data into meaningful and actionable information. Working with the Smarter Cities team, we were able harness data from various city departments and use it in models to develop strategies for infrastructure and other types of investments to stabilize and revitalize our neighborhoods.
The practice of corporate citizenship can take varying forms at different organizations. At IBM, corporate citizenship is fully integrated into the company's overall business strategy. This integration enables IBM – and IBMers – to affect meaningful and sustainable change for our citizenship clients. In the first of a series of articles on the practice of corporate citizenship, Corporate Citizenship & Corporate Affairs Director for the Americas Doris González outlines the critical role of the corporate citizenship manager as influencer, partner and IBM brand ambassador to public and private sector entities working to build
a smarter planet.
______________________________
Though it first emerged in the 1960s, the field of corporate citizenship or corporate responsibility began to get mainstream acceptance in the 1990s as the "new big idea in the business world." Over the years, corporate citizenship has continued to evolve and mature into a field with great career opportunities, representing the face – and heart – of
a company.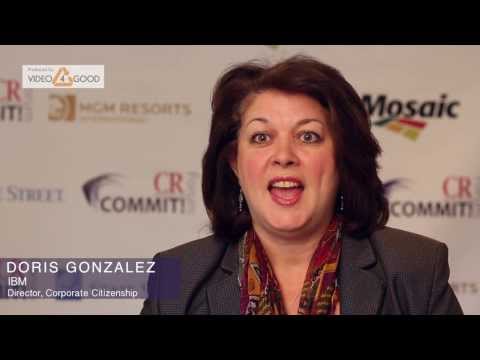 At IBM, social responsibility has been built into the very fabric of the company since it was founded more than a century ago. As the practice of corporate citizenship has evolved, the role of the corporate citizenship manager also has progressed from overseeing the disbursement of cash grants to developing strategies to apply IBM's best talent and technology to solving the world's toughest societal issues in such areas as education, global health, literacy, economic development and environmental sustainability. Business and citizenship strategies must be aligned to be sustainable. As part of that strategic alignment, we focus our resources on specific efforts to help educators and school systems, nonprofit organizations and cities succeed. In the process, we develop leadership and collaboration skills among our employees, and open new markets to our business.