SME Toolkit
With IBM's release of our 2011 Corporate Responsibility Report, we demonstrate clearly and convincingly how we are interweaving our citizenship efforts and business strategy into an integrated approach to making the world a better place. To do this –
to become an indispensable partner in the success and sustainability of the communities
we serve – IBM and IBMers do more than just open their wallets. IBMers around the world give generously of their time and talents, rolling up their sleeves as partners in doing the often unsung work behind the headlines of "philanthropy."
It is our focus on direct action that distinguishes IBM's culture of service – a culture that has been deeply ingrained since the company's founding more than 100 years ago. To celebrate our recent Centennial, more than 300,000 IBMers from 120 countries worked on 5,000 large-scale projects that served more than 10 million people worldwide. This celebration – the result of nearly a decade of planning and partnership – represented the largest corporate community service event in history. More than that, it was an acknowledgement of our history, of things to come, and of the service we continue to give every day. And it didn't end there!
Perhaps the most valuable lesson of this year's Clinton Global Initiative (CGI) America conference was that innovative ideas and the creative cooperation to implement them are essential to bringing about meaningful improvements in the quality of peoples' lives. At the conference, I had the honor of joining SBA Administrator Karen Mills for a CGI "dynamic duo" discussion of how IBM's Supplier Connection – an innovative public-private collaboration – can help small businesses gain access to large-company supply chains. Such access will help small businesses grow by boosting their revenues, and in turn will stimulate job growth. We all know that small businesses are the engines of American competitiveness, but for them to increase revenues and add jobs they need access to large-company spending. Small businesses create fully one-third of America's jobs, and by simplifying their access to the hundreds of billions of dollars of annual spending by large enterprises, we can jumpstart growth in the small business community.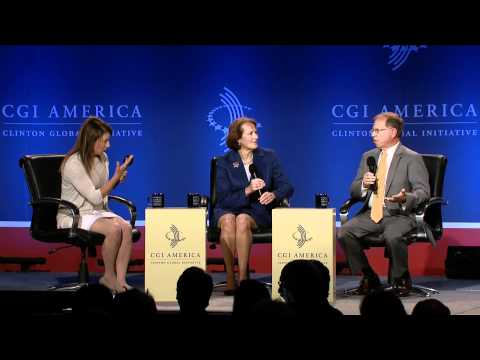 Facilitating a connection between small and large businesses benefits both groups. Studies show that small businesses grow revenue by 250 percent and increase hiring by 100 percent within only two years of landing a contract with a large company. Meanwhile, large enterprises that source their needs through small suppliers benefit from the innovation, creative ideas, and cost-effective goods and services that are the hallmarks of small businesses. In 2011, IBM allocated nearly $1.5 billion in supply chain spending to U.S. small businesses alone – a 14 percent increase from the prior year. We expect that number to increase for 2012, and our first quarter supply chain spending with small businesses is already up.
In addition to connecting more than 2,000 small companies to the growing Supplier Connection consortium that includes Caterpillar, CitiGroup, Facebook, John Deere, Kellogg's, Office Depot, Pfizer, UPS and 11 other companies, IBM also provides free small business resources to more than five million small businesses through the SME Toolkit. The toolkit's software, business forms, tools and training provide much-needed support for growing businesses so that they can become globally competitive in the 21st century marketplace. Both Supplier Connection and the SME Toolkit are free.
Creative cooperation between the public and private sectors is accelerating the pace of meaningful change where no single entity or group can carry the weight alone. It is only through working together that corporations, communities and governments will strengthen and sustain America's global competitiveness.
Clinton Global Initiative Panel Discussion Video:
Watch Stanley S. Litow and SBA Administrator Karen Mills
discuss how to connect small businesses with enterprise supply chains
Related Articles:
Economic Crisis Meets Socially Responsible Innovation
Facebook Connects with Supplier Connection
Small businesses employ half of all private sector workers in the United States, pay 44 percent of America's total private payroll, and have generated 65 percent of net new jobs
in the U.S. over the past 17 years. That's why expanding the growth potential of small business is so important to the U.S. economy, and why Latin Business Today and IBM have created a number of small business programs which support small businesses.
Latin Business Today has collaborated with IBM to aid in providing unique and relevant content on innovation and best business practices to the Hispanic business community – delivering on our mission to accelerate the rate of growth for Hispanic-owned small and medium sized businesses in this challenging economy. Latin Business Today's content for the Hispanic section of the U.S. SME Toolkit website complements our ongoing efforts to engage our audience through original features, small business success stories, and insights from mentors from a variety of business disciplines.
The SME Toolkit is a one-stop shop for entrepreneurs needing advice on everything from creating a business plan to growing their business through the use of social media. Similarly, Latin Business Today has a growing team of mentors from various disciplines
who support Hispanic businesses on topics including: financial, legal, marketing, IT and strategy.
We also continue to support the Latin Scholarship Fund inaugurated by our predecessor, Latin Business magazine. Since 2005, the Latin Scholarship Fund has awarded more than 20 college scholarships to academically promising Latino students who might otherwise be unable to afford postsecondary education. Latin Business Today's contribution to the SME Toolkit and support of young Latino scholars are two of the ways in which we acknowledge the connection between education and jobs, and between healthy small businesses and a thriving American economy.
Former IBMer Barry Mittelman is the managing partner and publisher of Latin Business Today.
Related Articles:
Using Technology to Help Small Businesses in New York City
In the March 2012 issue of Harvard Business Review, Harvard Business School professor Rosabeth Moss Kanter writes that "when business, academic, and policy leaders collaborate to bridge the gaps [between their silos], they create a fertile environment for job growth and more-inclusive prosperity." Professor Kanter enumerates four key goals that should be on the agenda of every leader, and cites several IBM citizenship programs – Smarter Cities Challenge, Supplier Connection, Transition to Teaching, and the Pathways in Technology Early College High School (P-TECH) – as outstanding examples of companies can "[think] outside the building [to find] opportunities to influence the system around them."
"Link knowledge creation and venture creation to speed the conversion of ideas into market-ready enterprises. [Smarter Cities Challenge/Milwaukee and the Milwaukee Aquaponics Innovation Center]
Link small and large enterprises to promote the growth and success of small and midsize companies and revitalize large corporations through partnerships with innovative SMEs. [Supplier Connection]
Improve the match between education and employment opportunities. Develop a job-ready workforce through apprenticeships and other education-industry links, including new structures for schooling. [New York P-TECH, a grades 9 through 14 institution that directly connects education to employment]
Link leaders across sectors to develop regional strategies and produce scalable models that build on local assets and attract new investment."
Professor Kanter concludes:
Besides creating regional coalitions, business leaders can be institutional innovators. Creative leaders think not only outside the box but also—in my preferred metaphor—outside the building, finding opportunities to influence the system around them. Consider the efforts of IBM, already described in this article. They are business-strategic, involve a wide range of functions, and directly address ecosystem challenges. IBM leads the semiconductor research consortium in Albany; assists the aquaponics innovation districts in Milwaukee; runs Supplier Connection for SMEs; participates in creating six-year high schools in New York and Chicago; and retools engineers as educators through Transition to Teaching. Institutional innovations create better ways to focus R&D, supply chain, or training investments. When the private sector uses its core business capabilities to invent new prototypes for structural change, the public sector gets models to take to scale.
Read "Enriching the Ecosystem" (free registration required)
Rosabeth Moss Kanter is the Ernest L. Arbuckle Professor of Business Administration at Harvard Business School and the chair and director of Harvard University's Advanced Leadership Initiative. Professor Kanter is the author of SuperCorp: How Vanguard Companies Create Innovation, Profits, Growth, and Social Good (2009).
Related Articles:
Social Responsibility and Business Strategy
Giving Kids the Right Start with Science and Math
Business As Usual Is Not An Option