Supplier Connection
Caterpillar is bringing jobs and manufacturing back from Japan. Ford is investing in and adding hundreds of jobs at an engine factory in Ohio. And, as the President said in his State of the Union address, Apple will start making Macs in America again. These decisions build on the momentum we are seeing in American manufacturing, which has added over half a million U.S. jobs in the last 37 months, the most of any such period since 1986. According to the Boston Consulting Group, on-shoring of U.S. manufacturing is likely to continue as companies recognize higher U.S. worker productivity, increasing labor costs abroad, and other logistical advantages of U.S.-based production.
So what can government and the private sector do to further fuel this trend? And how can we strengthen what Gary Pisano and Willy Shih, of Harvard Business School, refer to as "the commons" – the local business environments where manufacturers draw their resources, their workforce and where they connect to local suppliers?
Strengthen America's Supply Chains
Harvard Business School's Michael Porter and Jan Rivkin noted in FORTUNE that "companies find huge advantages with excellent, nearby suppliers – low logistical costs, rapid problem solving and easier joint innovation." To strengthen America's supply chains, the U.S. Small Business Administration (SBA) has launched an Administration-wide initiative called the American Supplier Initiative.
Today, there are approximately 250,000 to 750,000 small U.S.-based suppliers. The goal of the American Supplier Initiative is to increase market access for these small suppliers, to offer counseling and mentoring services, and to provide ready sources of working capital to support increasing sales. A key part of this initiative is a public-private partnership between the SBA and IBM called Supplier Connection, which is a free portal that makes it easier for large corporations to connect with a wide range of small business suppliers. Suppliers can qualify and sign up here.
Supplier Connection has been recognized with the 2012 Distinction Award for Best Collaboration by the Supply Chain Distinction Awards North America – an organization that celebrates excellence across the most important disciplines in supply chain management. Specifically, the award recognized IBM and Supplier Connection for improving business performance based upon a mutually beneficial collaborative effort between many buying corporations and U.S.-based small business suppliers.
The Connection to Corporate Citizenship
Supplier Connection is a Supply Chain and Corporate Social Responsibility initiative spearheaded by IBM Corporate Citizenship & Corporate Affairs (CCCA), with the leadership of the IBM Global Procurement and CIO Transformation teams to evolve processes at IBM and across member companies. Supplier Connection removes barriers that small businesses face in trying to enter large-company supply chains, creating a "common supplier application" and social business ecosystem. It also gives large companies exposure to a more diverse array of suppliers so they can find the best, most innovative and appropriate suppliers to meet their needs. The program involves the coordinated efforts of many large corporations and small businesses to help drive job growth in the United States.
Cash flow is king. That is a lesson that all entrepreneurs learn, sometimes the hard way.
It is an indicator of a business' ability to meet today's expenses without depleting its
cash assets.
As a micro-lender, Accion makes decisions based on many factors – a company's business proposition, its financials, the strength of its ownership, its commitment to community, and in the end, the king: cash flow. As risk mitigation goes, this is the single best indicator of a potential borrower's ability to repay the loan. So while it can take lots of time to get a clear picture of this business variable (the businesses that Accion works with frequently do not keep sales ledgers, and loan consultants often must sift through receipts and informal records to deduce business sales activity), it has proven worth the effort.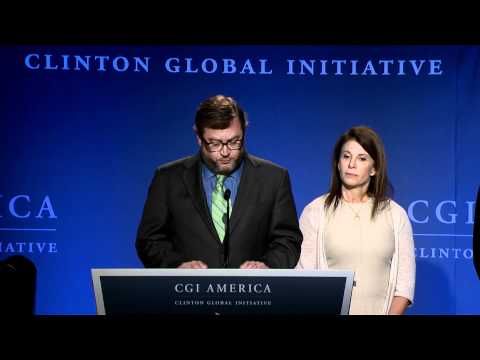 Building healthy businesses that provide for their owners, their families and the communities in which they live and work, is the outcome that all micro-lenders seek. By creating access to the capital and support services small business owners need, micro-lenders create access to opportunity, and enable positive change. Micro-lenders can make good lending decisions by understanding the cash flows of small businesses, while their owners gain clearer understandings of how to succeed and grow.
Creating healthy small businesses is the key to driving the U.S. economy, considering that half of U.S. jobs are provided by small business owners. So, what can we do in the near term to strengthen and support small businesses?
In early June, some 900 thought leaders came together in Chicago for the Clinton Global Initiative CGI America 2012 conference. Among them were more than 60 participants in the small business working group. They came from every sector – including government, academia, and private industry – and included small business owners, nonprofit providers of capital and support services, and foundation and corporate philanthropy managers.
While the group worked to identify tangible ways to make an impact, two goals emerged:
Opening new markets for small business owners to help them grow revenue
and improve cash flow, and
Influencing governments at all levels to pay their bills within 10 days.
To help advance these goals, IBM and the Small Business Administration have partnered on Supplier Connection – a consortium through which more than 2,000 small businesses can connect with the supply chains of 18 large enterprises. In addition, the NYSE Big StartUp – a nationwide jobs-growth initiative from Accion, the Startup America Partnership, the Entrepreneurs' Organization, and NYSE Euronext – connects high-growth small businesses, startups and entrepreneurs with the larger, more established enterprises that constitute corporate America. Both programs offer great promise, and we all can help raise awareness of them.
The small business working group's second observation was what if government customers paid their bills within 10 days, they would greatly improve the cash flows of small businesses. Far too often, the contract and revenue opportunities created by governments for women- and minority-owned businesses come with the burden of payment cycles of 120 days or more. As opportunities emerge to access the supply chains of larger companies, shortening the processing time for payments could have an immediate impact on the health and well being of small businesses across the country.
These ideas have the potential for significant impact, and each has a team committed to take it to the next step. CGI America provided the forum for discussion, the means to connect people who are ready to act, and a committed staff to help facilitate action.
Not bad for two days' work!
Gina Harman is CEO of Accion's U.S. Network, the only nationwide microfinance and
small-business lending network in the United States. Ms. Harman served as an advisor
to the Small Business Working Group at CGI America 2012 and was named to
Fast Company's League of Extraordinary Women 2012.
Related Articles:
Economic Crisis Meets Socially-Responsible Innovation
With IBM's release of our 2011 Corporate Responsibility Report, we demonstrate clearly and convincingly how we are interweaving our citizenship efforts and business strategy into an integrated approach to making the world a better place. To do this –
to become an indispensable partner in the success and sustainability of the communities
we serve – IBM and IBMers do more than just open their wallets. IBMers around the world give generously of their time and talents, rolling up their sleeves as partners in doing the often unsung work behind the headlines of "philanthropy."
It is our focus on direct action that distinguishes IBM's culture of service – a culture that has been deeply ingrained since the company's founding more than 100 years ago. To celebrate our recent Centennial, more than 300,000 IBMers from 120 countries worked on 5,000 large-scale projects that served more than 10 million people worldwide. This celebration – the result of nearly a decade of planning and partnership – represented the largest corporate community service event in history. More than that, it was an acknowledgement of our history, of things to come, and of the service we continue to give every day. And it didn't end there!
Perhaps the most valuable lesson of this year's Clinton Global Initiative (CGI) America conference was that innovative ideas and the creative cooperation to implement them are essential to bringing about meaningful improvements in the quality of peoples' lives. At the conference, I had the honor of joining SBA Administrator Karen Mills for a CGI "dynamic duo" discussion of how IBM's Supplier Connection – an innovative public-private collaboration – can help small businesses gain access to large-company supply chains. Such access will help small businesses grow by boosting their revenues, and in turn will stimulate job growth. We all know that small businesses are the engines of American competitiveness, but for them to increase revenues and add jobs they need access to large-company spending. Small businesses create fully one-third of America's jobs, and by simplifying their access to the hundreds of billions of dollars of annual spending by large enterprises, we can jumpstart growth in the small business community.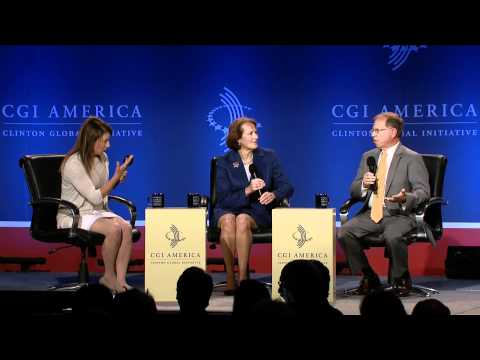 Facilitating a connection between small and large businesses benefits both groups. Studies show that small businesses grow revenue by 250 percent and increase hiring by 100 percent within only two years of landing a contract with a large company. Meanwhile, large enterprises that source their needs through small suppliers benefit from the innovation, creative ideas, and cost-effective goods and services that are the hallmarks of small businesses. In 2011, IBM allocated nearly $1.5 billion in supply chain spending to U.S. small businesses alone – a 14 percent increase from the prior year. We expect that number to increase for 2012, and our first quarter supply chain spending with small businesses is already up.
In addition to connecting more than 2,000 small companies to the growing Supplier Connection consortium that includes Caterpillar, CitiGroup, Facebook, John Deere, Kellogg's, Office Depot, Pfizer, UPS and 11 other companies, IBM also provides free small business resources to more than five million small businesses through the SME Toolkit. The toolkit's software, business forms, tools and training provide much-needed support for growing businesses so that they can become globally competitive in the 21st century marketplace. Both Supplier Connection and the SME Toolkit are free.
Creative cooperation between the public and private sectors is accelerating the pace of meaningful change where no single entity or group can carry the weight alone. It is only through working together that corporations, communities and governments will strengthen and sustain America's global competitiveness.
Clinton Global Initiative Panel Discussion Video:
Watch Stanley S. Litow and SBA Administrator Karen Mills
discuss how to connect small businesses with enterprise supply chains
Related Articles:
Economic Crisis Meets Socially Responsible Innovation
Facebook Connects with Supplier Connection
With input from IBM and nine other leading companies, the Council on Foundations has just launched an ambitious initiative to revitalize and redefine the roles of corporate foundations and philanthropy. Increasing Impact, Enhancing Value establishes a roadmap to help those involved in corporate philanthropy to dramatically increase its social and business value by moving away from "philanthropy as charity" and adopting a 21st century model based on leadership, innovation, and creation of sustainable value.
Click to download
Our report is the result of an 18-month study that engaged corporate philanthropy practitioners and external stakeholders throughout the United States in a discussion of the challenges and opportunities facing corporate philanthropy in the 21st Century. Increasing Impact, Enhancing Value addresses an environment in which society is looking to business for leadership on social issues as never before. A 2009 Waggener Edstrom Poll found that 60 percent of consumers now believe that businesses are in the best position to create positive results on social issues. By contrast, only 14 percent of respondents believed that governments can drive positive results.
In the March 2012 issue of Harvard Business Review, Harvard Business School professor Rosabeth Moss Kanter writes that "when business, academic, and policy leaders collaborate to bridge the gaps [between their silos], they create a fertile environment for job growth and more-inclusive prosperity." Professor Kanter enumerates four key goals that should be on the agenda of every leader, and cites several IBM citizenship programs – Smarter Cities Challenge, Supplier Connection, Transition to Teaching, and the Pathways in Technology Early College High School (P-TECH) – as outstanding examples of companies can "[think] outside the building [to find] opportunities to influence the system around them."
"Link knowledge creation and venture creation to speed the conversion of ideas into market-ready enterprises. [Smarter Cities Challenge/Milwaukee and the Milwaukee Aquaponics Innovation Center]
Link small and large enterprises to promote the growth and success of small and midsize companies and revitalize large corporations through partnerships with innovative SMEs. [Supplier Connection]
Improve the match between education and employment opportunities. Develop a job-ready workforce through apprenticeships and other education-industry links, including new structures for schooling. [New York P-TECH, a grades 9 through 14 institution that directly connects education to employment]
Link leaders across sectors to develop regional strategies and produce scalable models that build on local assets and attract new investment."
Professor Kanter concludes:
Besides creating regional coalitions, business leaders can be institutional innovators. Creative leaders think not only outside the box but also—in my preferred metaphor—outside the building, finding opportunities to influence the system around them. Consider the efforts of IBM, already described in this article. They are business-strategic, involve a wide range of functions, and directly address ecosystem challenges. IBM leads the semiconductor research consortium in Albany; assists the aquaponics innovation districts in Milwaukee; runs Supplier Connection for SMEs; participates in creating six-year high schools in New York and Chicago; and retools engineers as educators through Transition to Teaching. Institutional innovations create better ways to focus R&D, supply chain, or training investments. When the private sector uses its core business capabilities to invent new prototypes for structural change, the public sector gets models to take to scale.
Read "Enriching the Ecosystem" (free registration required)
Rosabeth Moss Kanter is the Ernest L. Arbuckle Professor of Business Administration at Harvard Business School and the chair and director of Harvard University's Advanced Leadership Initiative. Professor Kanter is the author of SuperCorp: How Vanguard Companies Create Innovation, Profits, Growth, and Social Good (2009).
Related Articles:
Social Responsibility and Business Strategy
Giving Kids the Right Start with Science and Math
Business As Usual Is Not An Option