TryScience
Last fall, I had my second graders study three-dimensional shapes and examine 3-D wooden solid figures to determine how food boxes were constructed. Then – based on what they learned – I gave them the task of building a box to hold a fragile item. While the students could easily identify the various types of 3-D figures, several of them had trouble identifying the specific components of the figures. I needed a way to make their learning more relevant, to bring everyday living to the classroom.
I am a National Board Certified Teacher (NBCT) and had planned project-based learning units in the past, but felt my students needed a more effective approach to learning STEM (Science, Technology, Engineering, Mathematics) concepts. As part of a collaborative project between the National Board organization and IBM, I was introduced to the Teachers TryScience website. The lessons on the site intrigued me, even though they were not written for use in the primary grades. But it was easy for me to visualize how I could make use of the lessons for students yearning to explore the practical applications of their
STEM knowledge.
"You didn't teach us that!" If you work in a classroom, you've heard this refrain before. It's what my biology students say when they do poorly on tests, and my colleagues who teach other subjects report similar interactions. When I point out to my students that the material they were tested on was right in front of them in their study guides, they often reply:
"Why didn't you just ask us that?"
When students attend class and do their homework, but still can't connect the dots, it's a problem – both for them and for the community. The problem is that kids aren't learning to think critically. And the challenge for teachers is to find useful tools for helping that happen.
I'm always searching for techniques to help my students make connections between classroom concepts and standardized test questions. So I was excited about the opportunity to attend IBM's THINK Workshop at Epcot. The event was organized by IBM and the New York Hall of Science to introduce and explore new, free lessons developed for IBM's THINK app on Teachers TryScience. The idea behind the THINK app (free for iPad and 10-inch Android tablets) is to enable students to explore how progress is shaped through a common and systematic approach that follows a five-step process of Seeing, Mapping, Understanding, Believing and Acting – or SMUBA for short. The THINK lessons on Teachers TryScience allow students to explore the process of innovation and participate in hands-on lessons that help them become innovators in their own right.
We all know that schools can't do all the hard work when it comes to educating our children, but what's the best way for business to contribute? I had the opportunity to help answer that question at a recent STEM Salon hosted by Change the Equation, a nonprofit, nonpartisan, CEO-led initiative that is mobilizing the business community to improve the quality of science, technology, engineering and mathematics (STEM) learning in the United States. Joining me on the panel was Rashid Ferrod Davis, founding principal of New York's Pathways in Technology Early College High School (P-TECH). As part of a team at IBM, I have had the honor of working with Rashid and P-TECH's partners throughout the 2011 – 2012 school year (the school's first) to help refine the set of strategic business contributions that IBM is making to enhance teaching and learning, and to help P-TECH students better understand the connections among school, college and career.
P-TECH is an innovative collaboration among the New York City Department of Education, The City University of New York, the New York City College of Technology, and IBM. The school has made significant strides during its first year, and this fall the City of Chicago will open five new schools based on the P-TECH model.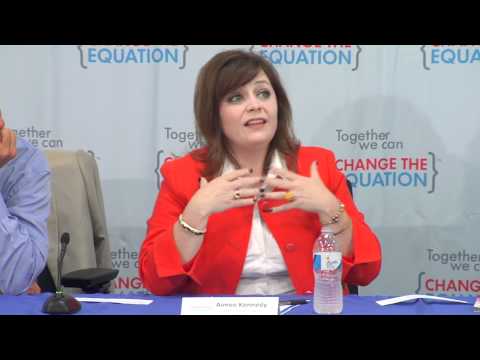 Listen and learn
The first thing that businesses can and should do? Listen. Working with schools is like learning an elaborate dance, and it's important to let educators – the experts – take the lead. Educators like Rashid understand the specific challenges that their students face and can pinpoint needs and opportunities. As businesses listen and learn, they can enrich the portfolio of meaningful solutions for students and teachers.
When I registered to be an IBM mentor almost a year ago, I honestly didn't know what to expect. More than 100 ninth-grade students were about to become the inaugural class of the Pathways in Technology Early College High School, or P-TECH, in Brooklyn, New York. IBM developed P-TECH in collaboration with the New York City Department of Education, The City University of New York, and the New York City College of Technology. The grades nine through 14 school would focus on science, technology, engineering and mathematics (STEM), and the goal was for students to graduate with an associate's degree that would enable them either to secure entry-level positions in the Information Technology industry, or continue their studies at a four-year institution.
I saw mentoring not just as an opportunity for P-TECH's ninth graders, but for me too. It would be a way to put into perspective the many personal and professional changes I had gone through since becoming an IBMer as the result of an acquisition in 2010. As I moved into a new role with my new company, I received a lot of support from my management team, colleagues, friends and family. It was because I had received such valuable support that becoming a mentor was important to me. Those who had mentored and coached me had helped me renew my faith in myself, and had allowed me to explore new opportunities and find success. Becoming an IBM mentor seemed like just the right opportunity for me to give back to a younger generation as they moved through life's unexpected, challenging and very exciting changes. I wanted to help young people see these changes as opportunities for growth and success.
The P-TECH students who are now finishing ninth grade will be the school's first graduates. So on June 1st, my fellow mentors and I joined our protégés to celebrate our first year together. I was especially happy to reunite with my protégé Cierra. Since our first face-to-face meeting last October, Cierra and I have worked on numerous online and in-person projects together. Cierra is a strong and willful young lady with dreams to make it big in life, and I was initially apprehensive about being able to meet her expectations. Throughout the past year, I have tried in my own way to make a difference to Cierra, and along the way I've learned from her too. I'm glad that Cierra will continue to have the backing of this great program for the next five years, after which she'll be ready either to enter the workforce or continue her education.
Someday, I'll have a ninth-grader at home, and the past year has helped me learn to recognize their anxieties and fears, and appreciate their focus, energy and enthusiasm. I will always be thankful to IBM for creating this program and enabling this mutually beneficial relationship. I see a little bit of myself in Cierra, and hope that by answering her questions and sharing my life experiences with her that she will gain a perspective that will help her navigate life more successfully. Young people like Cierra have an immense potential to create their own future. All they need to do is stay focused in this innovative program that's helping them follow a recipe for success.
Cierra is preparing for her upcoming regional and state exams, and I am looking forward to my next term as a P-TECH mentor. For me, this past year has only been the beginning of a lifelong commitment to the development of our community at large. And to know that my company was instrumental in founding this program has made me proud to be an IBMer!
_____________________________________________
A Journey to Knowing Cierra
Things were different when I was your age
loving hearts and minds helped me see and think
opportunities lay low and dreams deep below
until I learned to gather knowledge from others
And from their works and thoughts, I learned my way
Thank you for the opportunity to share with you
the journey I set on with you the past year
to talk about everything from work and life,
what inspires and motivates you and me
to walk through life's experiences
And for that, I need you
Thank you for giving me the joy
of honing your skills in some little way
to help you find your faith and confidence
those will pave your path to success
to live your dreams and conquer tomorrow
And for that, I praise you
Thank you for being ever eager to learn new ways
and feel the excitement in simple tasks we do
those allow you to test your ever evolving thoughts
to change the way the world looks at you and me
together it's a spirit of learning, a way to find your vision
And for that, I admire you
Thank you sharing your favorite books and life's inspirations
knowledge can be found in many ways
it's the effort we make to live through life's new ways,
and with the very relationship that we share
it's a gift to grow and know that you are there
And for that, I will always cherish you, my little friend
Thank you IBM, Thank you P-TECH
we enjoyed the past year and in our hearts we know
we may meet new people next year
we ought to learn and share with others too
for now, it seems magical and true
this is our way to give back to a world we know
the future of today is tomorrow
with this experience, we know we can see a better tomorrow
And for that, we thank you!
– Shilpa
Shilpa Menezes is a Release Manager / Project Manager with the Project Management Operations team of IBM's Business-to-Business & Commerce group. She also has a background as an Advisory Learning Specialist and Senior Learning & Organization Development Manager.
Related Articles:
A Continuing Relationship: One Mentor's Story
P-TECH Celebrates Engineers Week: One Mentor's Story
Volunteerism and Citizenship: One Mentor's Story
I'm a former English major who happens to love math. I find elegance – and some solace – in an ever-complex world when I discover a cadence or logic in nature, such as the Fibonacci sequence in broccoli or the patterns of a snowflake. And as someone working to improve STEM education (Science, Technology, Engineering and Mathematics), I know that it's critical for young people to master mathematical concepts so they'll be prepared for both college and career.
One way to bring math to life for young people is to teach them about those great thinkers who found mathematical elegance in the complexities of the world around them. One resource is Minds of Modern Mathematics, a free iPad app from IBM that illustrates the impact of math on culture and society. In the same way that science and engineering can help us connect mathematical principles to practical applications, an examination of the history of mathematical ideas can help us contextualize them in our world.
Another way to engender students' love of math is through hands-on learning. Sites like Teachers TryScience, which provide teachers with engaging and informative project-based lessons, integrated with pedagogical and practical resources to teach them effectively, require students to apply math skills as they build a wind turbine or determine the amount of carbon stored in a tree.
Most jobs today require a knowledge of math. And high-demand, high-paying careers need young women and men from all backgrounds who can perform complex mathematics. Even "no math" jobs require people who can think in mathematical ways. For example, a lawyer uses skills that enable her to reason logically and methodically –  the same skills that she began mastering while studying algebra.
Grace Suh is a Senior Program Manager with IBM Corporate Citizenship & Corporate Affairs.
Download the free Minds of Modern Mathematics iPad app
Read the IBM Research announcement about the app
Related Resources:
Presentation: What Is STEM Learning?
Design-Based Learning: A New Paradigm for STEM Education
Policymakers, educators and other stakeholders agree that all students – no matter where they live, what educational path they pursue, or in which field they choose to work – need to be science literate if they are to drive future innovation and to contribute to the rapidly changing global economy. To meet this charge, schools have been challenged to redefine mathematics and science education to support multiple strands of inquiry and exploration across the curriculum. The challenge is to offer tools that help students experience excitement, motivation and interest with respect to the natural and built world; develop and use scientific explanations, concepts and models; generate scientific evidence to understand issues; reflect on science as a way of knowing; participate in science practices (e.g., presenting their findings); and identify themselves as science learners capable of doing science.
For this transformation to occur, the Carnegie Corporation's Institute for Advanced Study Commission on Mathematics and Science Education argues we must move away from the current system of "telling" students about science to one that helps students gain critical problem-solving and inquiry skills in the context of relevant, real-world, interdisciplinary problems. While it's clear from the Commission's research that young people care deeply about contemporary STEM-related (Science, Technology, Engineering, Mathematics) problems and are motivated to solve them (e.g., health and global warming), many teachers see such investigations as daunting to implement. Furthermore, with rapid advances in science and technology, schools often have limited access to up-to-date resources, strategies and pedagogical supports to bring such relevant content into the classroom creatively.
IBM's "5 in 5" forecast of innovations that will alter the technology landscape within the next five years includes the prediction that mobile technologies will close the digital divide between rich and poor. In the very near future, mobile devices and over-air networks will enable disconnected and disenfranchised populations to circumvent traditional infrastructures to participate in the global economy. However, substantive innovations in the technology of learning must complement our advances in global connectivity.
Technology's most profound impact on underserved populations can be its ability to improve education, but simply "having" technology is not enough. A computer, for instance, can never replace a good teacher. And internet access and computer labs alone cannot improve instruction. But when technology is well integrated into the classroom and coupled with teacher training, it can enable essential improvements in teaching and learning.
Integral to our corporate citizenship efforts, IBM is forging public-private partnerships to create a smarter education system by strengthening the focus on STEM (science, technology, engineering, mathematics) competencies. In addition, we have longstanding programs that continue to open new possibilities to people around the world.
Our Reading Companion program uses IBM speech recognition technology to help children and adults gain literacy skills in English.
In partnership with TeachEngineering and the New York Hall of Science, Teachers TryScience provides new resources, specifically designed for science teachers struggling to provide high quality, hands-on problem based learning.
These are just a few of the many ways – from helping our retirees transition to teaching, to reinforcing our commitment to mentoring and school volunteerism – in which IBM is helping to improve the technology of learning that must accompany the advances that will close the digital divide.
For the second consecutive time, FORTUNE magazine has named IBM as the #1 Global Company for Leaders. As part of our series on IBM Leadership, Rod Adkins, Senior Vice President of IBM's Systems & Technology Group, comments on how partnerships between the private and public sectors can help fill the need for tomorrow's science and technology leaders.
Growing the global economy will require leadership and innovation on many fronts.  In the knowledge economy, there is plenty of evidence that those who have strong math and science skills will drive innovation for future generations. We need to recognize the need to invest in education for the long term.
In the United States, we need innovators with backgrounds in math and science to spur growth and generate new jobs. However, the facts in this area of education are alarming.
According to the National Science Foundation, the percentage of U.S.students studying math, science, and engineering has decreased from 21 percent in the 1980s to approximately 16 percent today.
The most recent Organization for Economic Co-operation and Development test scores show that the U.S. was below the average score in math and only at the average in science.
The situation is even more dire for minority students, who are pursuing pure science and engineering degrees to an even lesser degree. Currently fewer than 13 percent of the more than 70,000 U.S. engineering bachelor's degrees are awarded to minorities, according to the National Action Council for Minorities in Engineering.
In order for companies like IBM, and the U.S. as a whole, to stay competitive in a global economy, both business leaders and policy makers must work to fix this trend. Developing a new generation of innovators requires greater private-public partnerships that encourage more students to specialize in STEM (science, technology, engineering and math).
Here in New York, the Pathways in Technology Early College High School (P-TECH) is a new grades 9-14 school that opened in September. The school is a collaboration among the New York City Department of Education, The City University of New York, the New York College of Technology and IBM and is designed to prepare students to fill entry-level careers in technology fields. Such pro-active intervention helps increase the number of minorities who can fill leadership roles in the technology industry. I've had the privilege of mentoring P-TECH's principal, Rashid Davis, and have seen first-hand the excitement and hope that he and the school have inspired in the new students.
And in Chicago, a grant from IBM is helping to raise the city's high school and community college graduation rates and better prepare graduates to enter the 21st century workforce. IBM is also dispatching a team of technology consultants to Chicago for three-months — the result of an IBM Smarter Cities Challenge grant. The grant will help Chicago prepare a business plan to personalize education for students, allowing them to build the necessary skills to put them at the front of the line for quality, high-paying jobs upon graduation. The team will work with educators and city leaders to evaluate ways Chicago can better align its education system with the needs of knowledge workers in the private sector.
These are just some examples of how private-public partnerships can help put students on track to pursue STEM careers. Just as successful companies invest in R&D to produce future innovations, so too must all levels of society invest in STEM education to produce the innovators of tomorrow.
BOTTOM LINE: Just as companies invest in R&D, society must invest in STEM education. #ibmleaders
More from Rod Adkins:
Calling for Innovators: Our Students Must Learn to Create New Technologies, Not Just Enjoy Them
Read more about IBM Leadership:
Why IBM Is the Best Company for Leaders by Randy MacDonald, Senior Vice President, Human Resources
A Global View of Leadership Development by StanleyS. Litow, Vice President of Corporate Citizenship & Corporate Responsibility and President, IBM International Foundation
Entrepreneurship Takes Homework, Not Hubris, by Sharon Nunes, Vice President, Government Industry Strategy & Solutions
A New Model to Cultivate Global Leaders by Tony Mwai, Country General Manager, East Africa
Leadership Must Evolve in an Interconnected World by Bridget van Kralingen, General Manager, North America
I testified today before the U.S. House of Representatives Subcommittee on Research and Science Education about IBM's commitment to address the issue of national decline in math, science and engineering and its implications for America's labor force. The Subcommittee on Research and Science Education oversees all matters related to science policy and science education. In my remarks, I noted that over the last 20 years IBM has been one of the leading corporate contributors of cash, technology and IT services to non-profit organizations and educational institutions around the world. During that time, IBM's most effective grants and partnerships have been those that focus on our unique offerings – leveraging our software, hardware, technical services and expertise. In addition, IBM has been most successful when designing initiatives to bring our employees' skills and experience into the classroom to interact directly with students, teachers and administrators.
Leading examples of IBM's approach to "smarter education" are our Transition to Teaching program for retiring employees, and our partnership with civic and education leaders to create New York City's Pathways in Technology Early College High School (P-TECH) – an innovative grades nine through 14 institution that confers both the high school diploma and a no-cost associate degree in technology. P-TECH prepares graduates for entry-level positions with IBM and other leading technology companies. More than 100 IBMers are participating in Transition to Teaching, which helps prepare them for a second career teaching math and science. And the P-TECH model has garnered the attention of the White House and of city leaders across the country who seek to replicate the school's success in their districts.
Education and employment in science, technology, engineering, and math (STEM) is a vital component of the American economy, and the private sector can play an important role in closing the gap between where we are and where we need to be. Workers in STEM occupations out earn their peers, enjoy long and stable careers, and represent the next generation of global innovators. But our economic growth is threatened by a severe shortage of math and science teachers, and by shortfalls in STEM academic achievement – particularly in historically underrepresented communities already bearing the brunt of tough economic times. The solution lies in a collaborative and multi-faceted approach to improving STEM education at all levels – from replacing retiring math and science teachers, to strengthening the skills of current educators, to forging private sector partnerships with schools and communities to ensure that our students can make the transition from education to industry.
Watch the archived webcast of my House Subcommittee Testimony to learn more about IBM's commitment to smarter education.