World Community Grid
Water is the most abundant resource on Earth, yet the world faces many challenging, water-related problems. More than 1.2 billion people lack access to clean, safe water, and 2.6 billion have little or no sanitation. Millions of people die annually from the results of diseases transmitted through unsafe water.
World Community Grid is a secure, worldwide public network of computers supporting scientific research. Right now, World Community Grid has three research projects related
to water.
One initiative by the University of Virginia, Computing For Sustainable Water, simulates
how human behaviours and ecosystems relate to one another in watersheds such as Chesapeake Bay. The project will simulate and analyse the results of choices made
by the competing interests of fishermen, farmers, urban developers, forestry experts
and conservationists.
The findings from this project may have implications for 400 other major waterways worldwide – half of which are under stress.
Today, World Community Grid celebrates eight years of bringing together volunteers from around the world to support humanitarian research. World Community Grid taps the spare computational power of computers volunteered by the general public and provides it – free of charge – to scientists who might not otherwise have access to the intensive computing power they require for timely, humanitarian research.
In eight years, our volunteers have provided research scientists with the equivalent of more than 600,000 years of computing power to seek cures and new treatments for many diseases, identify clean sources of energy and seek to improve water quality. These projects have yielded more than 30 peer-reviewed scientific papers – industry recognition of scientific research being advanced by World Community Grid.
Schistosomiasis – a tropical disease caused by the parasitic worms transmitted by freshwater snails – affects more than 200 million people each year, killing 200,000 of them. Schistosomiasis is second only to malaria in its devastating effects on the world's population.
To find a treatment for this deadly disease, researchers at Inforium University in Belo Horizonte and Fiocruz Minas, Brazil are using World Community Grid to run computer simulations that map the interactions of millions of chemical compounds with selected target proteins. Powered by the unused computing capacity of more than two million World Community Grid member computers, Brazil's "Say No to Schistosoma" project is leading the charge to wipe out this deadly disease.
____________________________________
The story of a disease that infects nearly 200 million people today begins in the ancient remains of mummies from the Upper Nile River Delta. Analyses of mummies from Nubia – the former Nile River kingdom located in present-day southern Egypt and northern Sudan – reveal that ancient populations suffered and died from infections that caused anemia and chronic illnesses which impaired their growth and cognitive development, damaged their organs, and weakened their immune systems.
Today, the White House is bringing academia together with the public and private sectors to discuss progress on President Obama's Materials Genome Initiative. Announced last June, the effort seeks to harness the power of modern computing and communications technologies to enable U.S. companies to discover, develop, manufacture, and deploy advanced materials at twice the speed than is possible today – at a fraction of the cost.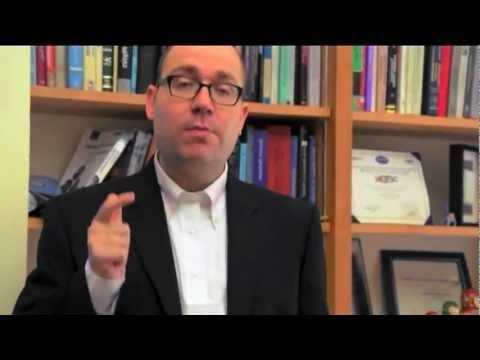 One of the projects that the White House sees fit to highlight today as an example of this kind of innovation and collaboration just happens to be an effort hosted on IBM's World Community Grid. The White House is pointing to the work of Prof. Alán Aspuru-Guzik, an associate professor at Harvard University's Department of Chemistry and Chemical Biology, whose team is running The Clean Energy Project, perhaps the largest computational chemistry experiment ever.
A little over three years ago, a group of faculty members at the University of Virginia were meeting weekly to see what they might do to encourage awareness of issues of global sustainability among their students. The faculty members represented seven different schools and brought diverse expertise to the subject. But how to start was the more elusive question.
The new Vice President for Research, Tom Skalak, challenged the group to devise a simulation model that could be played as a game with student participants. The faculty were a bit skeptical of the idea, but thought it through anyway. It was decided that the Chesapeake Bay would make a good subject for this simulation game. The Bay represents a complex socio-environmental system, the University is located in the Chesapeake Bay Watershed, and the Bay is under considerable environmental stress.
Philippe Cousteau — environmental advocate, University of Virginia OpenGrounds Fellow and Azure Worldwide co-founder — writes about how World Community Grid is using donated, unused computing power to help save the Chesapeake Bay Watershed.
As a social entrepreneur and environmental advocate, I know first-hand how easy it is to become overwhelmed by the challenges facing our world. How can I make a difference? Where do I even start? These are questions I ask myself frequently, and questions I know many others ask all around the world. Fortunately, one of the most valuable lessons I've learned over the years is that big challenges don't always require big complex solutions.
In fact, in many cases the answers might be right in front of us.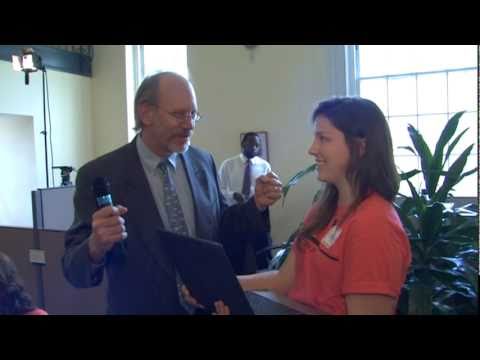 Such is the case with the Computing for Sustainable Water Project from World Community Grid and the University of Virginia. This project tackles a very big, very complex challenge: predicting the environmental and economic impact of human actions on critical water resources over the next 20 years. Before we look at the unique approach IBM and the University of Virginia are taking to address this challenge, let's take a moment to look at
the importance of the undertaking.
Click for larger graphic
As we mark this year's International Childhood Cancer Day, please consider joining the World Community Grid project seeking to find childhood cancer treatments. The International Confederation of Childhood Cancer Parent Organizations established International Childhood Cancer Day in 2002 to raise global public awareness about childhood cancer. The tragic reality is that 175,000 children worldwide are diagnosed with cancer each year, and an estimated 90,000 of these children will die from the disease.
World Community Grid is running Help Fight Childhood Cancer – a project designed to help find a treatment for this dreaded disease. The Principal Investigator for the project is Dr. Akira Nakagawara, president of the Chiba Cancer Center in Chiba, Japan. Dr. Nakagawara is also the President of the International Society of Pediatric Oncology, Asia (SIOP) – one of the driving forces behind childhood cancer awareness.
Please help us in raising awareness of International Childhood Cancer Day and the Help Fight Childhood Cancer project. Then join the global effort to help find treatments for childhood cancers by contributing your unused computing power to World Community Grid.
If you already are a member of World Community Grid, click here to find out whether your computer is set up to help with this vital project. If you haven't yet signed up for World Community Grid, please register now so you can help us provide technology to researchers so they can make the world a healthier place. Joining is safe, secure, and free.
Bill Boverman is Executive Project Manager, Application Services Delivery Excellence, with IBM Global Business Services
Read More About World Community Grid:
World Community Grid and the Greening of Information Technology
I'll Take "Curing Malaria" for $1,000, Alex
Japanese Version:
ワールド・コミュニティ・グリッドは小児がんの治療薬の発見を支援しています
みなさん、国際小児がんデー(International Childhood Cancer Day)をご存知ですか?毎年、世界中で17万5千人もの子ども達ががんと診断され、そのうちおよそ9万人の子ども達が幼い命を奪われています。こうした悲しい現実を知ってもらう目的で、国際小児がん親の会連盟(International Confederation of Childhood Cancer Parent Organizations)は2002年に国際小児がんデー(2月15日)を設定しました。
国際小児がんデーを契機に、小児がんの治療薬の発見を支援しているワールド・コミュニティー・グリッドのプロジェクトへの参加を是非ご検討ください。ワールド・コミュニティー・グリッドでは、この非常に恐ろしい病気の治療薬の発見を支援するため、「ファイト!小児がんプロジェクト」(Help Fight Childhood Cancer Project)を展開しています。このプロジェクトの研究責任者は、千葉県にある千葉県がんセンター センター長の中川原 章氏です。中川原氏は、国際小児がん学会(SIOP)のアジア代表も務めており、小児がんについて知っていただく活動を推進していらっしゃいます。是非、ワールド・コミュニティ・グリッドに登録し、皆さんがパソコンを使用していない時間のコンピューティング能力を「ファイト!小児がんプロジェクト」に提供してください。これによって、小児がんの治療薬を発見することに貢献できる、この世界的な取り組みに参加することができます。
既にワールド・コミュニティー・グリッドのメンバーである皆様は、こちらをクリックいただくと、現在ご使用のパソコンが、このプロジェクトを支援できるようにセットアップされているかどうかを確認できます。ワールド・コミュニティー・グリッドに未登録の皆様は、こちらをクリックして今すぐご登録ください。ワールド・コミュニティー・グリッドは、セキュリティーが確保された環境であるため、安全に参加できます。参加は無料です。
子ども達に対する小児がんの脅威を少しでも少なくし、より健康的に暮らせる世界を実現できるよう、皆様の積極的なご参加とご協力をお願いいたします。
IBM Senior Information Technology Architect John Lamb, Ph.D. explains the inner workings of World Community Grid, and how it contributes to humanitarian research while helping to reduce the environmental impact of large-scale computing.
By making use of our unused compute power, World Community Grid has saved an immense amount of electrical energy and reduced the carbon footprint that would have resulted from the use of traditional High Performance Computing. World Community Grid is a significant contributor to green information technology (IT) and is a great way for anyone to be involved in green IT with the added benefit of helping to address global environmental and health concerns.
World Community Grid is based on grid computing, and like cloud computing – the subset of grid computing that includes utility computing and other approaches to sharing computing resources – is based on the concept of IT virtualization. The IT industry is on a track to use virtualization to manage the needs of IT customers in a way that helps reduce the needs for energy consumption and computer hardware. For each of its projects, World Community Grid aggregates the unused computing power of more than 200,000 donor machines around the world to form a virtual supercomputer. World Community Grid then makes its massive computing power available free of charge to humanitarian research projects – everything from the search for cures for disease to simulations that yield insights into global environmental concerns.
One of those concerns – the energy resources and carbon footprint associated with large-scale computing – is addressed directly by World Community Grid. In fact, some World Community Grid research projects are environmental in nature and are helping to reduce carbon footprint in other ways. Searching for new molecular compounds that could be used to make less expensive and more efficient solar cells is just one example.
By consolidating the unused computing power of machines that in some cases draw 30 to 40 percent of their maximum energy requirements even when idle, World Community Grid is designed to help reduce environmental impact. This is detailed by the chart below, which shows the typical utilization rates of different classes of computers – from large corporate mainframes to the Intel-based servers used for smaller computing jobs and in most PCs.
Multi-million dollar mainframes typically are utilized on a 24/7 basis at least partly because of the large financial investments they represent. Mainframe processes are typically computing intensive, and are run at all times – including nights and weekends. By contrast, smaller Intel-based servers are not typically used at night or on weekends. Therefore, creating virtual servers from underutilized Intel-based machines not only allows much better and easier sharing of resources, but also distributes utilization more evenly on the large physical machines that host virtual servers.
The PCs that supply their unused computing power to World Community Grid have similar characteristics to underutilized Intel-based servers. Most Intel-based servers are only utilized between five and 15 percent of the time, and most PCs – in terms of their true computing capacity – are utilized almost none of the time!
It is important to note that World Community Grid aggregates spare computing time unobtrusively and without substantially increasing energy consumption. Contributors to World Community Grid are not asked use their computers any differently than normal.
That is, they are not asked to run them 24/7 or prevent them from going to sleep or shutting down. In addition, World Community Grid defaults to using only 60 percent of spare computing time to use less energy. On a typical laptop computer, World Community Grid use increases power consumption by only three watts – less than an incandescent night light. Community members also can adjust the default 60 percent figure to whatever is preferred or appropriate for their hardware or software.
By making use of otherwise unused compute power, World Community Grid saves an immense amount of electrical energy and reduces the carbon footprint typically associated with High Performance Computing using supercomputers. A supercomputer, in addition to its own power consumption, needs a very large additional amount of power for cooling. World Community Grid avoids this issue since participating machines are usually single units that do not substantially increase the heat in their environments. Thus, running a research project on World Community Grid typically requires much smaller energy expenditure than running the same project on a supercomputer.
All of these factors enable World Community Grid to make significant contributions to green IT. As one of the hundreds of thousands of contributors to World Community Grid, I am proud to help support vital humanitarian research while helping to bring about the greening
of IT.
John Lamb is a Senior Technical Staff Member and Senior Certified IT Architect for IBM. Dr. Lamb is the author of The Greening of IT: How Companies Can Make a Difference for the Environment (2009).
Related Article:
It's elementary, my dear Watson.  Oh, wait…..I'm not Sherlock Holmes, and a very different Watson is helping me out.
And instead of tracking down a clever thief, this Watson helped me start the search for new ways to stop a monster that kills almost a million people each year — most of them children.
The microscopic monster is the pervasive parasite known as Plasmodium falciparum — which causes the deadliest form of malaria and kills more people than any other parasite.  The Watson who is helping me is not a fictional character, or even a real person — it's IBM's Watson computing system, which defeated human competitors on the Jeopardy! game show tournament earlier this year.
No, Watson isn't giving us advice on killing malaria.  Rather, part of the cash prize that Watson won went to Professor Art Olson's lab at The Scripps Research Institute, where we are using it to create a new project on World Community Grid called the "Global Online Fight Against Malaria," which launches today.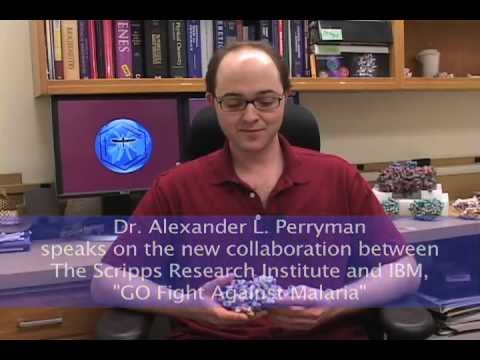 It's the largest computational research project ever performed against drug-resistant malaria.   Unfortunately, many strains of malaria have become resistant to the different drug treatments (they almost always do, eventually).
Working on malaria started as a hobby that I advanced during nights and weekends for a couple years, when I wasn't working on FightAIDS@Home, Professor Olson's project on World Community Grid that seeks a cure for HIV.  With persistence and a lot of help from IBM and from fellow Scripps Research scientists, we're now addressing malaria.
I should emphasize that this initiative seeks new malaria treatments, not a vaccine.  Of course, the two would be complementary; the vaccine will help prevent illness, and drug treatments will address those who never received the vaccine, or for whom the vaccine wasn't permanently effective.
We will use World Community Grid to computationally evaluate millions of candidate compounds that might disrupt the proteins the Plasmodiumparasites need in order to survive, multiply, or infect a person.  If these target molecules can be disabled by the right chemical compounds, then patients infected with superbugs of malaria can potentially be cured.
It's like trying to find the right key to open a particular lock.  However, both the lock and the keys are flexible — they can change shape, or transform their conformation, as they wiggle, jiggle, dance, expand, and contract in the warm watery environment in which they reside.  In addition to needing to find a complementary match between the different flexible shapes of the lock and the potential keys, both parts of the system also have different charged and partially charged atoms that need to match up well, too.
To make it even trickier, the total number of potential keys that could exist in the universe (the size of "chemical space") is estimated to be about 10 to the 60th power (yes, that would be a 1 with 60 zeros after it!).   Therefore, we'll just focus on the types of keys that are somewhat similar to the types of molecules that have already become approved drugs.
Data from the experiments will then be made available to the public.  How cool is that?
What we can accomplish with one year of calculations on World Community Grid could take us over one hundred years to achieve, using the resources we normally have available.  Join the global online family and "GO Fight Against Malaria" with us.
Alex L. Perryman, Ph.D. is a research associate at The Scripps Research Institute.
___________________________________________________________________________
Editor's Notes:
World Community Grid is fed by spare computing power from the nearly 2 million PCs that have been volunteered so far by 575,000 people in more than 80 countries.  It gives each PC small computing assignments to perform when the devices aren't otherwise being used by its owners, then sends the results to scientists seeking a faster way to cure disease, find renewable energy materials, create clean water techniques, or develop healthier food staples.
In 2006, 247 million people became infected with malaria — the leading cause of death in Africa for those under age five.  According to the World Health Organization, malaria is both a disease of poverty and a cause of poverty; survivors are often subject to impaired learning, school absences, lost work, and increased economic distress.  Where prevalent, the disease can account for 40 percent of all public health costs.
Follow World Community Grid on Facebook